11 Tips for Recycling in Miami-Dade County
Feb 18, 2019 February 18, 2019
While Miami may not yet be as advanced as California when it comes to taking measures to protect our planet against the carbon footprint of our wasteful society, many local residents are deeply interested in recycling as a practice that can enhance the livability of our local Miami communities by providing a cleaner and greener environment.
If you want to get on board with the recycling bandwagon, below are some tips to help you sort out the rules, regulations, and logistics of recycling in Miami-Dade County.





1) Know What Goes in the Recycling Bin

Paper products such as: newspapers, magazines, catalogs, phone books, brown paper bags, printer paper, copy paper, junk mail, and all other types of office paper without wax liners

Cardboard such as: packing and shipping boxes, cereal boxes, gift boxes, shoe boxes, and corrugated cardboard. All boxes must be flattened before placing them in the recycling cart. Boxes with food residue on them are not recyclable.

Metals, including aluminum cans, tin cans, steel food and beverage containers.

Aseptic polycoated containers such as milk cartons, juice cartons, and drink boxes, with their caps on.

Glass food & beverage containers including clear, brown and green glass. Please remove metal caps and lids from glass bottles and jars and drop them separately in the bin.  Plastic lids and caps from glass bottles may not be recycled and should be thrown away with your regular trash.

Plastic bottles such as water, beverage, detergent, and shampoo containers. These should be flattened and recycled with their caps on.


2) Only Certain Types of Batteries are Recyclable
Regular household batteries such as Alkaline (manganese) and Carbon Zinc batteries, including AA, AAA, C, D, 6V, and 9V, as well as reusable (rechargeable) Alkaline Manganese batteries including AA, AAA, C, and D are not recyclable and may be thrown out with your household garbage.
Lead Acid Vehicle batteries, including 6V and 12V batteries such as those used in cars, motorcycles and boats must be returned to the place where you purchased them or properly disposed of by a mechanic or vehicle repair facility.
Other types of batteries must be delivered to a Neighborhood Trash and Recycling Center, including the following,:
Button batteries such as C-type 3V Lithium

Lithium / Lithium-Ion, including 3V, 6V, and 3V button batteries

Nickel-Cadmium (rechargeable) and Nickel Metal Hydride (rechargeable) batteries including AA, AAA, C, D, 6V, 9V

Sealed Lead Acid (rechargeable) batteries, including 2V, 6V, and 12V

Silver Oxide Batteries
For more information on how to dispose of your used batteries, here is a handy battery disposal chart.


3) Recycle Fluorescent Light Bulbs
While most household light bulbs such as standard incandescent bulbs, Halogen bulbs, and LED bulbs are not recyclable and may be safely disposed of with your other household garbage, Compact Fluorescent Lights (CFLs) and traditional long-tube fluorescent lights should be delivered to a Neighborhood Trash and Recycling Center.


4) Dispose of Medicine Properly
Medications should be disposed of with general household garbage, as they cannot be recycled.  Leave medication in its original container, but be sure remove the label of cross out your name and prescription number. Dissolve pills by adding water, seal the container shut, secure it with tape, place it in a larger container, seal it, and then throw it away with the regular household trash. Never flush expired or unused medicines down the toilet or drain.


5) Recycle Cooking Oil
Cooking oil may be reused or recycled. Once cooled, oil used for deep-frying, such as peanut oil, may be reused several times.  Simply strain the oil through a folded cheesecloth to remove any food particles and store in a sealed container. If you need to recycled a large amount of oil, you may take it to a Neighborhood Trash and Recycling Center. If it's only a small amount, you may choose to simply throw it away with household garbage by pouring it into a sealable container and throwing it in the trash.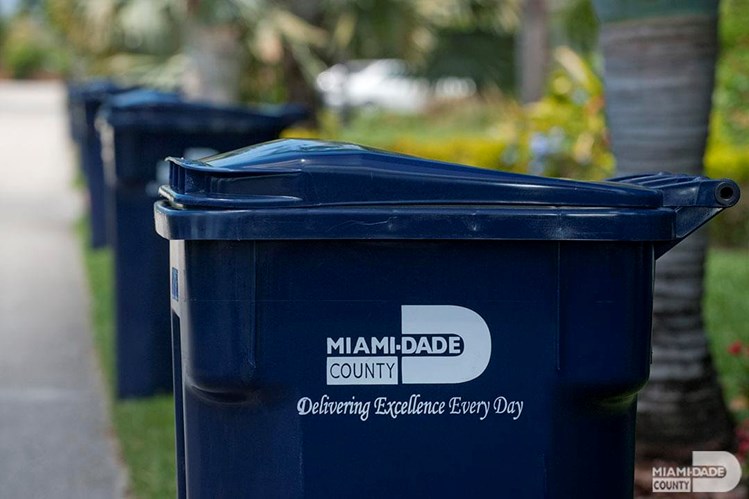 6) Take Used Electronics to a Recycling Center
Electronic equipment such as computer monitors and television sets, personal computers, laptops, keyboards, hard drives, printers, audio and video equipment, cell phones and hand-held radios must be delivered to a local Neighborhood Trash and Recycling Center. Of the 13 Recycling Centers in Miami, 8 accept electronic equipment. 


7) Drop Off Unwanted Gasoline at a Recycling Center
If you have gasoline that you want to get rid of, you may drop off up to 10 gallons of gasoline at any one time, at a Neighborhood Trash and Recycling Center. Gasoline must be transported in approved containers and will be accepted when delivered in approved gasoline containers.


8) Three Local Centers Accept Used Motor Oil
Motor oil must be transported in durable, tightly-closed containers and you may deliver up to 5 gallons to any of the three following Neighborhood Trash and Recycling Centers: Golden Glades, Moody Drive, or Snapper Creek Neighborhood Trash and Recycling Center.


9) Safe Disposal of Household Chemicals
If you're looking for a way to dispose of household chemicals that are not biodegradable, bear in mind that some chemical products may be delivered to a Neighborhood Trash and Recycling Centers for proper disposal. When packing chemical products for transportation or delivery, make sure that all containers are packed upright inside sturdy boxes, and that all lids and caps are fully tightened on all containers. Leaking containers should be placed inside of a larger container, along with an absorbent material such as newspaper or paper towels for safe transport.  Chemical containers should always be labeled to prevent the danger of mixing incompatible chemicals.


10) Compost Grass Clippings and Yard Waste
Organic yard waste such as grass clippings, fallen leaves and branches, and dried flowers may all be easily composted using a compost bin or by simply leaving them in a shallow pile on the ground in a discreet corner of the yard, so that they may release vital nutrients back into the soil.


11) Get to Know Your Neighborhood Recycling Centers
Miami has 13 different Trash and Recycling centers around the city, at which materials are collected and processed for recycling or safe disposal. Different centers accept different materials, and many provide unique services. By clicking on this link, you can learn more about local recycling centers and what is accepted at each one, as well as  Neighborhood Trash and Recycling Centers. Some of these locations will even accept demolition debris, yard waste, and appliances such as refrigerators, stoves, and washing machines. Other centers will accept such items as used vehicle tires and mattresses.



By following simple guidelines such as those listed above, we can all pitch in as neighbors to make a genuine difference in the livability of our communities by reducing each of our individual carbon footprints, contributing to a greener and cleaner future for all of us.
Share your thoughts with us
Sign up now
Get news and updates delivered to your inbox