15 Home Office Ideas to Boost Your Productivity and Wellness
Jun 26, 2020 June 26, 2020
Of late, WFH (work-from-home), has become the new normal for many – some by choice, some by necessity. On the surface it sounds like a great idea, especially the part about skipping your morning rush hour commute and "casual Friday" extended to "casual Every day." But working from home can have its own set of challenges – productivity being the biggest one.
From ergonomic furniture to help your posture to tech that could help you focus, we've put together a list of 15 essential #WFH and home office items that will help create just the right atmosphere that's poised for productivity. (We haven't mentioned getting a good and up-to-speed PC, laptop, antivirus pack or internet connection in our list since we know you've got the basics covered.) So, let's get started:
A Dedicated Home Office Desk or Table – When working from home, that comfy little bed with nicely propped cushions can look mighty tempting. But you've got to resist! Or is your dining table multitasking, too? Sitting at a proper home office desk or table designated just for your work will not only help you stay productive but also make sure you have fewer back issues.

You can go for a good ol' wooden writing desk with filing drawers or an adjustable standup desk (like 

these from Amazon

) that can help you transition between seated and standing positions throughout your workday. For those pinched for space, a foldaway floating desk (also called wall mounted desk) can be a great alternative. Frankly, there are so many options out there, that you'll definitely find one perfectly sized for your space and needs. Whatever you decide, commit to creating your work space.


A Good Chair

– Considering you'll be working from your desk, a good, ergonomically sound chair is a must-have. Look for one with good arch support, armrests, and comfortable seat cushion since you'll likely spend many hours a day in it. In case you're apprehensive about spending too much on a brand new one, Amazon has an entire collection of 

renewed products

you can choose from, which are not only pocket-friendly but also come with a 90-day guarantee if they do not work as promised.


Laptop Stand

– Let's face it, when working from home we're all guilty of snuggling into a bed or couch to get that long presentation done or answer out emails - and then there are some who simply refuse to work from a desk. For all those, investing in a solid laptop table with elbow space and a coffee holder will be worth the spend. Get one with adjustable height to relieve neck and shoulder stress. An in-built cooling fan is a bonus! Here's a 

good place to start

your hunt on Amazon.


Seat Cushion

– So maybe you don't have room for an ergonomically great, but bulky chair. Or, maybe you're still apprehensive about this whole WFH scenario and want your old chair to work fine. Either way, get yourself a gel seat cushion. We've heard this one from 

Purple

is super comfortable, while being firm in just the right places.


Curtains/Blinds/Shutters – Let's face it, not everyone has an apartment/condo that opens up to gorgeous ocean views or a pretty garden. Or, perhaps that glaring afternoon light makes it impossible for you to focus on your screen. Either way, you will need to find the right kind of curtains, Venetian blinds, or shutters to control the amount of sunlight that comes in or block out a less than ideal view for your home office to be functional.





Desk Lamp

– In addition to blocking out harsh light/views, having the right amount of light on your work desk is equally important. Working with an adequate amount of light won't just help with productivity, but also keeps eye strain away. We've heard this 

mood lamp

from Theralite is designed to fight low energy and sunlight deprivation.


Shoji Screen/Other Movable Screens – For those sharing a home office with your significant other or sharing an open floor plan residence with others, consider investing in a movable screen/partition. These movable room dividers don't just help with separating work and rest areas, but also work great as professional backgrounds to video conferences.


Noise Cancelling Headphones

– Working from home, there can be distractions aplenty. Thankfully for us, there are noise-canceling headphones of every caliber available in the market. These 

Sony

headphones are on the pricey side but are known to work wonders. Not ready to shell out so much or simply don't need to tune out the world? These 

Master & Dynamic

earphones get the job done at a lower price point, while keeping your voice calls crystal clear.


Notepad and Pen – No matter how well-versed you are with online apps, and no matter how well synced they are across devices, there's something about a traditional notepad and pen set that makes it easier to scribble things down. From taking down numbers to jotting down lists, organizing your day, or writing down a positive reminder, keeping a notepad and pen handy in your home office can help with efficiency.


Cube Timer

– Find yourself browsing through your social media accounts and losing track of time? This 

Miracle TimeCube

is a nifty little creation that lets you time your breaks and get work done. Just flip the cube to the time you'd like to count down from and you'll be able to keep track of your productivity.




Foldable Shelves/File Cabinets – When you're working from home, it's easy to lose track of your documents especially if you have kids or pets. Consider installing a wall file organizer, expandable wall pockets, or hanging desk shelf, besides the traditional drawer set that comes with your work desk (that is if you have one). These not only give you additional storage space but also make it easier to stay organized and keep clutter off your desk.


Temperature Controlled Coffee Mug

– While some might argue this is not an essential item, for others a piping hot cuppa is the only way they can survive their workday. We've found the 

Ember Mug

2

to be an efficient addition to the home workspace. Just pour in your favorite tea or coffee, set the temp via the app, and sip a perfectly hot beverage for up to 1.5 hours or all day if placed on its charging coaster.


Plants

– Now, we're not expecting you to maintain a jungle, but having a few or even a single plant as part of your home office will not only help with the air quality but also your mental health. There are plenty of low maintenance plants you can choose from – spider plant, aloe, snake plant, English ivy, philodendron, or the lucky bamboo. Further, if you're scared you'll end up killing the plant, get yourself one of these 

self-watering pots

and see them grow stress-free. If you've got pets, just make sure to check that the plants you have or want are pet-friendly!


Essential Oils – Believe it or not, no matter how cramped up your space or tight the schedule, having a great smelling home office will turn down the stress, instantly. Choose lemon to lift up your mood and stimulate memory. Rosemary is known to help with memory retention and fight mental fatigue. Peppermint is a great stimulus for brainstorming sessions and promotes concentration. Eucalyptus too is a stimulating oil known to increase alertness and prevent lethargy.

You could use an essential oil diffuser or scented candles with the above-mentioned aromas for lasting effects. Here are a few 

DIY ideas

to make your own diffuser in case you wish to save on a trip outdoors.



---

Pro Tip: Lemon and Eucalyptus essential oils can help you feel energized and focus, and can also help with congestion and other respiratory ailments.

---




Back Posture Corrector

– One of the biggest problems of working from home is that at some point or another, we tend to start slouching a lot of the day. Back posture correctors work as a great support system that make you go from slumped over to tall-and-straight in an instant - and then keep you that way until you take them off. Of course, while nothing can replace multiple daily stretches, as well as a regular workout or yoga practice, which really can help with your productivity. 
P.S. All of the specific items mentioned above are simply recommendations and we will not be earning any commission or other monetary benefit from their sale.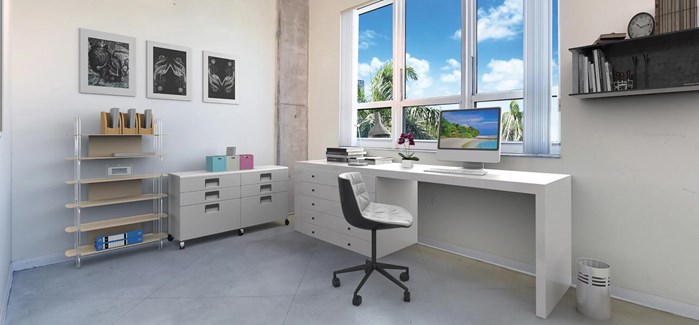 ---
Share your thoughts with us
Sign up now
Get news and updates delivered to your inbox