2020's Best Neighborhoods to Live in Miami - The Ultimate Guide
Mar 30, 2020 March 30, 2020
There's something for everyone in Miami they say, and not without reason. From the calming boulevards of Coconut Grove to the lively streets of South Beach and artsy alleys of Wynwood, there's a place to call home for every kind of individual in this eclectic city.
But, how does one decide on which neighborhood to live in? 
Well, the things that make a place truly livable are its everyday conveniences, public transportation systems, access to shopping, restaurants, cultural and entertainment venues, health and fitness options and more. Below, CondoBlackBook has listed ALL of the best places to live in Miami for condo residents (without any rankings, we leave that up to you), with all the details you'd need to help decide on the perfect place to call home.
Find links to all the blogs we've sourced our information from at the end of this article, especially walkability, transit scores, best beaches, and restaurants


Table of Contents
Downtown Miami
Core, dynamic neighborhood best suited for young professionals, socializers and culture aficionados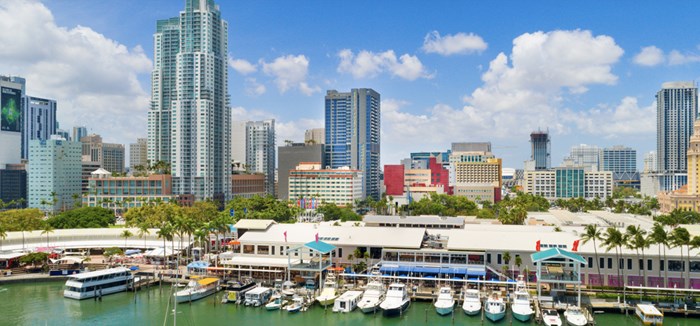 Walk and Transit Scores
Great to explore on foot with a leave-your-car-at-home mindset
 Walkability
A near-perfect walk score of 98 means residents have everything, from daily conveniences to top-class restaurants and entertainment venues within walking distance
 Public transit
A perfect public transit score of 100 means you have access to every kind of public transportation system from this mainland neighborhood, so you can go completely car-free!
 Art, Culture & Entertainment
Known as the melting pot for art and culture in Miami - home to the famous AA Arena, Adrienne Arsht Center and Perez Art Museum Miami (PAMM)
6

Museums

- Museum of Art and Design, Perez Art Museum, Philip and Patricia Frost Museum of Science, HistoryMiami Museum,

Historical Museum of Southern Florida

and Miami Children's Museum

4

Entertainment Venues

- Adrienne Arsht Center for the Performing Arts, AmericanAirlines Arena, Bayfront Park Amphitheatre, Gusman Center for the Performing Arts (Formerly the Olympia Theater)

2

Iconic Spots

- Miami Freedom Tower, Gusman Center for the Performing Arts

6+

Art Galleries

- Avant Gallery, Art Africa, Downtown Art House, Miami-Dade College Art Gallery, Zenith Art & Fashion and more
 Shopping
Handful of retail options including discount stores Ross and Marshalls and hip boutiques,  with the more versatile Brickell City Centre less than 10 minutes by car or Metrorail. Expecting a real boost once the mega Miami Worldcenter mall opens with 300,000 sq. ft. of high-street retail
5

Malls

- Bayside Marketplace, Ultramont Mall, 777 International Mall, Flagler Jewelry Center, Upcoming Miami Worldcenter

1

Farmer's Market

at the Adrienne Arsht Center

6+

Coffee Shops, including All Day, Eternity Coffee Roasters, Starbucks

2+

Walgreens and CVS stores

1

Whole Foods Market
 Restaurants and Nightlife
Home to many top-rated restaurants as well as a variety of eats suitable for every taste and pocket
2

of the

top ten highest-rated restaurants

in Miami – Zuma, CVI.CHE 105

3

of the

top high-end restaurants with water views

in Miami – Il Gabbiano, Wolfgang's Steakhouse, Zuma

2

of Miami's

ten best rooftop bars

– Area 31, Bloom Skybar

2

of the

best Mediterranean/Middle Eastern restaurants

– Fooq's, Meraki Greek Bistro

2

of the

best Asian restaurants

– Zuma, Bali Café
 Outdoors
Handful of Miami's best parks, with the waterfront Bayfront Park and Miami Riverwalk being most scenic for a walk 
3

Parks

- Bayfront Park, Maurice A. Ferré Park, Miami Riverwalk
 Fitness
Handful of fitness and gym options, as well as yoga and specialized training
4

Gyms

- Miami Athletic Club, Downtown Miami YMCA, OrangeTheory Fitness, Downtown Strength & Conditioning

2

Yoga Options

- Exhale Spa, Yoga in the Park at Bayfront Park

​
Business district with plenty of play options, best suited for Young Professionals and Families



Walk and Transit Scores
Walk to work convenience, with plenty of public transit options to hop about town
 Walkability
This business district comes up with a near-perfect walkscore of 98, meaning that all your basic necessities, top-rated restaurants, entertainment venues and more are within walking distance
 Public transit
A near-perfect transit score of 98 means the neighborhood is connected to all the major public transportation systems in the city, helping you go car-free whenever you like.
 Art, Culture & Entertainment
Modest art and culture scenario, with Downtown's more diverse destinations under 10 minutes by car or MetroRail
4+

Art Galleries

- Beaux Arts Gallery, Eternity Gallery Miami, Bojanini Art Gallery, Brickell Gallery, Italian Food Art and more

1

Landmark

- Miami Circle Archaeological Site
 Shopping
Two shopping destinations - a buzzing mega mall and open-air shopping complex - provide lots of luxury goods options 
2

Malls

- Brickell City Centre, The Shops at Mary Brickell Village

1

Farmer's Market

at the Brickell City Centre

3

Publix

7+

Coffee Shops, including Puroast, Fincas Coffee, Allegro, Starbucks

2+

Walgreens and CVS
 Restaurants & Nightlife
Hub for global cuisine with some of the finest Asian restaurants in Miami
1

of the

top ten highest-rated restaurants

in Miami – The River Seafood & Oyster Bar

1

of the

top high-end restaurants with water views

in Miami – El Cielo by Juan Manuel Barrientos

2

of Miami's ten best rooftop bars

– Sugar, The Bar at Level 25, Wet Deck Lounge

1

of the

best Mediterranean/Middle Eastern restaurants

– Rice House of Kabob

4

of the

best Asian restaurants

– Zuma, Hakkasan, Bali Café, Fuchai
 Outdoors
Modest number of parks, but right next door to some of the best outdoor experiences
3

Parks

- Allen Morris Brickell Park, Southside Park, Simpson Park

2

of the best beaches

in Miami - Crandon Park Beach and Hobie Island Beach Park are right next door on Key Biscayne

1

of the

top ten golf courses

in Miami – Crandon Golf Course is next door on Key Biscayne

1

of the

best dog-friendly beaches

in Miami – Hobie Island Beach Park is next door on Key Biscayne
 Fitness
Several top fitness and gym options, and yoga studios
3

Fitness Clubs

- 2 Equinox locations, LA Fitness

4

of the Best Yoga Studios

- Om Beats, Hot Yoga Brickell, Skanda Yoga, Vanilla Sky Yoga

3+

Specialized Fitness Studios

- SoulCycle, Title Boxing Club, Club Pilates and more

 Schools
1

of the

ten best private pre-schools

in Miami – Brickell International Academy

​

Brickell Key
Private island, 5 minutes from Miami's main business hub of Brickell, best suited for Professionals and Families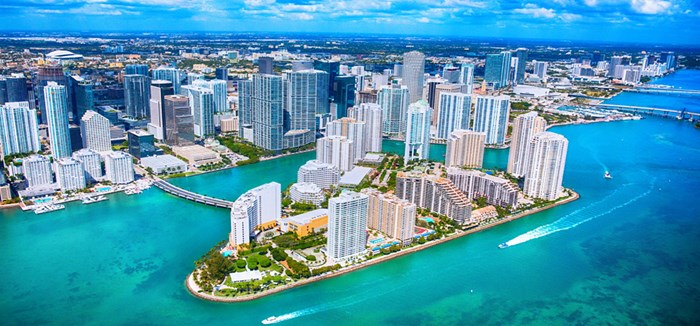 Art, Culture & Entertainment
Options on this private island may be sparse, but Downtown's phenomenal art and culture is a 10-minute car ride away
1

Outdoor Installation

- The Kiss Sculpture
 Shopping
To the point shopping, as expected of an island, with Brickell City Centre and The Shops at Mary Brickell Village less than 10 minutes away
1

Market

- Islander Marketplace
 Restaurants & Nightlife
Limited options typical of an island setting, but Brickell's more delectable collection is right next door
1

of the

top high-end restaurants with water views

in Miami – La Mar by Gastón Acurio

1

of the

best Asian restaurants

– NAOE
 Outdoors
A scenic boardwalk and central park offer ample space to soak up the sunshine
1 Park

- Brickell Key Park and Jogging Trail outlining island
 Safety
1

 of the

top ten safest neighborhoods in Miami

according to our 2018 study
Bayside residential neighborhood surrounded by all the art and fashion districts, best suited for Young Families and Young Professionals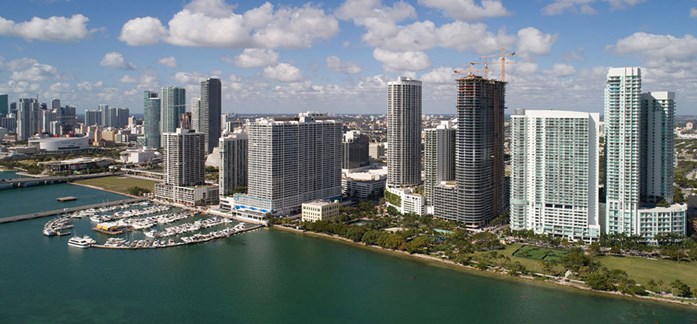 Walk and Transit Scores
Walkable neighborhood well-serviced by good public transit options
 Walkability
A great walk score of 93 indicating that most necessities, conveniences, restaurants and more lie within walking distance
 Public transit
A public transit score of 79 shows that the neighborhood is serviced by a decent amount of public transport options and does not require much dependence on a car
 Art, Culture & Entertainment
Sparse art and entertainment options, but more than compensated for by proximity to the museums, performing arts center and art and entertainment in Wynwood and Downtown Miami
1

Entertainment Venue

- The Jewel Box
 Shopping
Shops at Midtown offer all your retail staples, with Design District and Wynwood next door offering a variety of couture to eclectic options
2

Malls

- The Shops at Midtown Miami, (including Marshalls, Target, Homegoods, West Elm, Petco and more), The Grand Retail Plaza at the Doubletree Grand Hotel

6+

Coffee Shops, including Pasion del Cielo, Vice City Bean, Starbucks

1

Walgreens

1

Publix
 Restaurants & Nightlife
Good collection of restaurants, fast food joints and bakeries for a pocket-sized neighborhood
1

of the

top high-end restaurants with water views

in Miami – Amara at Paraiso
 Outdoors
Waterfront Margaret Pace Park is the center for all sports, fitness and outdoor activities enjoyed with the entire family (including your pooch)
1

Park

- Margaret Pace Park
 Fitness
Several top fitness and gym options, and yoga studios
3+

Fitness Clubs

including Barre, CrossFit 
 Schools
1

of the

ten best private pre-schools

in Miami – The Learning Nest
Eccentric art district best suited for Young Professionals and the Artistically Inclined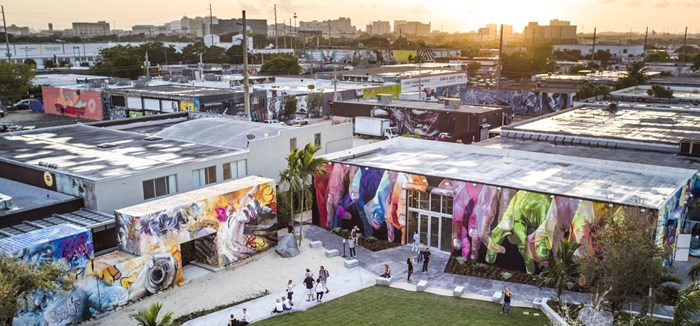 Walk and Transit Scores
Great neighborhood to explore on foot with only average transit connectivity
 Walkability
With a great walk score of 93, residents have everything, from shopping to necessities, restaurants, bars and more within walking distance
 Public transit
An average score of 61 indicates residents will need a car for most of their needs
 Art, Culture & Entertainment
One-of-a-kind, museum-like neighborhood known for its collection of street art, galleries and performance theaters
1

Iconic Spot

- Wynwood Walls

14+

Art Galleries

- Art Fusion Gallery, Art Nouveau Gallery, Bakehouse Art Complex, Diana Lowenstein Gallery, GGA Gallery, Gallery 212, Gary Nader Art Center, RC Cola Plant, Red Dot Art Fair, Rubell Family Collection, The Margulies Collection at the Warehouse, Purvis Young Art Museum Inc., White Porch Gallery, Valli Art Gallery, and many more

4

Entertainment Venues

- Mana Wynwood Convention Center, The Wynwood Marketplace, Miami Light Project Theater, The Bodyshop Experience Theater

1

Museum -

Unicorn Factory
 Restaurants & Nightlife
Plenty of food trucks and bars with some top-rated eats
1

of the

top ten highest-rated restaurants

in Miami – Kyu

1

of the

best Asian restaurants

– Fuchai
 Outdoors
Limited green spaces, but open-air art spots are a great alternative for a leisurely walk
1

Park

- Roberto Clemente Park
 Fitness
Several top fitness and gym options, and yoga studios
3+

Fitness Clubs

- Legacy Fit, Fight Club, CrossFit Wynwood

2+

Yoga Studios

- Wynwood Yoga, SOL Yoga Wynwood
Vibrant, historic, waterfront district with rich tropical foliage, best suited for Families, Students and Retirees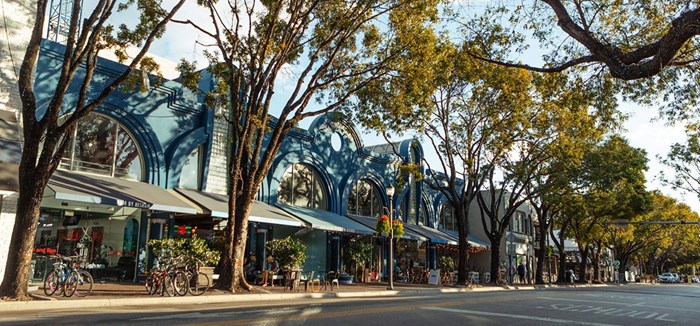 Walk and Transit Scores
Easily navigable on foot, but have a car handy for longer trips
 Walkability
A high walk score of 86 shows that residents can easily walk to most conveniences, restaurants, parks, the marina and more in the vicinity
 Public transit
An average score of 50 means residents will need a car to get around town and accomplish most tasks
 Art, Culture & Entertainment
Brimming with history and culture, landmark homes and festivals are a must-see
3

Museums/Historic Homes & Gardens

- Vizcaya Museum & Gardens, The Barnacle Historic Home and State Park, Marjory Stoneman Douglas Historic Home

4+

Festivals

- Coconut Grove Art Festival, Coconut Grove Food and Wine Festival, King Mango Strut Parade, Miami Sailing Week

6+

Art Galleries

- ArtWay 66 Gallery, Bernice Steinbaum Gallery, Boswell Mourot Fine Art Gallery, Grove Fine Art Gallery, KROMA Gallery, Midori Gallery Asian Antique and more
 Shopping
Local shopping soon to be revitalized with the re-opening of CocoWalk - a renovated hub for shopping, dining, and entertainment
3

Malls

- CocoWalk (under renovation), Commodore Plaza, Gables Pointe Plaza

3+

Markets - Fresh Market, Milam's,

and a

Farmer's Market

at the Intersection of Grand Ave. and McDonald

3+

Coffee Shops - Starbucks, Panther Coffee

1

Walgreens
 Restaurants & Nightlife
From the tried and trusted to the brand new, sidewalk cafes to sports bars, the variety of food is as tempting as the scenic, tropical setting it is served in
2

of the

top ten highest-rated restaurants

in Miami – Bombay Darbar, Jaguar Ceviche Spoon Bar & Latam Grill
 Outdoors
Plenty of state parks, open spaces and marinas; perfect to soak in the lush, tropical greenery, play, and set sail for events on the water
12+

Parks

- Peacock Park, Regatta Park, Alice Wainwright Park, Armbrister Park, Blanche Park, Coconut Grove Dog Park/David T Kennedy Park, Dinner Key Picnic Islands Park, Elizabeth Virrick Park, Kenneth M Myers Bayside Park, Kirk Munroe Park and Tennis Center, Lincoln Park, Merrie Christmas Park

1

Botanical Garden

-

The Kampong, National Tropical Botanical Garden

5

Marinas

- Coconut Grove Sailing Club (home to various regattas), Dinner Key Marina, Grove Key Marina, Grove Isle Marina, Prime Marina
 Fitness
Several top fitness and gym options, and yoga studios
2+

Gyms

- 24 Hour Fitness, Youfit Health Club

4+

Yoga and Fitness Studios

- Dharma Yoga, OM Movement, Buddha Grove Yoga, Pilates in the Grove 
 Schools
3

of the

top ten private schools

in Miami – Ransom Everglades School, Coconut Grove Montessori School, Carrollton School of the Sacred Heart

1

of the

ten best private pre-schools

in Miami – Coconut Grove Montessori School
 Safety
1

of the

top ten safest neighborhoods in Miami

according to our 2018 study

Coral Gables
Historic 'City Beautiful' best suited for Families and those looking for Suburban Bliss



Walk and Transit Scores
Having a car or other private vehicle is a must to get around town
 Walkability
A decent walk score of 77, indicating that some necessities, shopping and restaurants can be accessed on foot
 Public transit
This score of 38 shows that residents have to be majorly car-dependent
 Art, Culture & Entertainment
Vibrant art and culture scene, with an art-house cinema, theater community, museums, and historic hotspots
3

Museums

- Coral Gables Museum, American Museum of the Cuban Diaspora, Lowe Art Museum at the University of Miami

3+

Historic Spots

- Merrick House, Venetian Pool, Biltmore Hotel

2+

Entertainment Venues

- Coral Gables Art Cinema, Improv South Miami, Actor's Playhouse at the Miracle Theatre

1

Festival

- Beaux Arts Festival

5+

Art Galleries

- ArtSpace Virginia Miller Galleries, Conde Contemporary, Durban Segnini Gallery, HBenitez Fine Art Gallery, Imago Art in Action and more
 Shopping
Find local boutiques and shops stradling Miracle Mile's main thoroughfare, while Merrick Park houses more premium options
4

Malls

- Miracle Mile, Shops at Merrick Park, The Shops at Sunset Place, University Shopping Place

1

Farmer's Market

at Merrick Park

5

Publix

4

Starbucks

1

Whole Foods Market

1

Walgreens
 Restaurants & Nightlife
Most top-rated restaurants, cafes and wine shops come peppered around Miracle Mile
1

of the

best Mediterranean/Middle Eastern restaurants

– Maroosh Mediterranean Restaurant

1

of the

best Asian restaurants

– Taste Buds of India
 Outdoors
Great leisure options to enjoy the outdoors with canopies of lush tropical foliage, plenty of parks, golf courses, beaches, and more
19+

Parks

- R Hardy Matheson County Preserve, Neil Schiff Tennis Center, Greentree Practice Fields, Alex Rodriguez Park, Banyan Drive Park, Carlos S. Kakouris Park, Chapman Field Park and Trail, Coral Bay Park, Ferdinand Park, Gifford Arboretum Park, Granada Park, Hammock Lake Park, Ingraham Park, Jaycee Park, Leucadendra Park, Phillips Park, Salvadore Park, Sunrise Harbor Park, William H. Kerdyk Jr. and Family Park

1

Botanical Garden

- Fairchild Tropical Botanic Garden

2

of the

top ten golf courses

in Miami – The Biltmore Golf Course with Biltmore Tennis Center and Deering Bay Yacht & Country Club

2

more golf courses -

G

ranada Golf Course,

R

iviera Golf Course

1

Marina

- Deering Bay Marina

2

Lakes

- Lake Osceola, Lake Hammock
 Fitness
Several top fitness and gym options, and yoga studios
5+

fitness clubs

- Coral Gables Athletic Club, Equinox, Legacy Fit, OrangeTheory, LA Fitness

5+

yoga studios

- Prana Yoga, Lightrail Yoga, Peace Love Art, Yoga Lab, Yoga House

5+

pilates studios

- Club Pilates, Pilates ProWorks, Conscious Movement, Pilates Strong, Be Pilates
 Schools
2

of the

ten best private schools

in Miami – Gulliver Academy, Riviera Day School

2

of the

ten best private pre-schools

in Miami – KLA Schools of Coral Gables, Riviera Day School

University of Miami
 Safety
1

of the

top ten safest neighborhoods in Miami

according to our 2018 study
Vacation hotspot and beach-crowd favorite, best suited for the Young at Heart, Influencers, Staycations and Second Homes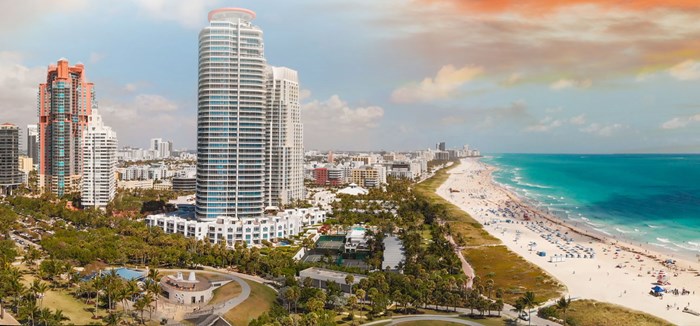 Walk and Transit Scores
Easy to explore on foot, with the Miami trolley supporting out of town excursions
 Walkability
With a great walk score of 94, residents have almost everything, from fabulous shopping to beaches, conveniences, restaurants and more within walking distance
 Public transit
A fair public transit score of 60 indicates that residents will need their car for some errands and out-of-town travel, but there is a free South Beach trolley
 Art, Culture & Entertainment
Known for its "see and be seen" events, parties, and festivals that offer world-class entertainment - home to the legendary Fillmore theater, historic O Cinema Arthouse, iconic Art Deco Museum, soulful food and wine festival, and the international Art Basel fair
7

Entertainment Venues

- Colony Theatre, Miami City Ballet, New World Concert Hall, O Cinema, The Fillmore Miami Beach, Miami Beach Convention Center, Soundscape Park

6

Museums and Landmarks

- Art Deco Museum, Holocaust Memorial, Jewish Museum of Florida, The Bass Museum, The Wolfsonian Museum, World Erotic Art Museum

2

Festivals

- Art Basel, South Beach Wine and Food Festival

8+

Art Galleries

- Aqua Art Miami, David Castillo Gallery, Dean Project, Effusion Gallery, HaviArt, Leah Art – Contemporary Fine Art Gallery, National Geographic Fine Art Gallery, Romero Britto Fine Art Gallery and more
 Shopping
Home to the famous, open-air shops at Lincoln Road, high-end labels of Fifth and Alton, and a wide variety of staple retail to boutique stores
5

Malls

-

Lincoln Road, Fifth and Alton, Shoppes of Il Villaggio, The Shoppes at West Avenue, Sunset Harbor Shops, 

1

Farmer's Market

and

1 Antique Market

at Lincoln Road

8+

Coffee Shops - Starbucks, Panther Coffee

5+

Walgreens, CVS

4+

Grocery Markets - Publix, Whole Foods, Fresh Market, Trader Joe's
 Restaurants & Nightlife
Best known for its fresh seafood joints, variety of global eats, watering holes, pubs and late-night gems
2

of the

top ten highest-rated restaurants

in Miami – Joe's Stone Crab, Pubbelly Noodle Bar

1

of the

top high-end restaurants with ocean views

in Miami – Smith & Wollensky

4

of Miami's

ten best rooftop bars

– Highbar, Juvia, The Cape, Watr

6

of the

best Mediterranean/Middle Eastern restaurants

– Poseidon Greek Restaurant & Outdoor Lounge, Habibi Diner, Babylon Turkish Restaurant, Safron Mediterranean Grill, Al Basha Grill, Cleo
 Outdoors
Vacationer's paradise with world-famous beaches for relaxation and water sports, plenty of parks for greenery, and great marinas to set sail from
7

Parks

- Collins Park, Flamingo Park, Lummus Park, Marjory Stoneman Douglas Ocean Beach Park, Soundscape Park, South Pointe Park and Pier, Miami Beach Boardwalk

3

Marinas

- Bentley Bay Marina, Miami Beach Marina, Ocean Yachts Marina

2

of the

best beaches

in Miami – South Pointe Park Beach, Lummus Park Beach

1

Botanical Garden

- Miami Beach Botanical Garden
 Fitness
Several top fitness and gym options, and yoga studios
4+

best fitness clubs

- Equinox, Crunch, OrangeTheory, Anatomy 

7+

of the best yoga studios

- Green Monkey, Synergy Yoga, Miami Life Center, Tropical Vinyasa, Atmananda, Modo Yoga, Glow Hot Yoga

8+

specialized fitness studios

- Barry's Bootcamp, Hauser Pilates, SobePilates, JetSet, SobeKick, 5th St. Gym, SoulCycle, FlyWheel
 Schools
Florida International University Architecture & Design Campus
Stylish, more sophisticated cousin of South Beach, best suited for Families, Staycations and Second Homes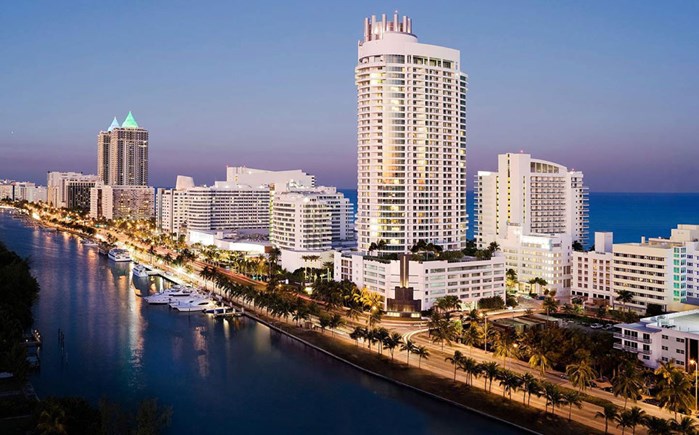 Walk and Transit Scores
Certain sections are great to navigate on foot, but out of town trips do require a car
 Walkability
A great walk score of 91 shows that the beach, most restaurants and conveniences lie within walking distance
 Public transit
An average public transit score of 59 shows that residents have to depend on their cars mostly
 Art, Culture & Entertainment
Faena District is latest hotspot for art and entertainment, with South Beach's legendary fun and frolic just minutes away
4

Entertainment Venues

- Faena Theater, Arts at St. Johns, The Rat Pack Theater, North Beach Bandshell

1

Museum

- Museo Del Helado

3+

Art Galleries

- Gold's Oasis at the Faena Bazaar, PULSE Art Fair and Rudolf Budja Gallery
 Shopping
Decent shopping options, more than compensated for by the variety down in South Beach
2

Malls

- Fontainebleau Shops, Faena Bazaar

3

Starbucks

2

Publix

2

Walgreens
 Restaurants & Nightlife
Great options for global fare and fine-dining, with a more wide-ranging variety to be found in South Beach next door
2

of the

top high-end restaurants with ocean views

in Miami – Scarpetta, Pao by Paul Qui

1

of Miami's

ten best rooftop bars

– Ocho

2

of the

best Asian restaurants

– Hakkasan, Indomania
 Outdoors
Idyllic white-sand beaches, plenty of green spaces, and top-class golf courses - perfect for a leisurely day out
8

Parks

- Fisher Park, Indian Beach Park, Maurice Gibb Memorial Park, Miami Beach – Central, Muss Park, Pinetree Park, Polo Park, 36

th

Street Park

2

of the

top ten golf courses

in Miami – Miami Beach Golf Course and the La Gorce is right next door
 Fitness
Several top fitness and gym options, and yoga studios
3+

fitness clubs

- Normandy Boxing & Fitness, Hipefit, Beach Body

3+

yoga studios

- Yoga That, Nobe Yoga, Miami Beach Iyengar Yoga
 Schools
1

of the

ten best private schools

in Miami – The Rabbi Alexander S. Gross Hebrew Academy
Tranquil beach town best suited for Families and those looking for Suburban Bliss by the ocean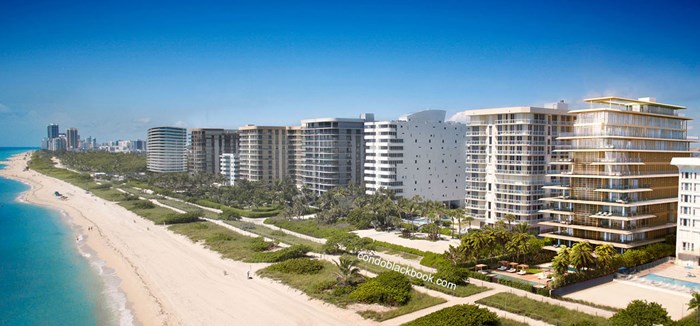 Walk and Transit Scores
Fairly walkable, but a car is required to get around town
 Walkability
An average walk score of 57 indicates that some necessities, restaurants, and sources of entertainment lie within walking distance. Serviced by hardly any public transportation system, this beach town requires a private vehicle for navigation
 Art, Culture & Entertainment
Community events provide year-round entertainment, while South Beach's perpetual celebrations are only 20 minutes by car
2

Entertainment Venues

- Town of Surfside Community Center, Townhall Surfside
 Shopping
Basic necessities, with the upscale Bal Harbour Shops just 5 minutes by car
1

Mall

- Surfside Plaza

1

Publix

1

Starbucks
 Outdoors
Ample green spaces and access to impressive beaches to soak up the sun in style
4

Parks

- Hawthorne Tot Lot, Surfside Park, Surfside Tennis Center, Veterans Park

1

Golf Course

- Indian Creek Country Club is right next door

1

of the

best beaches

in Miami – Surfside Beach

1

of the

best dog-friendly beaches

in Miami – North Shore Open Space Park is right next door
 Fitness
Limited fitness and gym options, but the beach is your backyard, and several options can be found north or south 
1

yoga studio

- Skylight Yoga & Meditation
Elite neighborhood with high-end everything, best suited for Families and the Discerning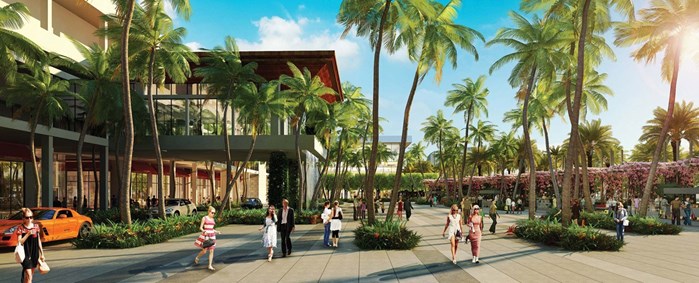 Walk and Transit Scores
Owning a private vehicle is an absolute necessity
 Walkability
With the lowest walkscore of 37 on our list and hardly any public transit options, residents need to hop in a car to access anything and everything
 Art, Culture & Entertainment
Limited options, traveling further down along Collins Avenue to South Beach is highly recommended
4

Art Galleries

- Artourage Galleries, Art Jat Corporation, KarynInn Gallery and Lions Gallery
 Shopping
A world-famous, one-stop shopping mall for ultra-high-end labels
1

Iconic Mall

- Bal Harbour Shops
 Restaurants & Nightlife
Handful of fine-dining restaurants, serving world-class cuisine, mostly housed in the Bal Harbour Shops
1

of the

top high-end restaurants with ocean views

in Miami – Artisan Beach House

1

of the

best Asian restaurants

– Makoto
 Outdoors
World-class, sugar-sand beaches and a marina help enjoy the great open waters
2

of the

best beaches

in Miami – Bal Harbour Beach, and the Haulover Beach Park is right next door

1

Marina

- Bal Harbour Marina
 Fitness
Some fitness and yoga options, however, most luxury condos will have gyms
3+

yoga studios

- Red Apple Yoga, Exhale, Fly Yoga
Exclusive seaside community with plenty of branded condos, branded shopped, best suited for Families, Retirees and Part-time Residents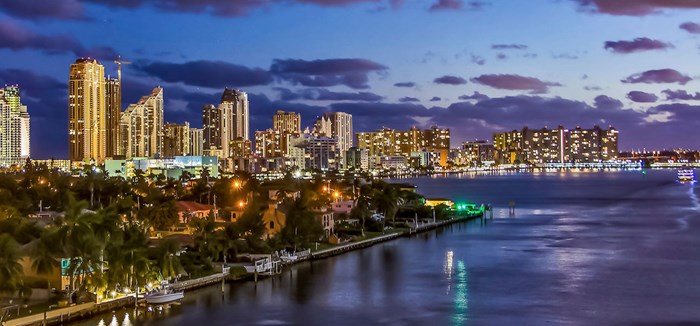 Walk and Transit Scores
Fairly walkable, but bring along the car for longer trips
 Walkability
With a decent walk score of 78, residents have the beach, most restaurants and other conveniences within walking distance
 Public transit
A low transit score of 45 shows that residents have to be majorly car-dependent
 Art, Culture & Entertainment
Hardly any options, traveling down to Surfside for community events or South Beach for a far greater variety is highly recommended
1

Art Gallery

- Mykola Fine Art Gallery
 Shopping
One-stop supermarket for popular brands and beauty supplies only; find more lavish options with a short drive to the Aventura Mall or Bal Harbour Shops
1

Mall

- RK Centers

1

Publix

1

Walgreens

1

Starbucks
 Outdoors
Plenty of green spaces plus easy access to a range of activities at the Haulover Beach Park next door and Oleta River State Park (10 minutes by car)
9

Parks

- Oleta River State Park next door, Pier Park, Golden Shores Community Park, Heritage Park, Intracoastal Park, Pelican Community Park, Samson Oceanfront Park, Senator Gwen Margolis Park, Town Center Park

1

of the

best beaches

in Miami – Haulover Beach Park is right next door
 Safety
1 

of the

top ten safest neighborhoods in Miami

according to our 2018 study
---


For details on any of the above "best of" lists, look below for further reading:
The 11 Most Walkable Neighborhoods in Miami
The 11 Most Walkable Neighborhoods in Miami Beach
Top Miami Neighborhoods Ranked for Public Transportation
Top Miami Beach Neighborhoods Ranked for Public Transportation
Guide to Miami's Top Farmer's Markets
A Guide to Miami's Best Beaches
Miami's Top Dog-friendly Beaches
Miami's 10 Best Private Preschools
Miami's Top 10 Private Schools
Top High-end Water View Restaurants in Miami
Top High-end Ocean View Restaurants in Miami Beach
Top Ten Highest Rated Restaurants in Miami
Miami's Best Mediterranean/Middle Eastern Restaurants
Miami's Best Asian Restaurants


---

Photo cover courtesy of: @ogeevisuals - www.ogeevisuals.com
Share your thoughts with us
Sign up now
Get news and updates delivered to your inbox