2.5 Tons Of Concrete Poured Downtown And 58 Fendi Condos In Surfside
Sep 17, 2015 September 17, 2015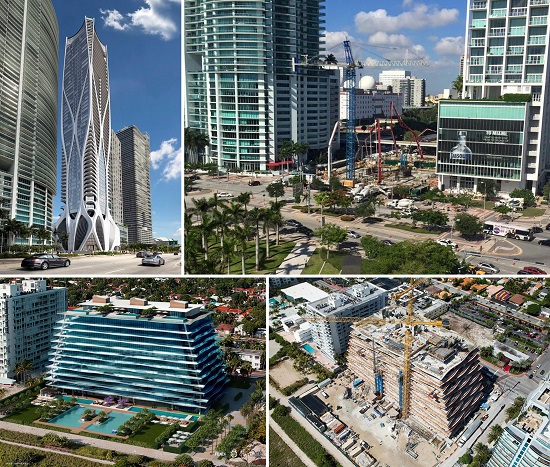 As we close in on the end of the year, we welcome the ground breaking of two of the largest upcoming residential condo projects in the area.
One Thousand Museum, 1000 Biscayne Boulevard, Downtown Miami:
In a span of 24 hours, 1,000 concrete trucks poured a total of 9,500 cubic yards of concrete, resulting in the foundation for One Thousand Museum. Additionally, workers broke Miami-Dade County depth records for drilling.
The One Thousand Museum, designed by Zaha Hadid Architects and is the group's first design in the western hemisphere. Prices for the units sized between 4,600 and 10,000 square feet, start at $5.5 million.
Fendi Château, 9365 Collins Avenue, Surfside, Miami:
At 80% of units sold, the apparently popular joint venture between Château Group and famed Italian luxury fashion house Fendi have topped off in celebration. The residences are slated to open in June of 2016 in Surfside with units between 3,300 and 7,000 square feet.
Priced from $6.5 million to $25 million, the condo project is the first of its kind for Fendi, making it a milestone for the brand. "The symbolic topping off of FENDI Château Residences marks a significant event for Château Group as we celebrate the first FENDI-branded condominium building in the world taking shape along the Miami waterfront," said Manuel Grosskopf, chairman and CEO of Château Group.
Source: therealmiami.com
Photo credit: therealmiami.com
Share your thoughts with us
Sign up now
Get news and updates delivered to your inbox