4 Gorgeous New Miami Architectural Projects
Sep 09, 2019 September 09, 2019
Known as a city that worships design, and one in which nearly every star architect has left their indelible mark, Miami architecture boasts contributions from such world-famous names as Frank Gehry, Rem Koolhaas, Zaha Hadid, Herzog & De Meuron, Grimshaw, César Pelli, Richard Meier, Rafael Moneo, Jean Nouvel, and Bjarke Ingels, as well as revered local designers such as Arquitectonica.
Spread across all areas of the city, here are four of Miami's newest and most talked-about architectural wonders that are simply breathtaking to look at.


One Thousand Museum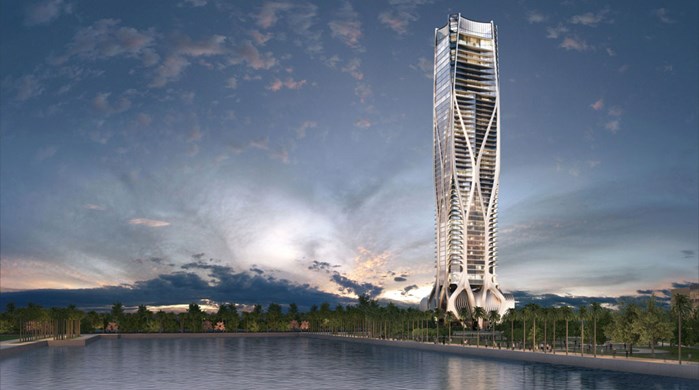 Rising at 1000 Biscayne Boulevard, directly across from Museum Park, One Thousand Museum has quickly become one of the most famous buildings in Florida. This spectacular 62-story residential tower is one of the last works designed by the late Pritzker Prize winner Zaha Hadid prior to her death, and her first residential tower design in the Western Hemisphere.
Standing over 707 feet tall, One Thousand Museum is among the tallest buildings in the Miami city skyline, and currently the city's only condominium tower with a helipad on its rooftop. The building features a unique curved exoskeleton composed of glass fiber reinforced concrete that partially hides the building's balconies and structurally allows fewer columns in the interior spaces, creating a unique design that allows for vast, open living spaces. The building houses 84 luxurious museum-quality residences, and over 30,000 square feet of ultra-luxurious amenities.


Faena District Miami Beach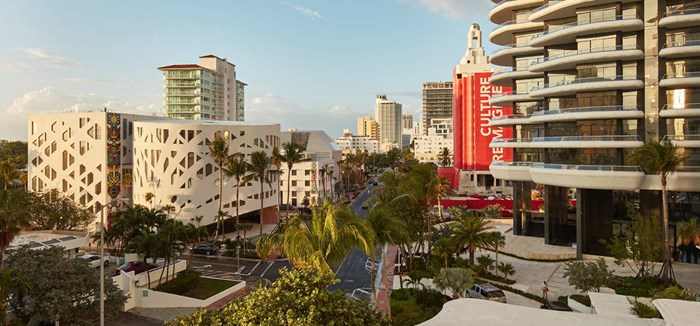 Photo courtesy of Faena


The Faena district, developed by the famed Argentinean hotelier and developer Alan Faena, is a billion-dollar project extending six blocks north from 32nd Street to 36th Streets between the Atlantic Ocean beach and Indian Creek that provides an injection of art, music, fashion, and cultural happenings to the mid-beach region. The district is home to two hotels, three condominium buildings, a vast art and culture center, and plenty of retail venues.
The assortment of buildings are designed by renowned architects Norman Foster, Brandon Haw and Bill Sofield. The largest of them is the Faena Forum, a 42,565 square-foot cultural center designed with vast stretches of open space, supported by a facade consisting of 350 distinct windows, a spiraling balcony with gorgeous views of the city, and a 40-foot-high dome. The most architecturally innovative structure in the district, however, is undeniably the Office for Metropolitan Architecture (OMA), designed by Pritzker Prize-winner Rem Koolhaas.


ICA Miami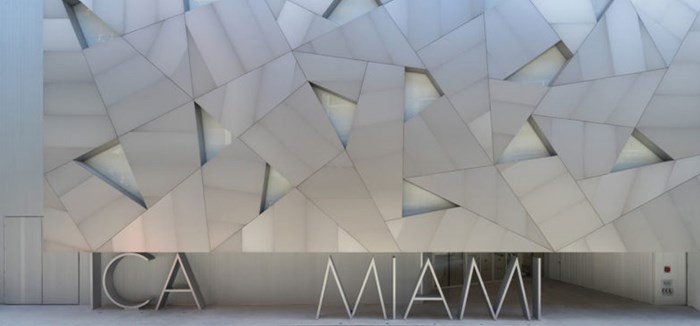 Located in the heart of Miami at 61 NE 41st Street, Institute of Contemporary Art, Miami, designed by Aranguren & Gallegos, features two unique perforated and reflective facades that creates a beautiful glowing effect at night. The building design is based on a luminous cubic volume concept, or "Magic Box," based on a triangular geometry designed to resist hurricane winds. Inside, the museum's galleries are spread over three levels, and host illuminated art installations that underscore the building's iconic luminosity. The complex features an exterior sculpture garden that acts as an outdoor gallery.


UM Architecture Studio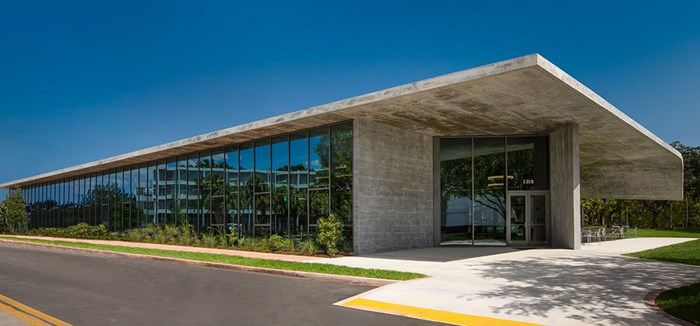 Voted the 2018 Building of the Year by readers of World-Architects.com, the University of Miami's new Architecture Studio, located at 1223 Dickinson Drive Coral Gables, is an understated structure marked by a dramatic overhanging roof made of raw concrete, mimicking the form of a gentle wave that provides shade for an outdoor terrace. Designed by the renowned Miami-based architectural firm Arquitectonica, this a 20,000-square-foot LEED-certified construction with a sleek glass-and-concrete design that provides bright open workspaces for UM's architecture students and faculty, and serves as an educational model for architectural studies by showcasing basic tenets of contemporary architecture, with a nod to the principles of Miami Modernist architecture.
The structure emphasizes sustainability and incorporates the natural pattern of sunlight to ensure a comfortable work environment even during the hottest weather, maximizing energy efficiency by exploiting natural daylight that diminshed the need for artificial light, and windows that provide cool ventilation to eliminate the need for air conditioning, a genuine triumph in the face of the Miami heat.
As Miami continues its fascination with architecture and design, and more and more architectural masterpieces dot the cityscape, these recent constructions mark the dramatic transition that the city is making as it becomes an even greater hub of architectural wizardry as the 21st century advances.
Share your thoughts with us
Sign up now
Get news and updates delivered to your inbox