4 Property Tax Savings and Benefits when Buying Property in Florida
Aug 29, 2017 August 29, 2017
For most people, paying taxes equals one big headache. In Florida, knowing your tax laws is worth the pain. Being a Florida resident, you can gain from many tax-saving programs. You can also find affordable real estate in big cities like Miami. Those looking to move would save more in Miami than in other desirable locations like New York or Los Angeles. The Sunshine State offers many unique opportunities to keep more money in your wallet.

1. No Florida State Income Tax
Income taxes usually take a chunk out of your paycheck, but not in Florida. Floridians don't have to pay a state personal income tax at all (no city income taxes either, as they have in New York). As a Florida resident, you'll still have to pay federal income taxes, but the savings on state taxes are substantial. Also, Floridians don't have to pay estate or intangibles taxes on their investments.

2. Property Taxes - Florida Homestead Exemptions
In Florida, local governments are in charge of determining and collecting property taxes.
Miami-Dade County's website has a Tax Estimator for calculating a rough estimate of how much you would have to pay before any breaks. There are many ways residents can save thanks to Homestead Exemptions. If you can prove that your primary residence is in Florida, you could be eligible for an exemption of up to $50,000. The first $25,000 of the homestead property's value won't be taxable. The second exemption, worth up to $25,000, depends on the value of the home and doesn't apply to school taxes.
 
Frankly, almost any property you buy in South Florida is going to allow for the maximum exemption amount. Below are some examples.
Assessed
Home Value
Amount Exempt
from All
Property Taxes
Taxable Amount
Remainder
Exempt from
Non-School Taxes
Remaining
Taxable Amount
$200,000
$25,000
$175,000
$25,000
$150,000
$500,000
$25,000
$475,000
$25,000
$450,000
$1,000,000
$25,000
$975,000
$25,000
$950,000
3. Property Tax - Florida Save Our Homes Program
If you apply for a Homestead Exemption, you could also be eligible for the Save Our Homes Assessment Limitation. This is where very significant property tax savings can build up over time. When a Florida resident signs up, their home is assessed by a property appraiser. From that point on, the home's value may only rise a maximum of 3-percent (or the percent change in the Consumer Price Index, whichever is lowest). This means the taxable value of your home stays low, while your market value continues to rise at the normal rate. (So, for example, you could end up paying for taxes on a $500,000 taxable value, when it's actually worth $1,000,000 on the market.) The assessed value only determines your taxes and does not affect the market value of your home.
 
Should you decide to sell your home, you might be eligible to take some of your savings with you thanks to the Portability Transfer. We're discussing this in detail in a future blog post. Subscribe to our blog on the right side of this page so you don't miss it!

4. Miami, the Affordable Major U.S. Coastal City
If you want to move to a major U.S. coastal city, but you're worried about the outrageous prices, check out real estate in Miami. Miami is an international city with ample business opportunity. If you're looking for art, culture, and an amazingly diverse food scene, you'll find those too. As a bonus, the homes there are cheaper than San Francisco and New York. Only Chicago prices are slightly lower, but Chicago doesn't have Miami's tropical beaches and beautiful weather year-round.

Miami also has the most reasonably-priced luxury condos. In Miami, they start at as low as $600,000. Recently, beachfront properties sold for $8 million, but that's considered unusually high. Compare this to New York City trends, where luxury condos start in the millions. San Francisco comes in way above Miami at $1.86 million. 
 
Florida tax laws and real estate prices provide many ways to be easy on your pockets. Newcomers and long-time residents alike just have to know where to look! Contact us today so we can help you find a great property in Miami in South Florida.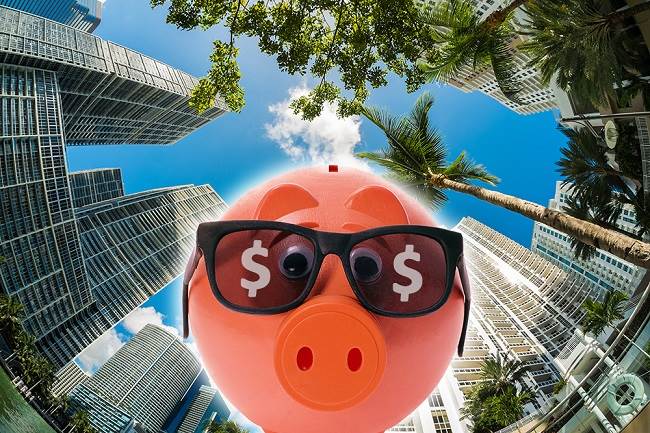 Share your thoughts with us
Sign up now
Get news and updates delivered to your inbox