5 Iconic Miami Condos with Star Power
Jul 25, 2019 July 25, 2019
Known as a city that worships design, and one in which nearly every star architect has left their indelible mark, Miami boasts architectural contributions from such world-famous names in architectural design as Frank Gehry, Richard Meier, Grimshaw, César Pelli, Rafael Moneo, and Bjarke Ingels, as well as revered local teams such as Arquitectonica.  To seal its reputation as an architectural mecca of impeccable design, Miami currently has five amazing projects under construction, designed by such globally-renowned architects as Zaha Hadid, Jean Nouvel, Rezo Piano, Herzog & De Meuron, and Rem Koolhaas, all of whom have won the Pritzker Prize, architecture's highest honor, a distinction that has been bestowed upon only 40 architects worldwide.


One Thousand Museum
1000 Biscayne Blvd, Miami, FL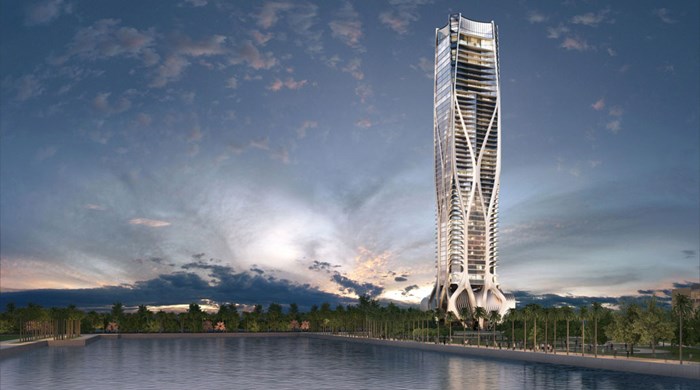 One of the last projects crafted by the grand dame of architecture prior to her passing in March 2016, the late Zaha Hadid designed the breathtaking One Thousand Museum to reflect the dynamic energy of Miami. The 62-story skyscraper will be Miami's fifth largest building, and houses 83 residential units, two floors of luxury amenities, and Miami's first residential condo helipad on the rooftop. This innovative project has been one of the world's most ambitious and difficult architectural projects in history, and was featured on the program "Impossible Builds." One Thousand Museum is now finally completed after 55 months of overcoming construction challenges, with the tower's remaining units, ranging in size from 4,669 to 10,416 square feet, now selling for between $5.8 million and $20 million. Many consider One Thousand Museum to be the most beautiful new building in the Miami skyline, with a sensuously curved exoskeleton that covers the entire structure.


Monad Terrace
1215 West Ave, Miami Beach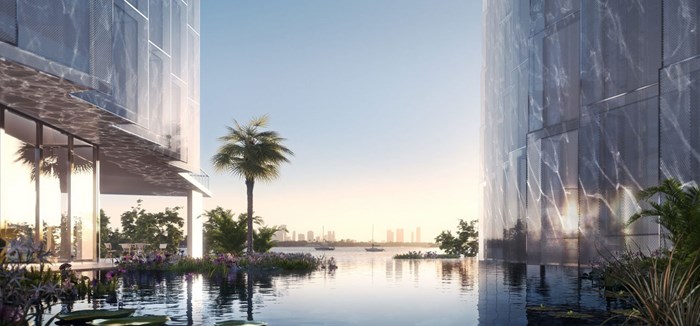 Globally-renowned French architect Jean Nouvel has designed a unique facade intended to "capture, diffuse and reflect incoming light" from the property's signature water garden consisting of a central lagoon and adjacent swimming pools, and provide expansive ocean views from each residence at the Monad Terrace tower, opening soon in South Beach. Scheduled for 2020 completion, the 13-story boutique condo building is home to 59 luxury waterfront residences that range from 1,453 to 5,350 square feet in size and are priced from $1.7 to $12 million. Designed to provide brilliant light and private garden areas sheltered by native plants and flowers, Nouvel has skillfully manipulated the reflections produced by the building's water features so they bounce into living spaces, in a process that Nouvel has playfully nicknamed "the reflection machine."


Eighty Seven Park
8701 Collins Ave, Miami Beach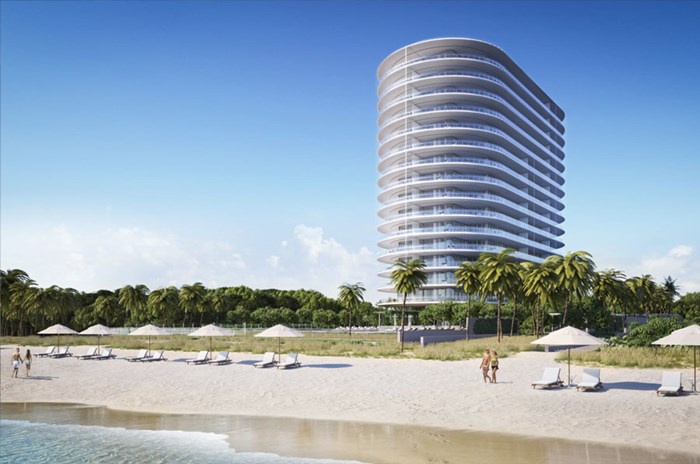 In Surfside, the 18-story Eighty Seven Park, set in lushly landscaped North Shore Park and designed by world-renowned Pritzker Prize winner Renzo Piano, features a rounded design that will "create a fresh dialogue" with its seaside environment. Best known for his poetic approach to architecture, as evidenced in his design for the Whitney Museum and the New York Times Building in New York City, as well as the famed Shard Tower in London, Eighty Seven Park houses 70 luxurious residences ranging in size from 1,018 to 7,572 square feet, and asking $1.6 to $15.5 million.


Jade Signature
16901 Collins Avenue, Sunny Isles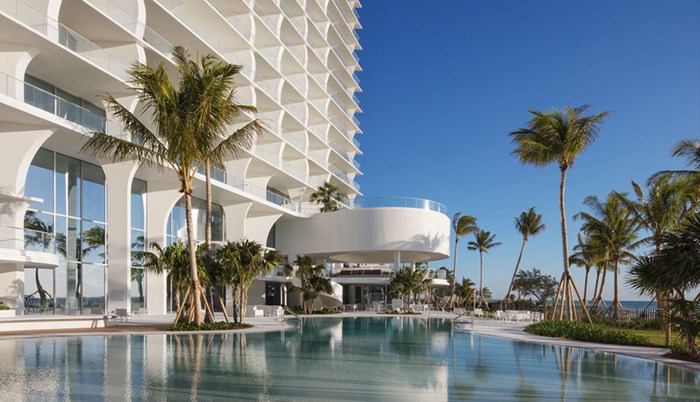 Miami's love affair with Swiss architects Jacques Herzog and Pierre de Meuron began with their design of the spectacular parking lot at 1111 Lincoln Road, and only grew when the duo designed the beautiful Perez Art Museum Miami (PAMM). Completed in 2013, PAMM is only one of their many worldwide museum designs that include the Tate Modern in London and the De Young Museum in San Francisco. Herzog & De Meuron's 57-story Jade Signature houses 162 residential units and opened its doors for move-in earlier in 2019, with only a few available units remaining. These luxury residences range in size from 561 to 11,661 square feet, and are selling for between $4.5 and $29.5 million.


Park Grove Residences
2831 S Bayshore Dr, Coconut Grove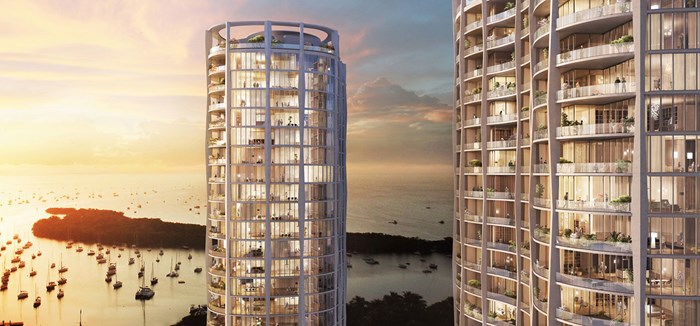 Rem Koolhaas, described by The Smithsonian as "one of the most influential architects of his generation" but also as "the world's most controversial architect" was inspired by the famous "Surrounded Islands" installation created by artists Christo and Jeanne-Claude in 1983 when designing the luxurious Park Grove Residences in Coconut Grove. While the condominium's third tower is currently still under construction, two of its three towers have already been completed and has opened to residents, with remaining units selling for $2.7 to $6.3 million. The floor plans at Park Grove Residences range in size from 1,045 to 1,886 square feet, spread across 23 stories and a total of 130 units.
If you'd like to own a trophy property in a building designed by one of the world's most iconic and celebrated architects, Miami is a perfect location in which to go condo shopping. Choose from several of the world's greatest architectural design concepts, all within one Magic City!
Share your thoughts with us
Sign up now
Get news and updates delivered to your inbox