729 Edge: Team Behind Hadid's One Thousand Museum Planning Waterfront Project in Edgewater, Miami
Oct 22, 2021 October 22, 2021
Zaha Hadid's final masterpiece, One Thousand Museum in Downtown Miami, has become an architectural icon, bringing attention and interest to the Miami skyline from across the world. Now, some of the same developers and architectural team of record are planning a new waterfront condo project soon-to-be Edgewater's next luxury condo tower. Looking over the stunning bay waters, 729 Edge will be a 55-story, 70-unit condo tower that, according to initial renderings, bears a resemblance to Downtown's ultra-luxury One Thousand Museum.
Located at 710 NE 29th Street, the 650-foot-tall tower is expected to replace the 15-condo Harbor 29, built in 1972. Pending approval by the Miami Urban Development Review Board (UDRB), the waterfront parcel will be part of a bigger assemblage of five parcels in two locations along Northeast 29th Street, which are all under contract.
Once approved, developers 729 Edge LLC will close on the condo buyout of the 15-unit Harbor 29. In the wake of the recent migration of businesses and high net worth individuals from up north and Silicon Valley, more and more developers are looking to close on bulk condo buyout deals. As vacant land becomes more scarce in Miami, bulk buyout deals create development opportunities while replacing older properties that are looking at heavy repairs and hefty fees as part of the 40-year certification process.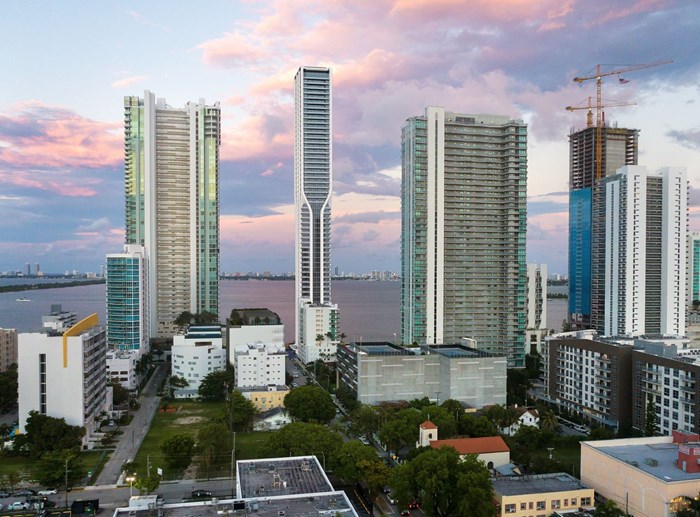 729 Edge Design: One Thousand Museum 2.0?
The development team shares two of its co-developers with One Thousand Museum. Louis Birdman and Kevin Venger were part of the stellar team at Zaha Hadid's ultimate creation. Other developers on the team include Michael Konig and Alex Posth.
Designed by ODP Architecture & Design - an architect of record at One Thousand Museum - renderings for 729 Edge show a similar design language to Zaha Hadid's scorpion tower. Initial renderings show 729 Edge carrying an exo-skeleton, with beams on the outside, which helps maximize living space and view corridors on the inside.
Just like One Thousand Museum, 729 Edge will also feature no more than two residences per floor. Units are expected to range from 3- to 5-bedrooms, with full-floor residences offering 6,174 square feet of living space. There will also be two dual-floor, townhouse-style penthouses in the waterfront tower.
729 Edge is also scheduled to feature a rooftop helipad, much like One Thousand Museum.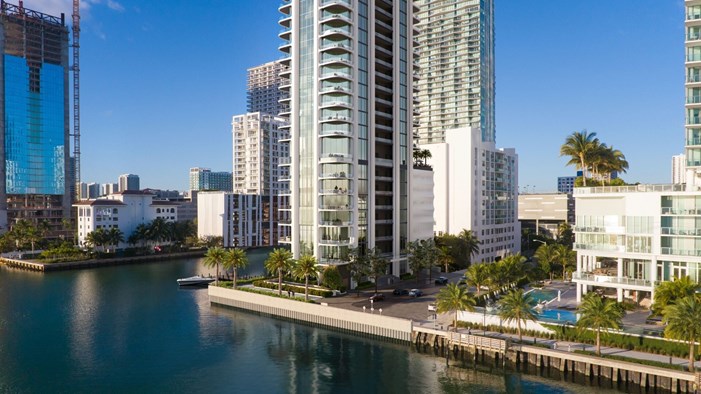 Amenities at 729 Edge
Besides being home to 70 residential units, the waterfront tower will feature 16,489 square feet of commercial, restaurant, and retail at its base. A separate building will house 193 parking spaces in a 9-story garage, located behind the tower and across the street along with additional retail.
Residents will also gain direct access to a public shoreline promenade or baywalk, featuring landscaping and lighting by the developers.
Although the full list is yet to be revealed, some of the proposed tower amenities at 729 Edge include a dock, residents' lounge/bar, top-floor sky lounge, juice bar, indoor pool, spa, state-of-the-art fitness center, theater, private dining room, business center, salon, and storage spaces for owners.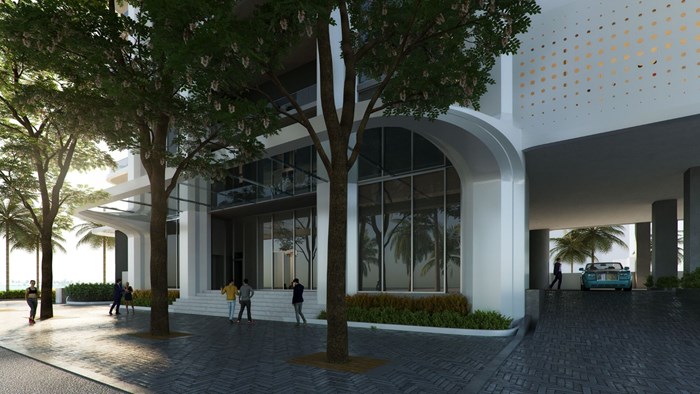 729 Edge: East Edgewater's Bayfront Continues to Grow
Touted as one of Miami's best-kept secret neighborhoods, Edgewater has been receiving a lot of developer attention lately. The recently completed Elysee boutique tower, soon-to-be-delivered Missoni Baia, and (recently launched) America's tallest waterfront twin towers Aria Reserve have been heating up the luxury condo market in this pocket-sized, water-facing community.
The addition of 729 Edge is a nod to the rising popularity of this highly desirable residential neighborhood that is central to all of Miami. A few steps from the bayfront Elysee condos, residents will be sharing the quiet avenues of East Edgewater. They will be within a short distance to the eclectic art scene at Wynwood, popular shopping and dining at the Shops at Midtown, haute couture at Design District, and a multitude of eateries sprinkled across the neighborhood. The dog-friendly Margaret Pace Park is the neighborhood's backyard with its bayfront jogging paths, tennis, basketball courts and dog parks. Finally, Miami's performing arts centers are within walking distance and the Perez Art Museum (PAMM) and Frost Science Museum are also walkable or a 5-minute drive. The main artery of I-95 is also just minutes by car, providing easy access to Downtown, South Beach, and Brickell.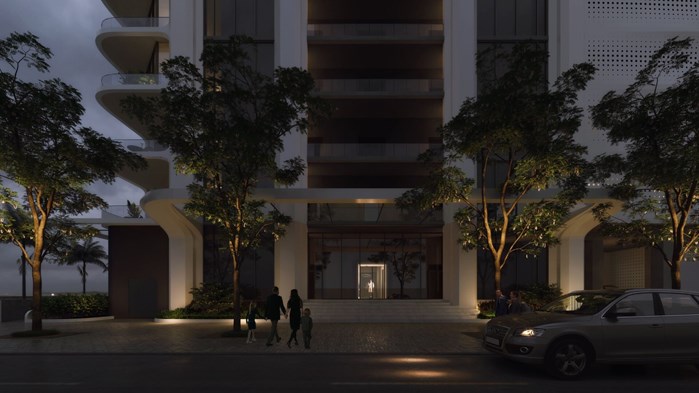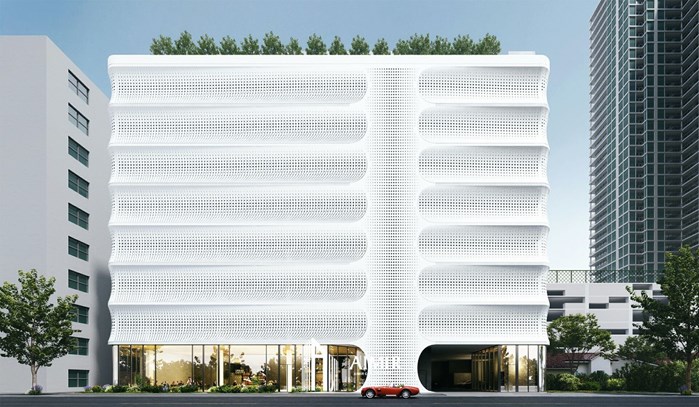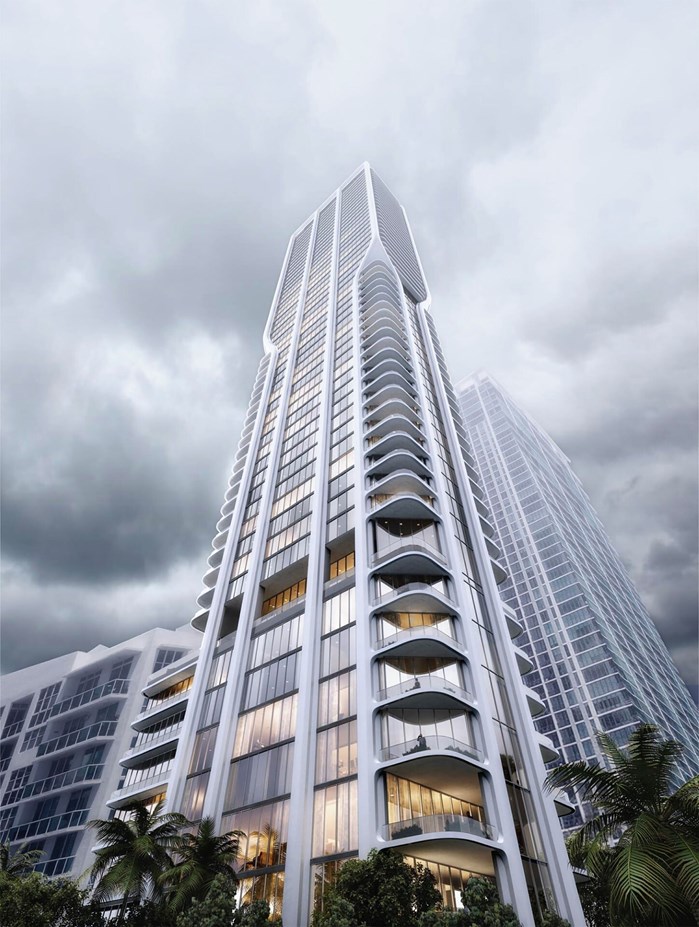 ---

Looking for an Edgewater condo or more details on 729 Edge? Call, chat, or email us for a local expert realtor to guide you to your next Miami home.
Share your thoughts with us
Sign up now
Get news and updates delivered to your inbox