A Casino is Approved in Edgewater Miami. All Heck is About to Break Loose.
Jul 14, 2018 July 14, 2018
A new casino license has just been granted to the operators of Magic City Casino to bring a jai-alai fronton and poker room to Edgewater, on 30th Street and Biscayne Boulevard. And no one, except maybe the casino owners and a few local gamblers are happy.
The Florida Division of Pari-Mutuel Wagering, part of the Department of Business and Professional Regulation that oversees gambling, approved a "summer jai-alai" permit for West Flagler Associates to build and run a facility at 3030 Biscayne Blvd, in Edgewater.
The permit technically only allows jai-alai in the summer, from May to November, says the Miami Herald, but for some reason allows poker as well. However, "the company can only begin to hold poker games once the first jai-alai game is played." Huh?
In the winter, "when games are not allowed, the facility will house improv comedy performances and concerts for local bands, Havenick said. The facility is also expected to include a restaurant and hire 300 to 500 people."
The idea is to resurrect jai-alai, a sport that used to be very popular in South Florida but in the last few decades has been almost forgotten. Because they don't plan to have slot machines on the site, the operators are not being held up by the same casino laws that are snarling Resorts World Miami.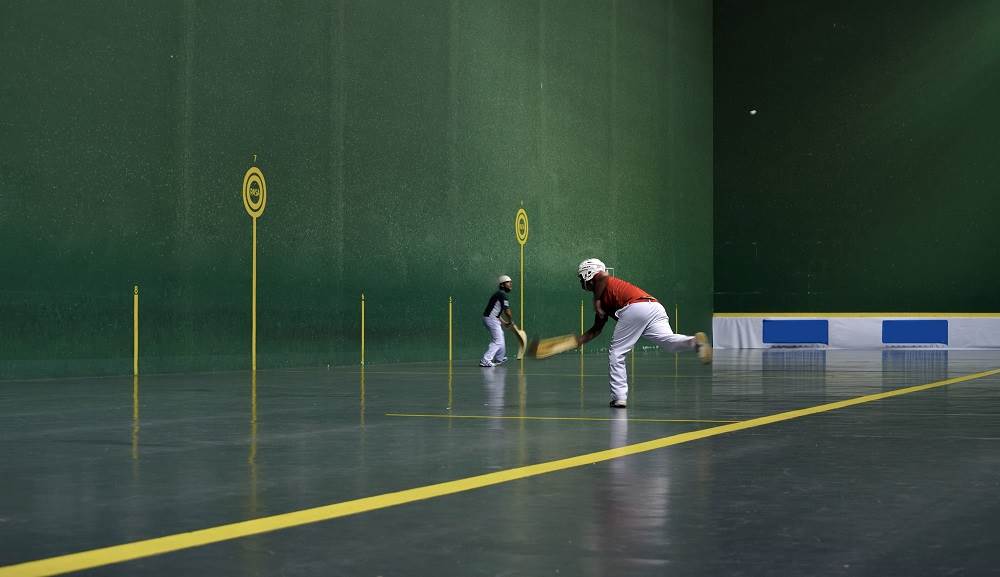 Jai-alai fronton
Local developers and landowners have come out against the plan, including Craig Robins, Norman Braman, and even Jorge Perez, who wrote an op-ed opposing the plan in the Herald. They have expressed fear that this could be just the beginning, and lead to other forms of gambling.
"This is a prelude for some type of slots and gambling, which is not what Biscayne Blvd needs," Braman, who owns multiple blocks of Edgewater where his eponymous car dealership is located, said to the Miami Herald in an April article. "This is something I've long felt strongly about: The dangers of casino and gambling expansion into downtown and Miami Beach. There is no community any of the gambling proponents can point to and say it has improved because of gambling. All it does is suck the money out of the people in the community."
Craig Robins, developer of the nearby Design District, told the Herald "it would be very unfortunate if the city were to allow that use to that location. It would be even more negative if they were subsequently able to expand to other forms of gaming as well."
In the op-ed piece, entitled "A casino in Miami's urban core? Hell, no!," Perez, who developed a slew of condominium towers in Edgewater in the last real estate cycle, wrote about how the greater downtown Miami area is gradually solidifying into a walkable, exciting, urban area:
"Miami is turning into one of the great urban centers, with downtown seeing unprecedented development. This growth has moved in a rapid, well-planned way into Wynwood and the Design District. In between, Edgewater is becoming a residential village that is close to the Central Business District, Wynwood/Midtown to the west and the Design District to the north. Both more expensive condominiums on the bay and more affordable rental apartments west of the bay are being built. Shops and restaurants along Biscayne Boulevard from Downtown to 36th Street are opening daily."
"The ideal is that a strong urban core solidifies between the Brickell area and 36th Street — and further north. This is sustainable, environmentally efficient growth where people can live, work, shop and play within a short walk or bike ride and where public transportation can be provided efficiently."
Perez continues, elaborating on how he believes a casino could derail those efforts:
"So why in the world would anybody — other than the few owners, who would benefit from a casino here — with any intelligence or level of community concern bring up the idea of a casino into this beautifully developing area? in this location? Miamians have repeatedly fought attempts to bring casinos downtown — and won. Why would anybody be so bold as to try to sneak one in? There is absolutely no community benefit from this and I, for one, will fight this aggressively"
Of course, by extension, there is the fear that some Miamians have that this casino could lead to the legalization of gambling at the much larger and controversial Genting/Resorts World Miami site on the other end of Edgewater. If this comes to fruition, the family neighborhood could be run over with gambling. Sepehr Niakan, local real estate broker and operator of Miami's Condo Black Book has this to say:
"I have a family of four, and we want to continue to create roots in Edgewater, but driving past the planned casino location on Biscayne yesterday really made me think twice about staying. If the casino goes up, there will be more traffic, possibly more crime, and it will take away from the low key neighborhood feel Edgewater has today. A neighborhood with a casino is not a neighborhood to raise a family in, in my opinion. They really need to put a stop to this."
"We have had such good progress in the neighborhood with quality shops and restaurants coming in to service the residential community here. Let's keep that neighborhood growth going instead and keep Edgewater's brand as the neighborhood that is close to everything -- the Beach, Downtown and its arts, Design District, Midtown, Brickell, Easy access to 95, etc -- without being in the hustle bustle of it all."
"On a side note, Edgewater isn't necessarily known strictly as a family neighborhood, but as Miami gets more dense, more and more families want to stay in the urban areas like Brickell, Downtown and Edgewater, and the city needs to cater to that. We are the ones with money and with roots here. A casino is the wrong choice."
Share your thoughts with us
Sign up now
Get news and updates delivered to your inbox