A Guide to Miami's Best Beaches
Apr 17, 2017 April 17, 2017
Think Miami Beach and most people conjure up images of Spring Break, bikini-clad college students and a wild party worthy of '90s-era MTV. However, truth is that Miami's beaches have a lot more to offer than those hyped up versions of South Beach. From blissful tropical oases to adventure-filled and family-friendly, take your pick of a preferred Magic City shoreline from the list below:
 
Peace and Quiet
Bal Harbour Beach – Collins Avenue, 96th Street to Haulover Inlet, Bal Harbour
Special Features: Walking path, jetty, metered parking lot near Haulover Bridge, chair and umbrella rentals available from surrounding resorts
Note: No lifeguards, no showers
This quiet paradise has a row of luxury hotels for its backdrop, but the pristine beach is open to the public. Jog along the mile-long path or go fishing on the jetty. Since this hideaway caters to nearby hotel residents as well, it's beautifully maintained and not overcrowded. There's also the luxury to wrap up the day with upscale shopping and fine-dining in town.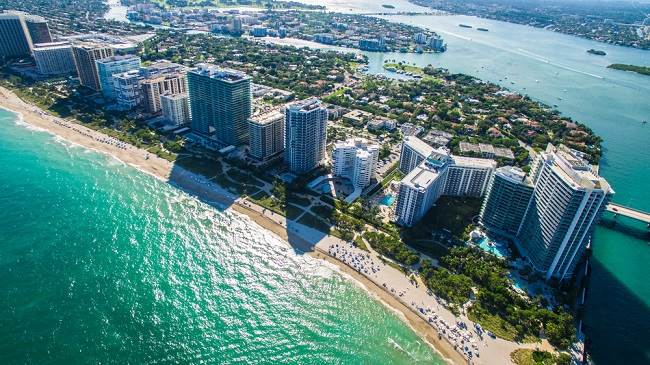 Bill Baggs Cape Florida State Recreation Area – 1200 S. Crandon Boulevard, Key Biscayne
Special Features: Lighthouse tours, bicycle and walking trails, fishing along a seawall, bicycle and beach rentals, canoeing and kayaking, playground, covered picnic pavilions available with reservation and fee
Note: No lifeguards
"Serene" doesn't always have to equal "boring". This historic beach usually escapes the notice of most, but there's plenty to see here. Float along in a canoe or a kayak, soak in the glory of nature with a bicycle ride or bird-watching, or simply sit a while with your fishing line in the water for the freshest meal. A lighthouse tour is definitely worth the while. South Florida's oldest structure, the lighthouse here was built in 1825 and made it to the National Register of Historic Places in 1971, making it a must-see.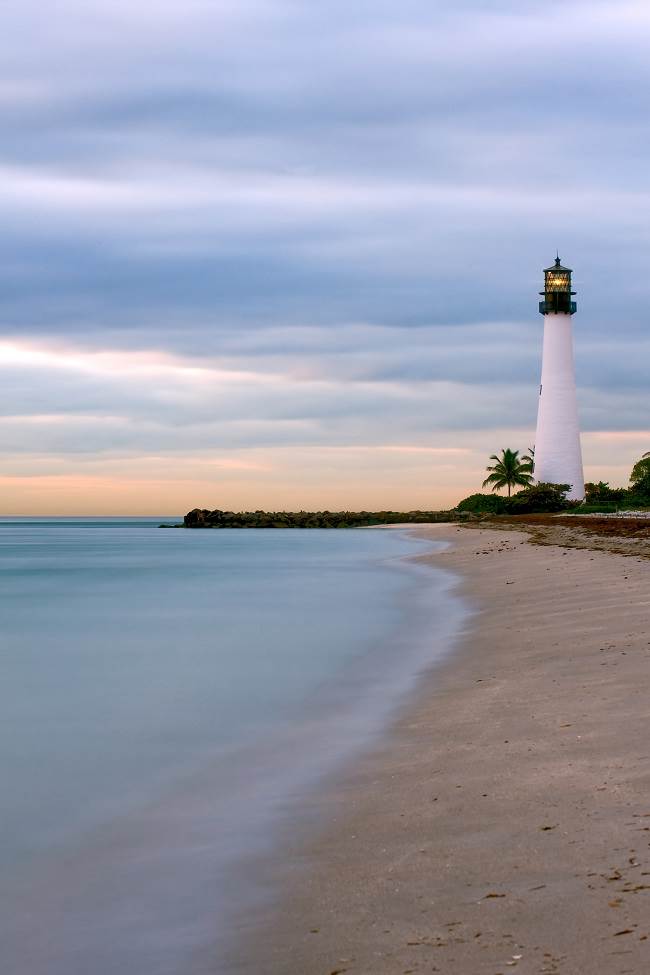 North Shore Open Space Park – Collins Avenue, 78th Street to 87th Terrace, North Beach
Special Features: Dog-friendly, walking and biking trails, picnic tables, barbecue grills, metered parking spaces
If you can't decide between a day at the beach or a walk along a nature trail, this beach has both. There's plenty of room here, since most tourists tend to head south. So you expect a serene, chaos-free beach that's ideal for leisurely picnics with loved ones.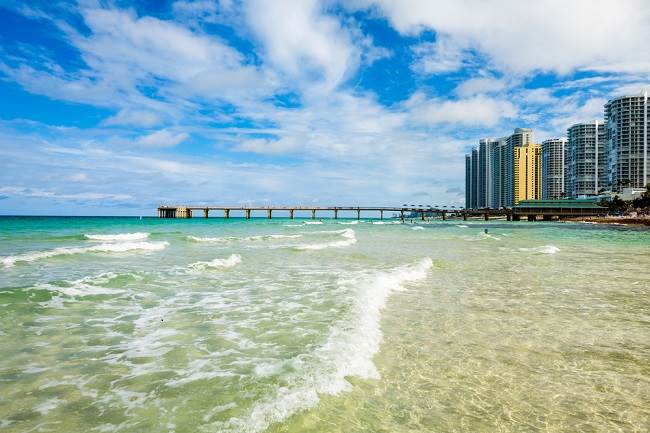 Surfside Beach – 9301 Collins Avenue, Surfside
Special Features: Biking and walking paths
Whether you're looking to sunbathe or go for a scenic run, Surfside provides a soothing retreat. This hidden gem is nothing but picture-perfect sand and surf. The sleepy town is the optimal place for a rejuvenating afternoon with a chair, a book and sunscreen. You won't find many tourists on this beach either.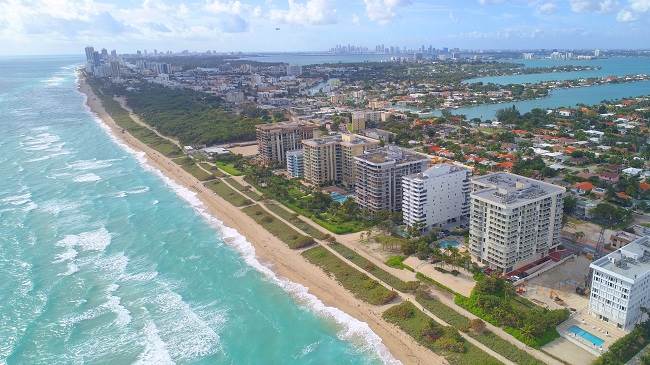 Family Fun
Crandon Park Beach – 6747 Crandon Boulevard, Key Biscayne
Special Features: Beach volleyball, barbecue grills, family amusement center, nature center, cabana rentals, walking trails, nearby marina and golf course, tennis center
While this spot has an ideal tropical beach setting, families can also spend the day participating in numerous activities. This popular site for birthday parties has everything a kid could ask for in the Family Amusement Center - such as a carousel and outdoor skating rink, among others. The nature center, complete with a gift shop, takes families on nature walks and hosts programs as well.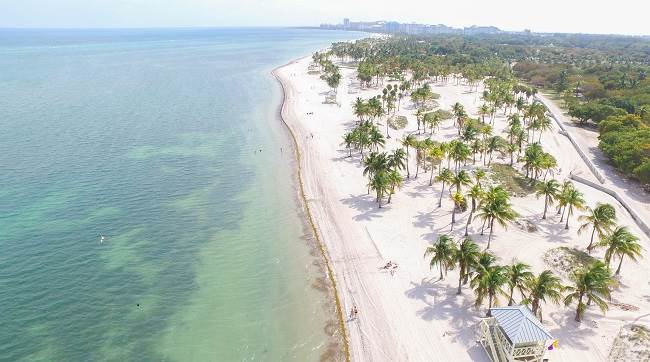 Matheson Hammock Park Beach – 9610 Old Cutler Road, Coral Gables
Special Features: Man-made atoll pool, hammock trail, snack bar, picnic pavilions, Matheson Hammock Marina with sailing and power-boating schools, paddleboard and kayak rentals, park with playground and golf course
This out-of-the-way destination is where many locals teach their children how to swim. The artificial lagoon/atoll pool is shallow enough for kids of all ages. A constant natural breeze creates a wonderful opportunity for kite-boarding at any level of expertise. Rent a paddleboard or learn how to sail. Couples looking for dinner after a romantic walk can also try the Red Fish Grill, nestled in a coral rock building.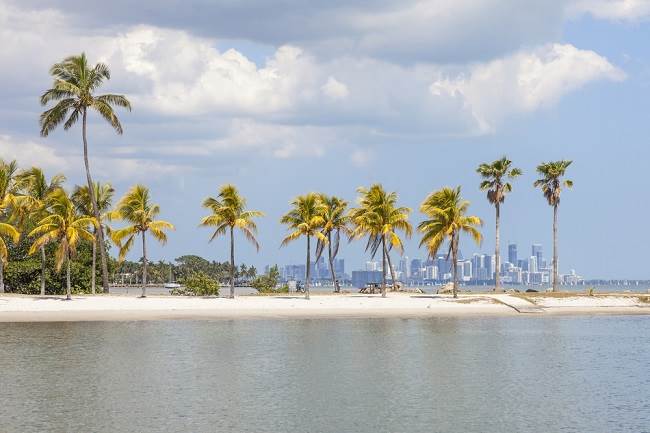 South Pointe Park Beach – 1 Washington Avenue, South Beach
Special Features: Water park for kids, dog park, art sculptures
Kids can alternate between the ocean and a small water park made just for them. Another park invites your family's BFF (Best Fuzzy Friend) to have fun too. You can even enjoy artwork as you walk around, since contemporary sculptures are casually on display. This beach is so beautiful that you might even stumble across a film crew.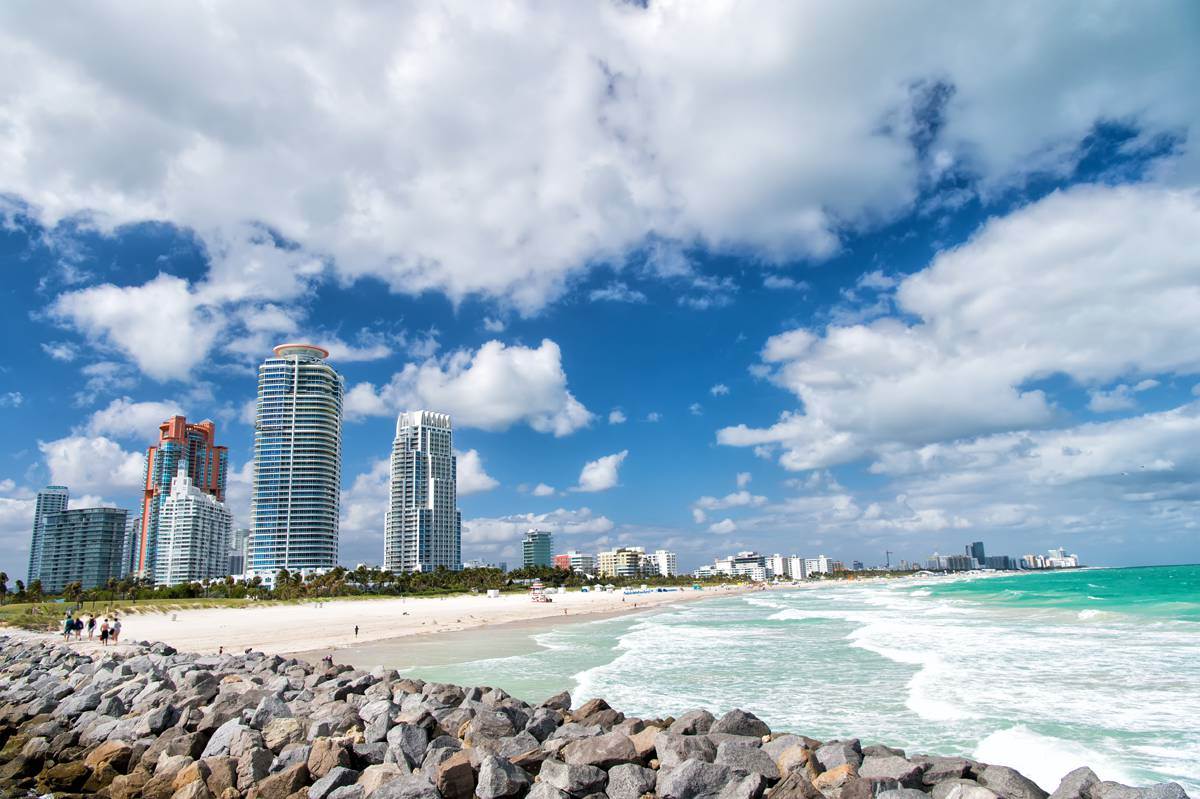 Virginia Key Beach – 4020 Virginia Beach Drive, Virginia Key
Special Features: Carousel, miniature train, pavilions, trails, windsurfing and seaplane rentals, across from Miami Seaquarium
Virginia Key is a historic site located off Miami's mainland. Go for a nature walk to find interesting plants or rent a seaplane. When the kids need a break from the gorgeous sand and surf, let them hitch a ride on the beach's carousel or miniature train. Take them to the neighboring Miami Seaquarium before or after a day of beachside fun. You can also coordinate your visit with the park's schedule of events and concerts.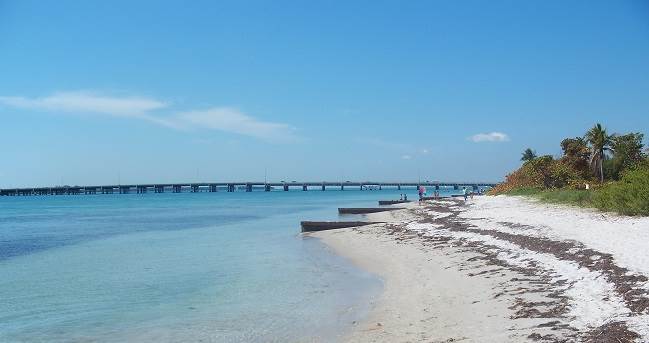 For Weekend Warriors
Haulover Beach Park – 10800 Collins Avenue, Miami Beach
Special Features: Clothing optional beach, beach wheelchairs, kite-making workshops and kite shop, nine-hole golf course, tennis courts, picnic areas, dog park
If you've ever wanted to get a bit adventurous and visit a clothing optional beach, this is the place to go.  Feel free and cool as you erase tan lines. Of course, you can wear a swimsuit if you're not in the mood to wear your birthday suit. After a refreshing swim, you can put your clothes back on for a round of golf or tennis. This beach is also a popular choice with the LGBT community.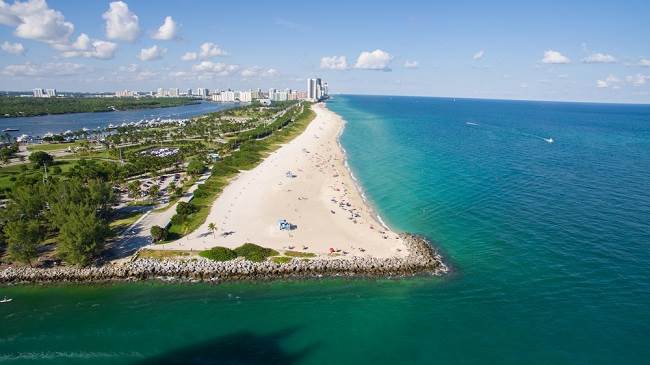 Hobie Island Beach Park/Windsurfer Beach Causeway – South End (North Side of Rickenbacker Causeway), Key Biscayne
Special Features: Windsurfing lessons and rentals, water gear rentals, dog-friendly
Learn to windsurf or watch the experts put on a show at this cozy beach along the expressway. You can also bring your canine bestie along for a day of fun at this shallow beach.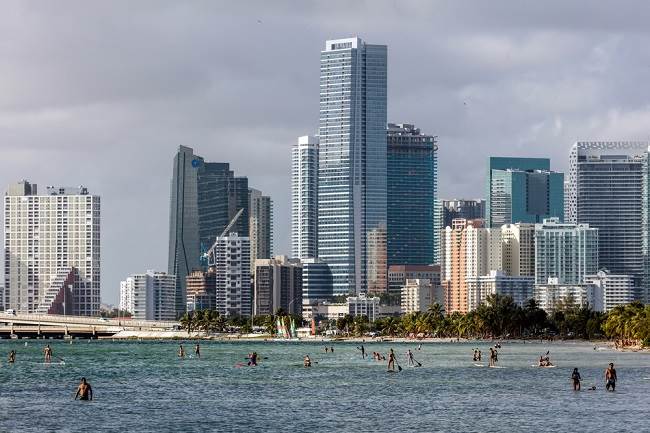 Oleta River State Park Beach – 3400 NE 163rd Street, North Miami Beach
Special Features: Variety of bicycle trails, canoe and kayak rentals, fishing area, playground, picnic tables and barbecue grills, campground for overnight trips
See what you and your bike are made of on these advanced trails. Start on the easier paths and work your way up. If you're more into water sports, explore the coastline in a canoe or kayak. Hoping to connect with nature? Book one of the cabins (which are air-conditioned at least) on a campground filled with exotic plants and wildlife. It's the perfect beachside to be one with nature!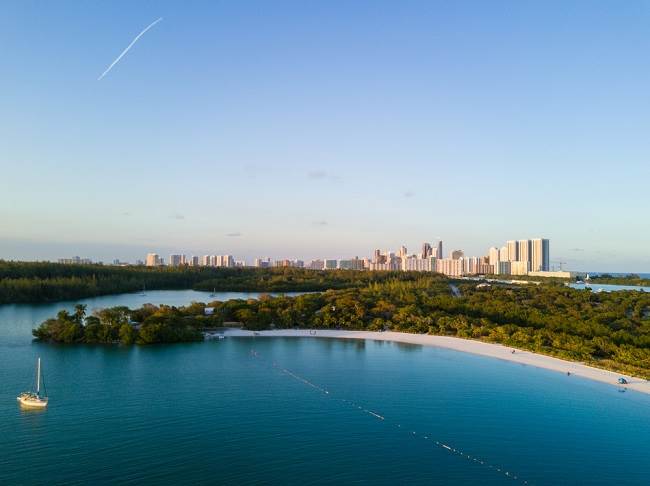 South Beach/Lummus Park Beach – Ocean Drive, 5th  - 15th Street, South Beach
Special Features: People-watching, party atmosphere, paved paths for walking and biking
No beach list can be complete without mention of South Beach's most iconic shoreline. The Miami Beach of Spring Break and movie fame is one of the few places where people-watching could be considered a sport. You'll feel like you've had a workout after a day of partying hard with people of all types. Later, you can head up to Ocean Drive to recharge with delicious food, drink and entertainment, enjoying the perfect night out on the town.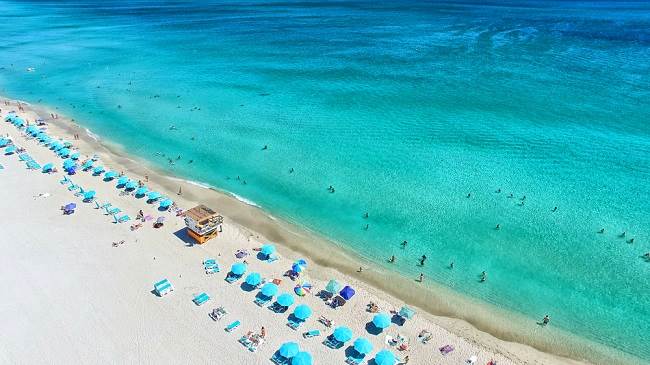 Which one of these is your favorite beach and why? Have an experience (good or bad) to share? Feel free to comment below!
Share your thoughts with us
Sign up now
Get news and updates delivered to your inbox