A Guide to the Top 10 Condo Developers in Miami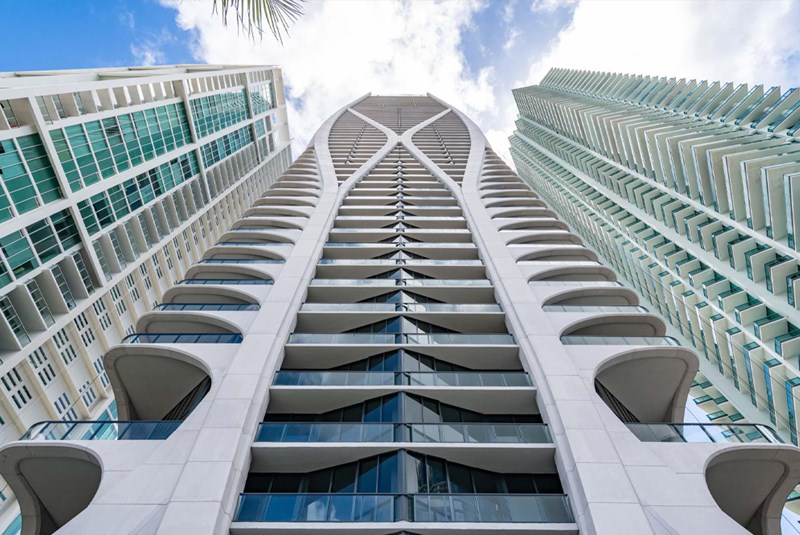 Nov 08, 2023 November 08, 2023
Miami's condo-scape has evolved to be as colorful and diverse as its residents. You'll find world-class, ultra-luxury developments brimming with art and resort amenities to boutique mid-rises designed for exclusive, healthy living. These residential offerings are a major reason, besides the great beaches, food, events, and weather, why more and more people want to call Miami home.
Transforming drastically over the past decade, Miami's residential landscape is now on par with major global cities such as New York, London, Hong Kong, Singapore, and Paris. And the Magic City is expected to continue to see an influx of ultra-wealthy individuals looking to have a foot planted in the Magic City. But behind all the glitz and glamour of these stunning residences and their gorgeously designed buildings are the developers. The teams and visionaries that make all of this happen, and make living here truly magical. So let's take a look at the top Miami developers shaping our city!

— Table of Contents
Chairman/CEO/Co-Founder: Jorge M. Pérez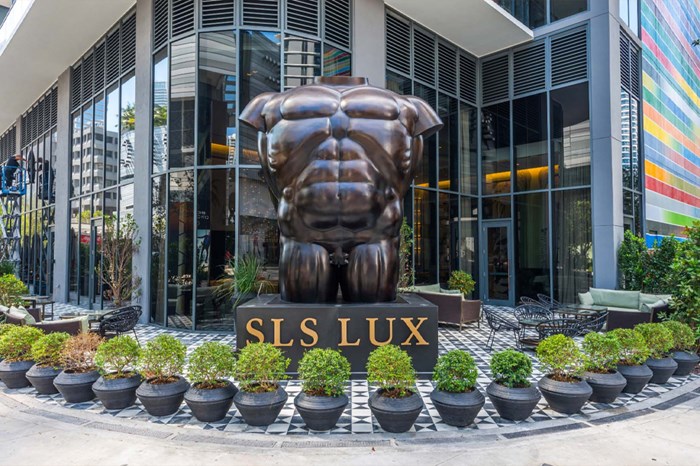 SLS Lux. Photo courtesy of the Related Group

You've seen their ICON-ic condo landmarks in Brickell, Edgewater, and South Beach. 
Perhaps the most well-known Miami development company, the Related Group was established in 1979 by Jorge Pérez and has since become synonymous with luxury residential condo development in South Florida, as well as turning Miami into a top-10 city (and giving it its first major art museum). As the frontrunner of luxury condo development in the city, the group boasts of having built more than 60,000 units of prime real estate.
Always striving to deliver extraordinary designs and living environments poised for generations to come, Related is known to rope in starchitects, world-famous designers, and renowned artists such as Philippe Starck, Carlos Ott, Yabu Pushelberg, Piero Lissoni, and others to bring their spectacular visions of home to life.
The group's Chairman and CEO, Jorge Pérez, is known for his art collection – we have him to thank for the Pérez Art Museum Miami (PAMM) – and his art and design passion extends well into architecture and his condo developments. From iconic sculptures like Pablo Atchugarry's monolithic black marble creation dominating Paraiso District's public park to commissioned works such as the 40,000-square-feet drip mural adorning the SLS Hotel and Residences' façade, art has become an integral part of the luxury condos developed by this Miami-based firm.
Besides Miami, the company also has projects in Orlando, Tampa, Las Vegas, Atlanta, Texas, Arizona, Mexico, Argentina, Brazil, and Panama. Of late, the group has been focused on expanding the reach of luxury branded developments with the announcement of the first residential-only Waldorf Astoria project in Pompano Beach, in association with Merrimac Ventures and Hilton.
The Related Group's Most Recognized Miami Developments:  
President: Gil Dezer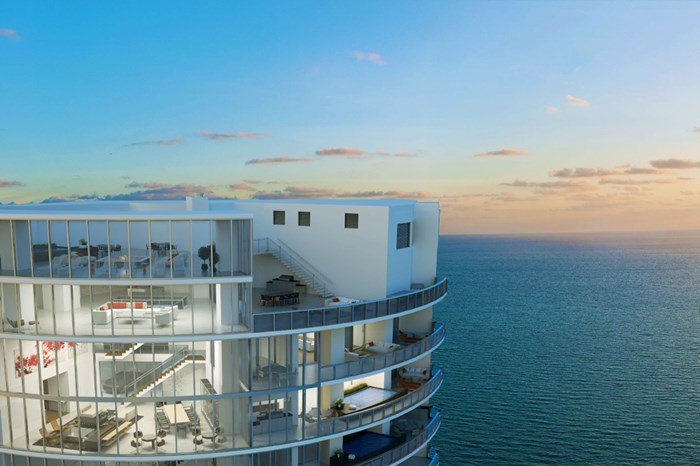 Porsche Design Tower. Photo courtesy of the Dezer Development

Known for its patented, future-forward automobile elevator called the 'Dezervator', this development company took the world of residential real estate by storm when it announced the construction of the first-of-its-kind Porsche Design Tower in 2011. The ultra-luxury tower is known for its unique car elevator which delivers residents and their cars straight up to their sky homes.
Founded in 1970, the Miami-based Dezer Development holds over 27 acres of oceanfront land in Sunny Isles Beach and can be credited with the rebirth of the coastal neighborhood with its contribution of nine luxury condos. The Dezer brand is known for offering resort-style living with innovative technology and for its collaborations, having delivered condos in partnership with the Trump Organization, The Related Group, Porsche Design, sbe Lifestyle Hospitality, and Armani/Casa. 
The company further has holdings or a presence in Florida, Las Vegas, and New York. The developer's latest project is the first Bentley Residences in Sunny Isles Beach, with its Dezervator also making an appearance allowing residents to park multiple cars in their in-unit garages.
Dezer Development's Most Recognized Miami Developments:
CEO/Co-Founder: David Martin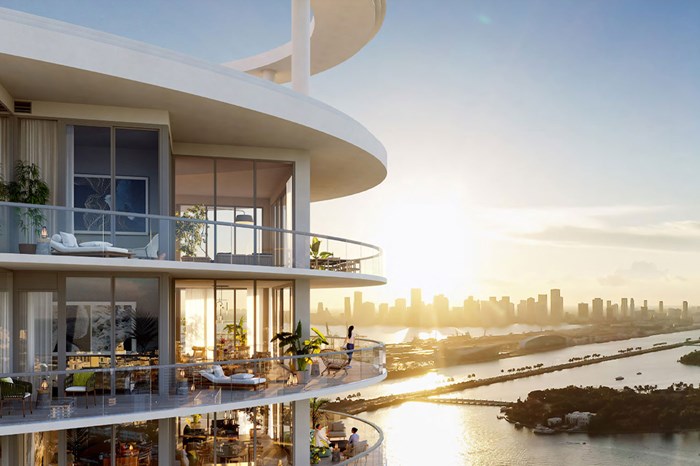 Five Park Miami Beach. Photo courtesy of the Terra Group

Known for uniting dream teams for its condo projects, the highly acclaimed Terra Group has collaborated with the likes of Rem Koolhaas, Bjarke Ingels, West 8, Ruben and Isabel Toledo, RDAI, Chef Michael Schwartz, and Chad Oppenheim. Currently, the development firm is in the process of bringing the elegantly nautical, European-style Mr. C Residences to town in Coconut Grove, as well as The Well in Bay Harbor Islands and the highly-anticipated Five Park in South Beach. 
Founded in 2001, the Miami-based firm focuses on integrating green spaces, renewable energy, and transit connectivity through intelligent planning into its design-oriented living spaces, wherever possible. For example, The Grove at Grand Bay was part of our list of Miami's greenest condo buildings with its LEED Gold Certification.
With a pan-Florida presence, the Terra Group has won several awards and accolades over the years, including Developer of the Year by the American Institute of Architects (Miami Chapter), Largest Residential Developer by the South FL Business Journal, and its president, David Martin, was named Florida's Most Influential Business Leader of 2019 by Florida Trend.
Terra Group's Most Recognized Miami Developments:
Parent Company: Swire Pacific Limited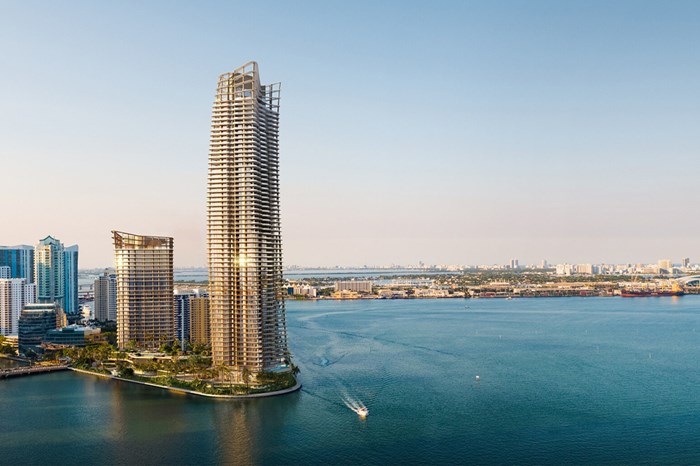 One Island Drive. Photo courtesy of the Swire Properties

This Hong Kong-based development company is responsible for almost every condo building you see on Brickell Key, from Brickell Key One to Asia. Its latest development on the island is the renovation of the Mandarin Oriental Hotel and the construction of the new Residences at the Mandarin Oriental Miami.
The group is also the mastermind behind Brickell's mixed-use landmark Brickell City Centre, its largest development to date in Miami. Standing testimony to the design and sustainability practices of the global firm, both condo towers on the complex, Reach and Rise, are LEED Gold-certified condo buildings. Adding to this, Brickell City Centre also holds the accomplishment of being named one of the 9 Most Beautifully Designed Malls in the World by Architectural Digest in 2017.
Established in 1972, Swire Properties ventured into Miami in 1980. Winner of several awards and accolades, it recently won the Best Digital Innovation Award for its cloud-based Smart Energy Management Platform in the CIBSE Building Performance Awards 2023. 
Swire's Most Recognized Miami Developments:: 
Founder/CEO: Michael Stern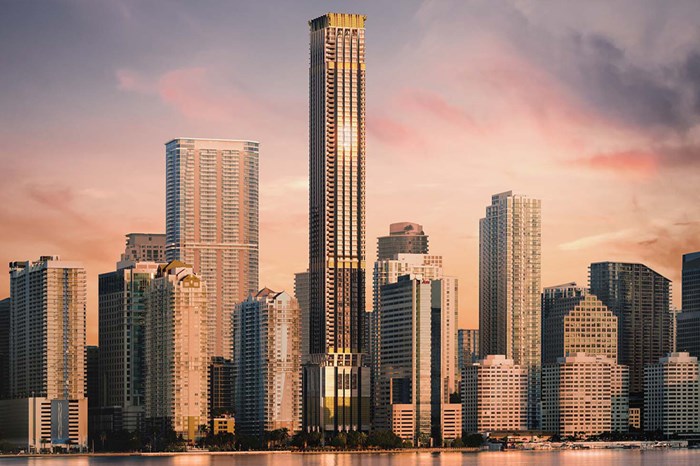 This New York-based firm has lately been hitting the headlines for its upcoming development featuring Dolce & Gabbana. The luxury condo building, located at 888 Brickell, will be the first foray into real estate by the Italian fashion house and it is poised to be one of the most anticipated developments for the city. Designed by Studio Sofield, with interiors by Domenico Dolce and Stefano Gabbana, this project will surely transform Miami's skyline with its black and white exteriors and golden crown at the top.
Established in 2002, the firm has projects in both New York and Miami, with a slightly stronger presence in the Northeast. The group's developments are built to raise the bar with exceptional living spaces that feature quality materials and superior attention to detail in both form and function.
One of their recent projects, finished in 2020, was the Jean Nouvel-designed condo development on the bay in South Beach off of West Avenue. Imagined to be a reflection machine, Monad Terrace features a naturally-filled central lagoon with an inspiring play of light captured by maximum glass exposure and curtain-like hanging gardens for enhanced privacy.
JDS' Most Recognized Miami Developments:: 
Founder/President/CEO: Edgardo Defortuna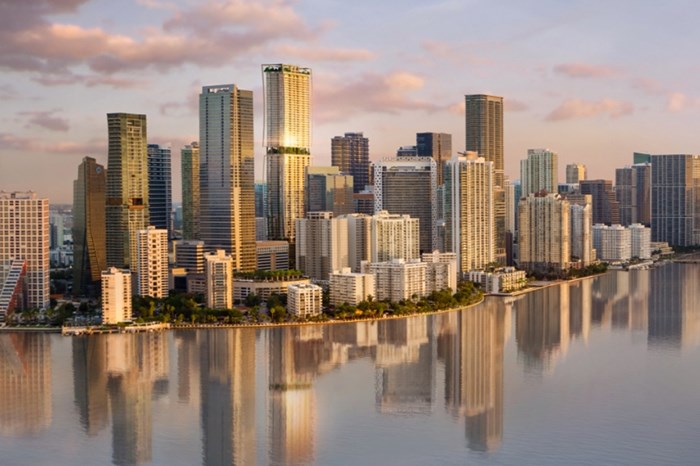 The Fortune International Group is best known for its outstanding Jade line of residences, of which there are four: Jade Brickell, Jade Beach, Jade Ocean, and Jade Signature, the first one in Brickell and the last three on Sunny Isles Beach. They've also taken the Ritz Carlton brand to the condo realm with Ritz Carlton Residences Sunny Isles and the pre-construction Ritz Carlton Residences Pompano Beach.
In its projects, the prominent South Florida development firm boasts of working with a global roster of architects and designers, including Carlos Ott, Kravitz Design (led by Lenny Kravitz), Herzog & de Meuron, Michele Bonan or UN Studio, and Pierre Yves Rochon (PYR), among others. Its design philosophy is to deliver timeless projects that raise the bar in high-end real estate by surpassing all expectations.
Starting as a brokerage company in 1983, the group diversified into luxury real estate development in 1998. Setting industry standards with each new development, the group has a global presence in places like London, Italy, Paraguay, Spain, France, South Africa, and the Caribbean. Currently, they're working on branded partnerships like ORA by Casa Tua and St. Regis Sunny Isles.
Fortune's Most Recognized Miami Developments: 
Co-founders: Louis Birdman, Kevin Venger, and Michael Konig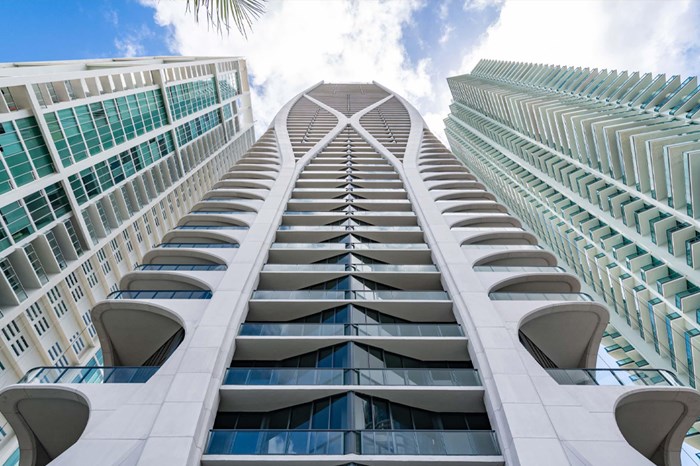 One Thousand Museum. Photo courtesy of the One Thousand Group

Three powerhouses in South Florida's real estate development united to make One Thousand Group a reality. Louis Birdman, Kevin Venger, and Michael Konig's combined experience accounts for over 70 residential projects, six major high-rise mixed-used buildings, and millions of dollars sold in properties throughout the United States.
Teaming up with world-class starchitects like the late Zaha Hadid and Oppenheim, they've brought to life some of Downtown Miami's most iconic condo buildings, like Ten Museum Park and One Thousand Museum. With the latter one, the group has secured over a dozen industry awards since its inauguration in 2020.
Motivated by a mission to deliver innovative, one-of-a-kind luxury projects, the group leverages each of its founders' expertise in the field to take on challenging designs that have stepped up the configuration of Miami's skyline. So far they've specialized in residential offerings but plan to build an office tower adjacent to the Design District overlooking Biscayne Bay. 
One Thousand Group's Most Recognized Miami Developments: 
Founder: Ugo Colombo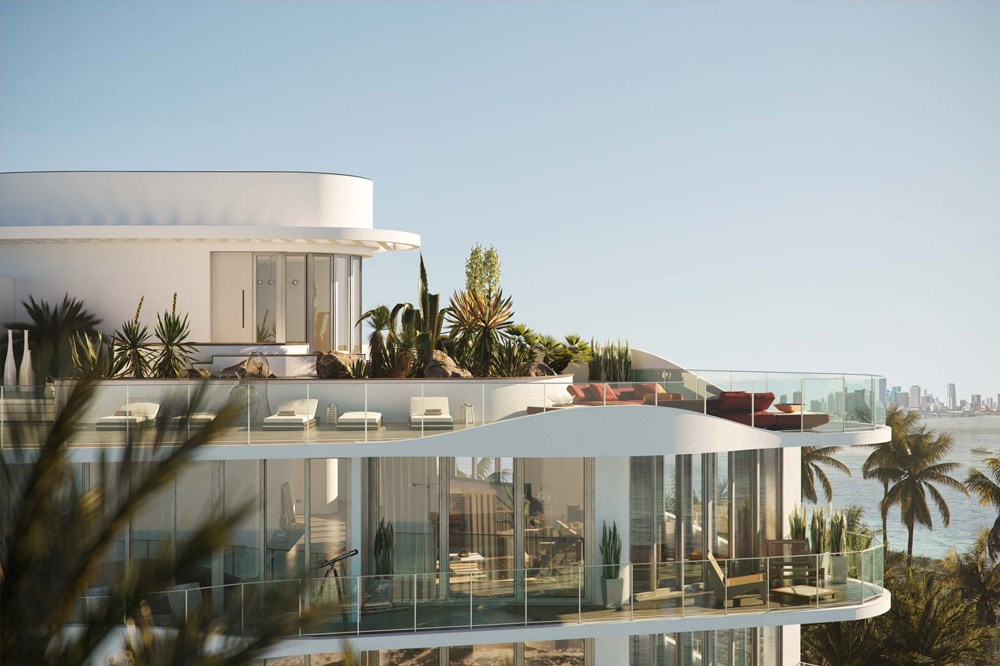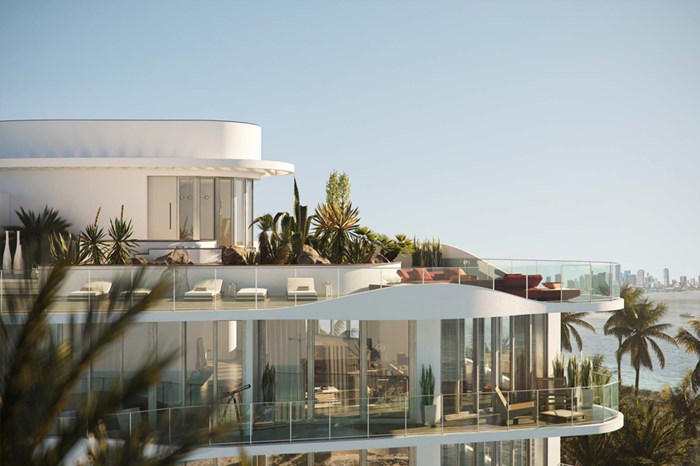 Onda Residences. Photo courtesy of the CMC Group

Known for bringing the first luxury condo towers to Brickell in the 90s, think Bristol Tower and Santa Maria, CMC Group is in the league of South Florida's premier developers. The Miami-based group was established in 1986, with the Epic Residences & Hotel being one of its most prominent developments. They also built the Grovenor House, a 166-unit luxury condominium project completed in 2006 in Coconut Grove, and Beach House 8, a luxury boutique condominium on Miami Beach.
The fully integrated real estate company is driven by the pursuit of perfection and believes in doing only one or two projects at a time. This means that every one of their condo developments is built with extreme attention to detail, using only the finest of materials and tight quality control measures. 
One of their most recent buildings is the coveted Brickell Flatiron and currently their pre-construction catalog includes Vita at Grove Isle, Onda Residences at Bay Harbor Islands, and a planned Four Seasons-branded tower in Coconut Grove.
CMC Group's Most Recognized Miami Developments: 
Chairman and CEO: Vladislav Doronin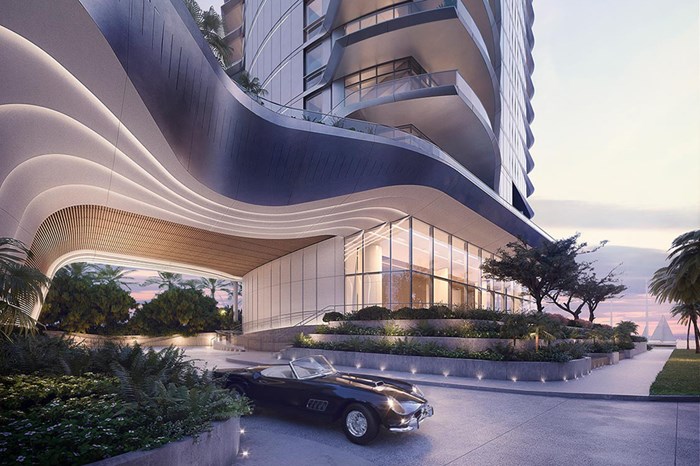 UNA. Photo courtesy of the OKO Group

International development firm OKO Group builds on its founder reputation, Vladislav Doronin. The Russian-born businessman has developed more than 75 million square feet of commercial, retail, and luxury residential space and is also CEO of the ultra-luxury resort brand Aman. In the U.S., their operations have mostly focused on Miami and New York, with several projects underway in the Magic City.
With the name OKO translating to the eye, it symbolizes Doronin's vision for the company. The group prides itself on having built an enviable portfolio of some of the world's most prized real estate specimens, most of which have been developed by the Russian arm of the conglomerate founded in 1993 - the Capital Group. This company is also a leading real estate development firm and is credited with constructing some of Europe's tallest skyscrapers.
Among the projects slated for the South Florida market are Missoni Baia in Edgewater, Una Residences in Brickell, and the Aman Tower in Miami Beach's Mid-Beach.
OKO Group's Most Recognized Miami Developments:
Founder and CEO: Camilo Miguel Jr.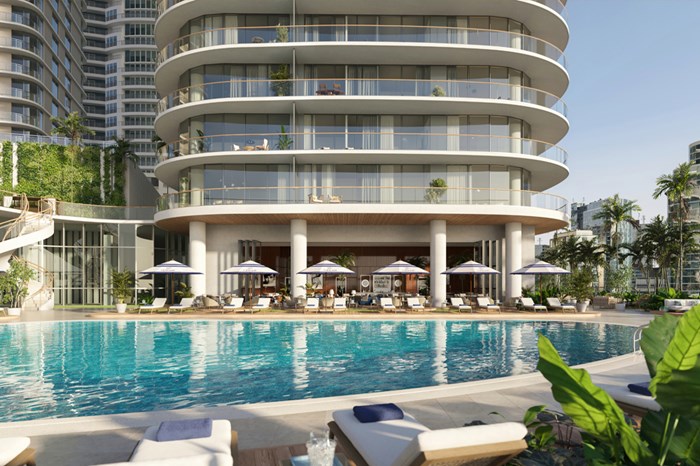 Cipriani. Photo courtesy of the Mast Capital

Founded by prolific real estate developer Camilo Miguel Jr. in 2006, Mast Capital's first projects in luxury residential development came with the Mayfield AKA Hotel condos in Brickell and Solé, located in Sunny Isles Beach. Since then, the Coconut Grove-based company has invested in several properties throughout South Florida to bring alive its vision, with several ongoing pre-construction projects.
With an eye for buildings that transform their environments while also managing investment risk, Mast Capital prides itself on having a discerning eye for original ideas and unique partnerships that offer a great return on investment for its shareholders. This has led them to work with names such as Arquitectonica and Rem Koolhaas's OMA in creations that will shape Miami's landscape.
Their ongoing projects are branded condo tower Cipriani Residences located in Brickell, LEED Gold-certified The Perigon in Miami Beach's Mid-Beach, and midrise condo tower Alton Bay, also in Mid-Beach.
Mast Capital's Most Recognized Miami Developments: 
With so many new condos happening throughout the greater Miami area, if we were to list all of the developers, this article would be close to endless. Here, we've rounded up ten of the most relevant, but there are others also worth mentioning like Alta Developers who are in charge of Casa Bella, Multiplan Real Estate Asset Management with 57 Ocean, and Fort Partners who developed The Surf Club Four Seasons Hotel and Residences.

 


If you are interested in any of the condos built by one of Miami's most important developers, please contact us by text, email, or phone and we will be happy to guide you in the search for the perfect condo for you and your family!
Share your thoughts with us
Sign up now
Get news and updates delivered to your inbox