A Visit to Miami's Top Dozen Hotel Swimming Pools
Jun 26, 2017 June 26, 2017
Believe it or not, some people don't actually enjoy the beach. It's hot, it's (sometimes) crowded, and they could definitely do without all that sand stuck in their bathing suit. Water-and-sun-loving Miamians can also escape to these top hotel pools on our list (none of which require an overnight stay).

Address: 270 Biscayne Boulevard Way, Downtown Miami
Price: $20 per adult, Deluxe and Premium Cabanas available for purchase
Pool Bar Hours: Sundays and weekdays 11:00 a.m. to dusk, 11:00 a.m. to 12:00 a.m. on Fridays and Saturdays
 
If you're looking for a true hotel atmosphere, pay for a day pass at the EPIC. Two outdoor pools take up the building's 16th floor. Spend the day swimming with mesmerizing views all around you. As for refreshments, the outdoor bar will spoil you with poolside service. Afterwards, treat yourself to dinner at the hotel's Area 31 Restaurant.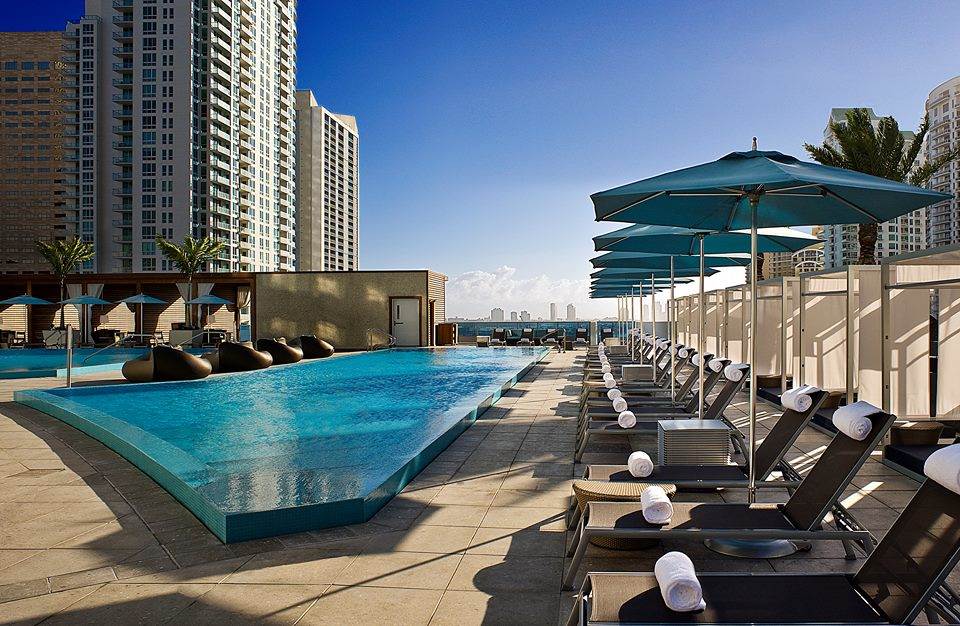 Photograph: Courtesy of EPIC Hotel
 

Address: 1685 Collins Avenue, South Beach
Hours: Open to the public (non-guests) 7:00 p.m. to 1:00 a.m. Sunday to Thursday, 7:00 p.m. to 2:00 a.m. Friday and Saturday
 
Even though the Delano South Beach enforces a strict hotel guests-only policy during the day, you can visit this stylish "water salon" at night for free. This legendary swimming pool has a table and chairs right in the water and a life-size chessboard. Enjoy the music while you mingle in the water, or take a romantic moonlit walk on the beach. If you're really looking to treat yourself, rent a posh poolside bungalow for an unforgettable experience.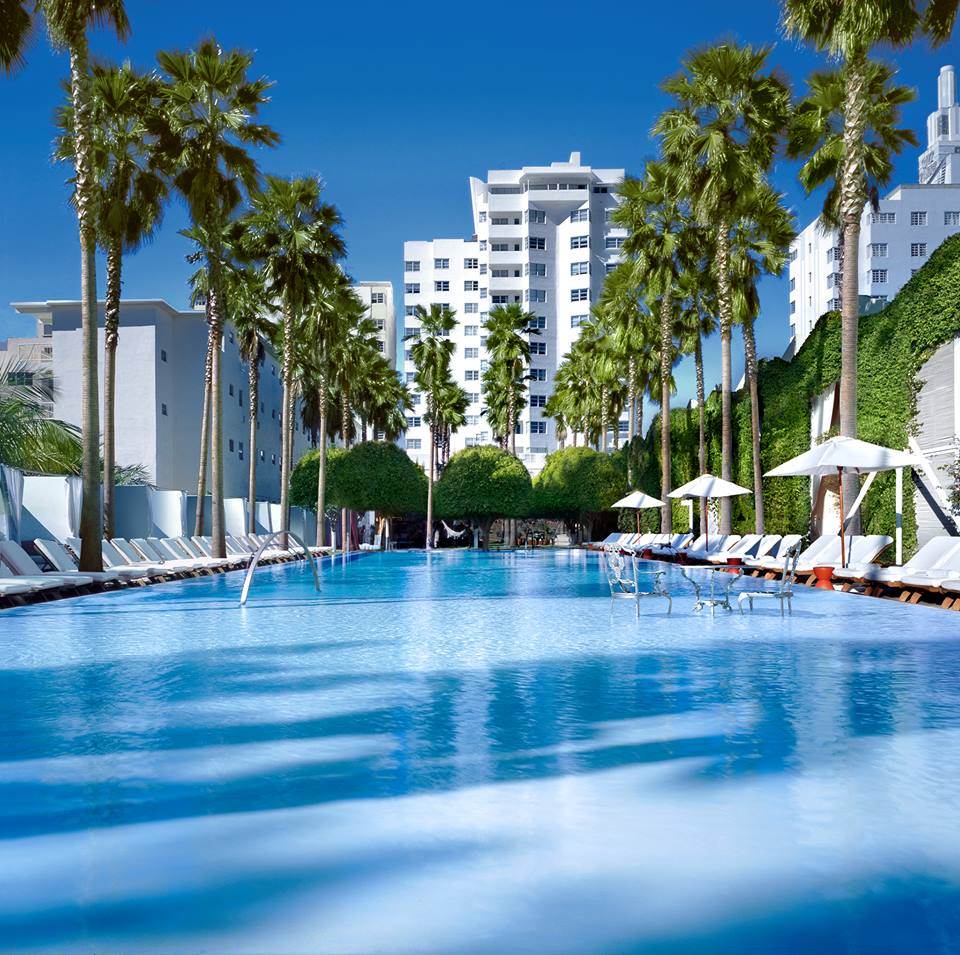 Photograph: Courtesy of Delano South Beach
 

Address: 40 Island Ave., Belle Isle, Venetian Islands
Price: Adults only day pass $75 Mon-Thu, $150 Fri-Sun
Hours: Vary; currently 8:00 am to 10:00 pm Sunday to Thursday, 8:00 am to midnight Friday and Saturday
 
Directly on the water, Belle Isle's Standard Pool and Spa is anything but standard. An infinity pool overlooks the Biscayne Bay with an arctic plunge and underground sound system so you don't miss a beat. The day pass also provides access to a world-class spa, inclusive of a waterfall hot tub, Tuskish hammam, traditional steam room, sauna, and public showers with music. Drive in or park at the private boat dock, for a soothing swim at this serene contrast to Lincoln Road's hustle bustle. Pick the first sunday of the month for a splash and you could stay for bingo night too.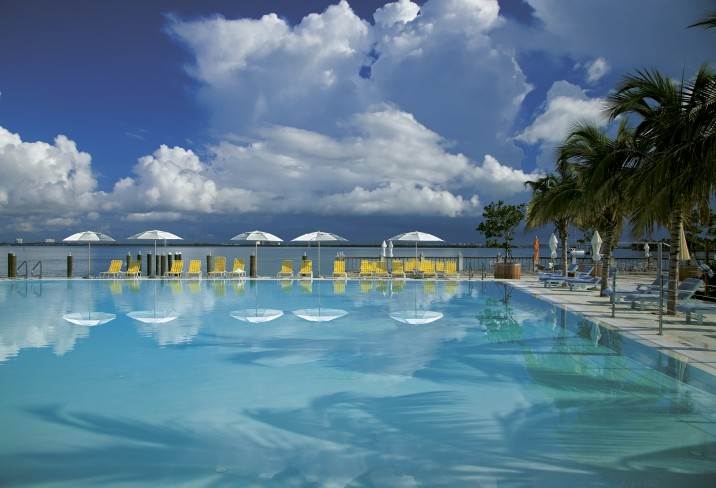 Photograph: Courtesy of The Standard Spa, Miami Beach
 

Address: 1435 Brickell Avenue, Brickell
Price: $50 per person
Hours: Dawn to dusk
 
Feel on top of the world with a day pass to the seventh floor, two-acre pool terrace at the Four Seasons. Take a dip in the extravagant main pool with complimentary chilled towels and frozen fruit for refreshment. Or, dabble around the shallower Palm Grove and park yourself on a poolside hammock for a spectacular view of the city. Either way, delicious food and drink are always accessible with a coastal Mexican restaurant on-site. Private cabanas, hammocks and attendants turn this tropical oasis into a personal paradise.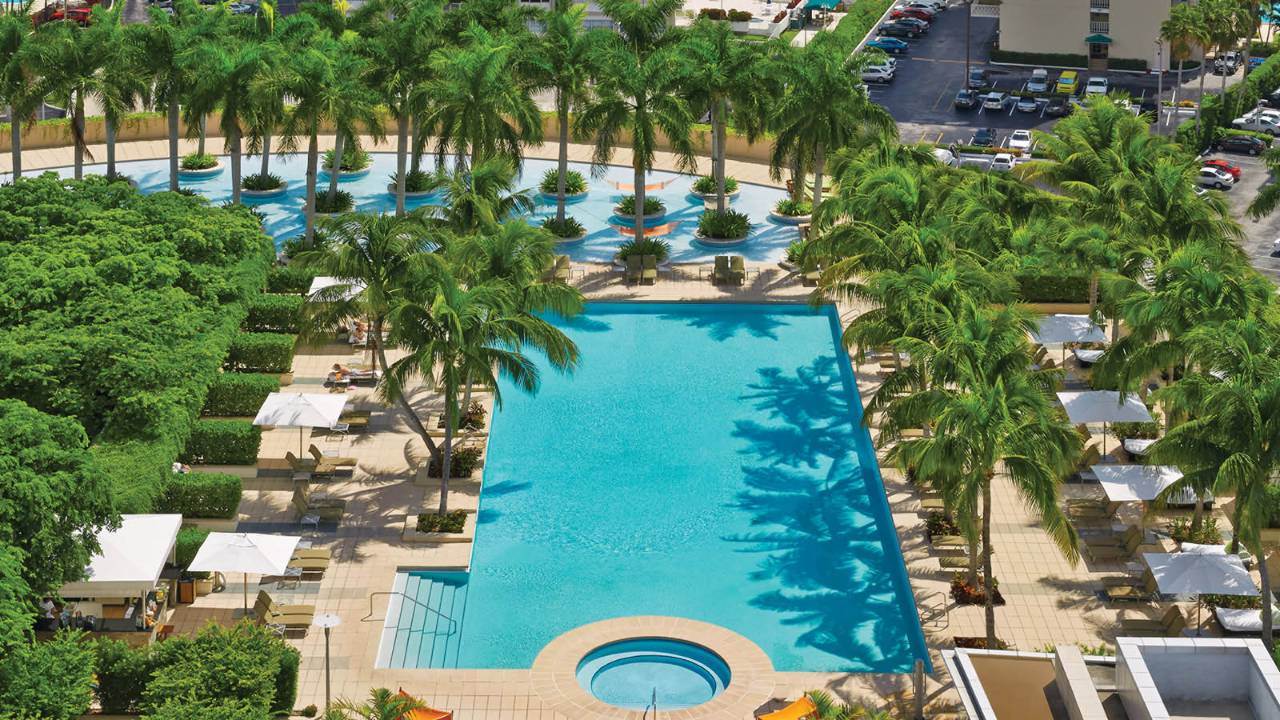 Photograph: Courtesy of Four Seasons Hotel
 

Address: 4441 Collins Avenue, Mid-Beach
Price: $175 'A day at Fontainebleau' pass or complimentary with over 50-minute spa treatments
Hours: Daily sunrise to sundown
 
This Morris Lapidus-designed modernist gem boasts of 11 distinctive pools, all within a few feet of each other and the ocean. Experience what James Bond felt sitting poolside with Goldfinger for a round of gin rummy here. Chances of bumping into a celebrity are high too, but nothing's stopping you from feeling like a VIP yourself, as you splash around the legendary bowtie pool. Furnished cabanas and butler service are available for a price.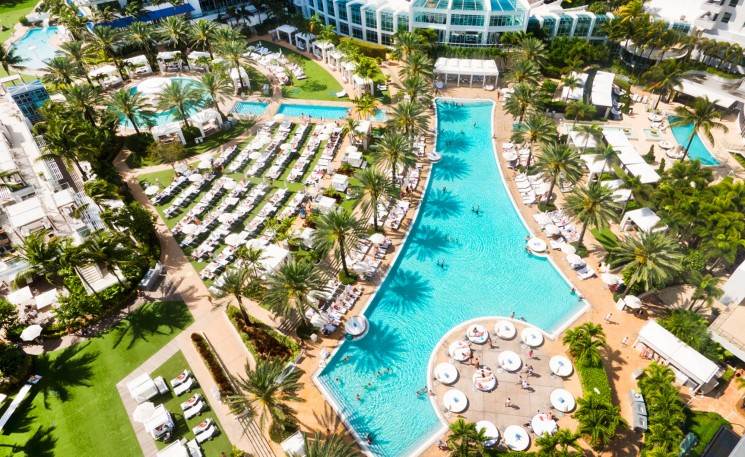 Photograph: Courtesy of Fontainebleau Miami Beach
 

Address: 2727 Indian Creek Drive, Mid-Beach
Price: Free with purchase at 27 restaurant or The Broken Shaker
Hours: Sunrise to sundown
 
The pool at this hotel is ideal for a drink and a carefree time. Chill out in the water with a cocktail in your hand as you mingle with tourists. Spend the day alternating between the pool and The Broken Shaker, a popular bar with unique cocktails and snack menu. Then have dinner at 27, where much of the produce is grown in their on-site garden.
Address: 1717 Collins Avenue, South Beach
Price: Free
 
The next time you have a spare weekend day, head over to the Surfcomber. This Art Deco hotel has a reputation for exclusive parties, but the atmosphere becomes more relaxed during its down time. Park yourself on the beach or by the pool, or switch between them depending on your mood. The pool area also offers "Daylife," a compilation of fun events such as ice cream sundaes or mixology classes in a cabana.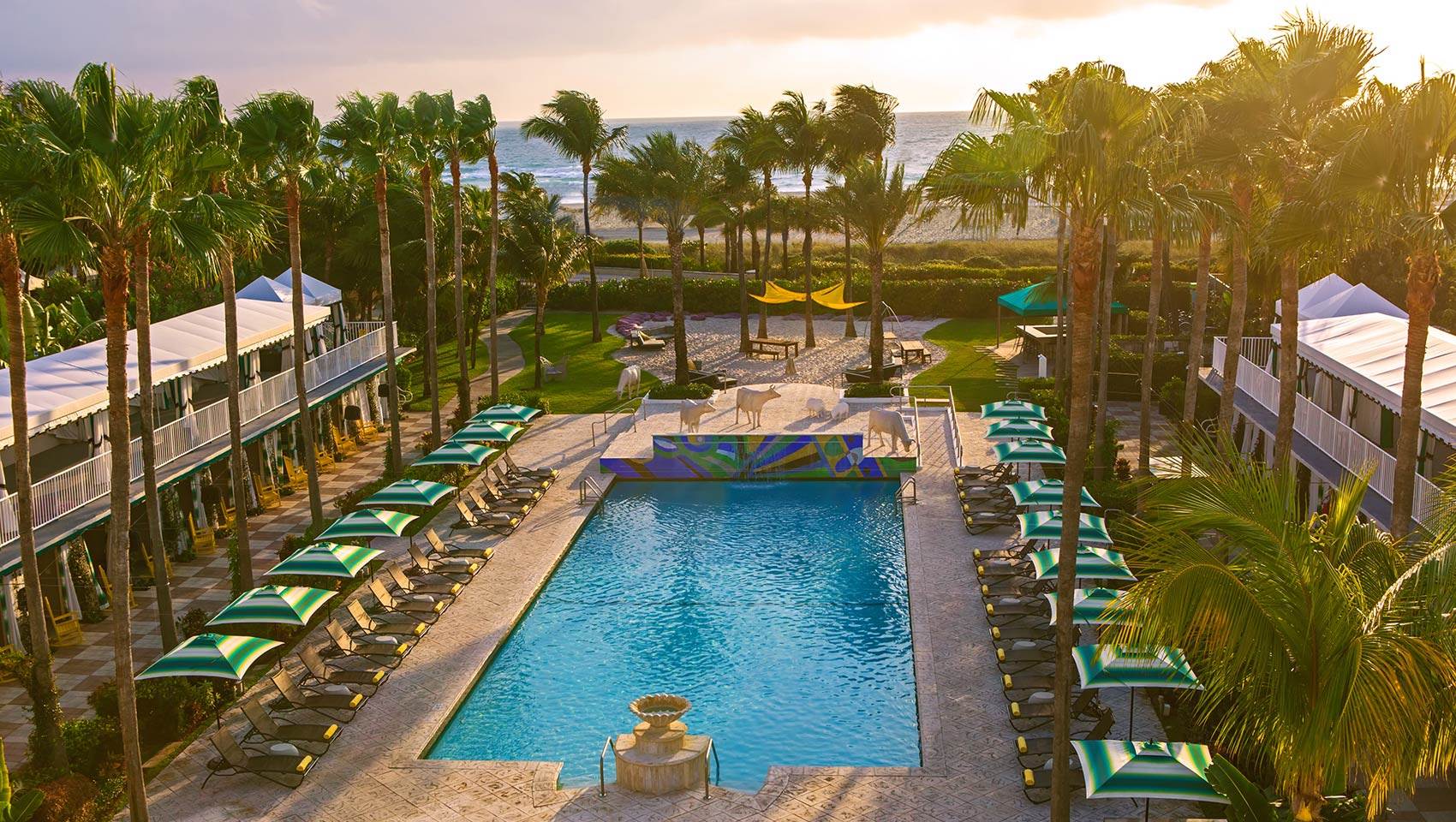 Photograph: Courtesy of Surfcomber Hotel
 

Address: 4041 Collins Avenue, Mid-Beach
Price: Free with minimum food and drink purchase, cabanas and bungalows available for additional fee
Hours: Sunrise to Sunset
 
This retro-chic hotel tempts visitors with two heated outdoor pools and direct beach access. Lounge among brightly-colored cabana tents and landscaping designed by famous Miamian Raymond Jungles. Make room in your weekend for their Backyard Saturday party with a live DJ and French rosé at $40 per bottle.


Photograph: Courtesy of The Confidante Miami Beach
 

Address: 1701 Collins Avenue, South Beach
Price: Free
 
While you can go for a swim during the week, this trendy venue is known for its outrageous weekend pool parties. If you've ever wanted to experience the ultimate Pool Party, complete with professional DJs and crowds of tanned socialites, this is the place to go. Even the food here is top-notch thanks to the James Beard award-winning chef José Andrés. These parties are packed, and may require purchasing a table to ensure seating.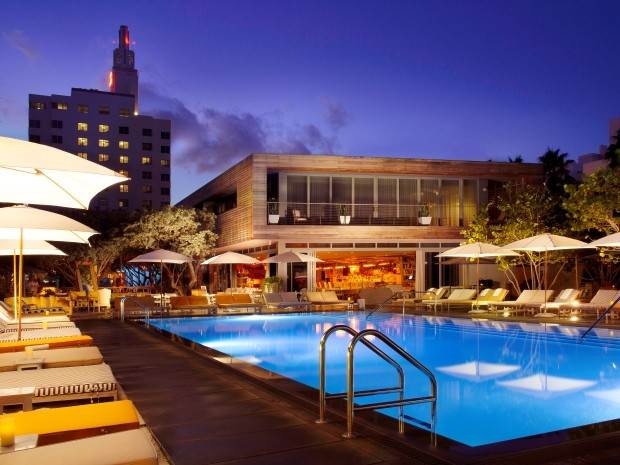 Photograph: Courtesy of SLS South Beach
 

Address: 1111 Collins Avenue, South Beach
Price: Free
Hours: Monday to Thursday 9:00 a.m. to 11:00 p.m., Friday to Saturday 9:00 a.m. to 12:00 a.m., Happy Hours every day 5:00 p.m. to 8:00 p.m.
 
This rooftop spot surrounds its infinity pool with gorgeous views. Inspired by the 1970's and Studio 54, the water lights up at night for groovy parties. Come early in the day for a leisurely swim or stop by during happy hour to socialize. If you're looking to stay for dinner, the hotel's Naked Taco restaurant has traditional Mexican food.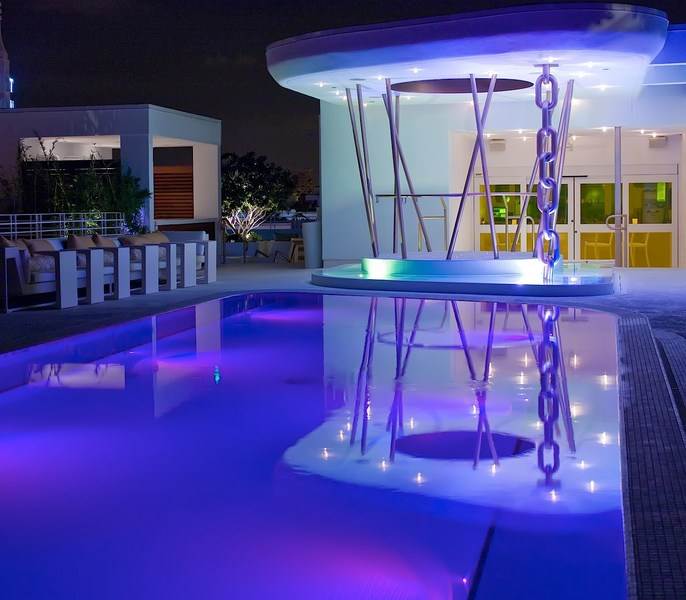 Photograph: Courtesy of Dream South Beach
 

Address: 1677 Collins Avenue, South Beach
Price: $35 for day pass, must apply prior to arrival
Hours: Sunrise to sunset
 
This hotel celebrates classic Miami style through its iconic aquatic haven. At 203 ft., their pool is the longest in the city, and at one point was the longest in the state. Another unique feature is the abundance of palm trees and green space. In case this tropical oasis becomes a little too secluded, you can also apply for a beach pass. There is a second pool that's heated and comes with with snacks and drinks from the Aqua Club.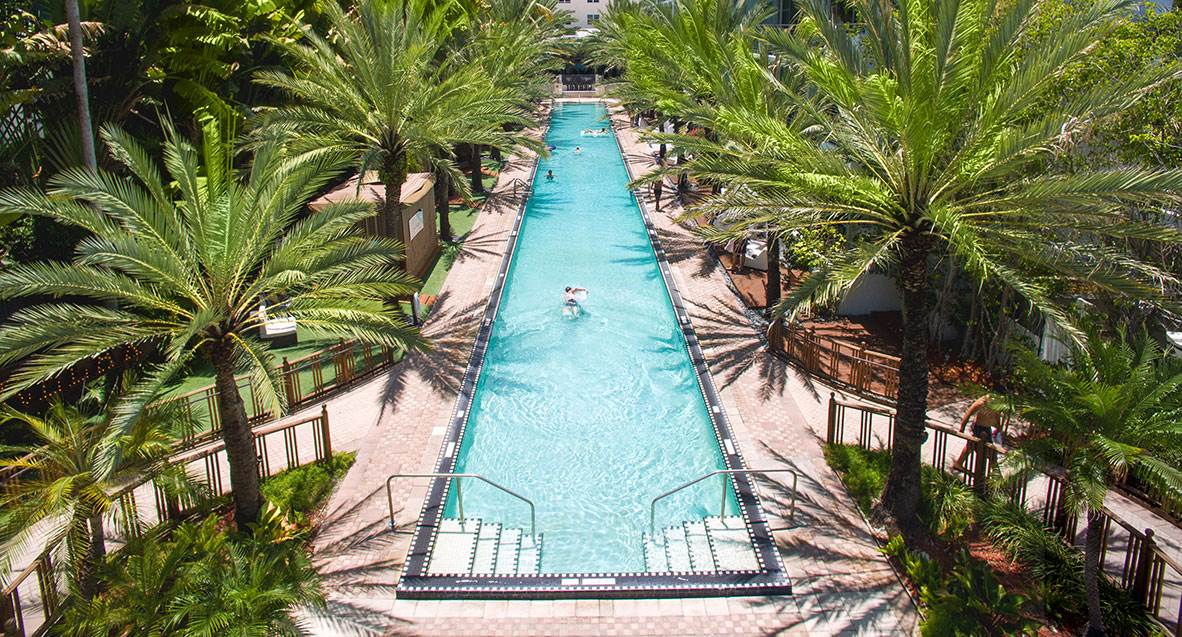 Photograph: Courtesy of The National Hotel Miami
 

Address: 425 Ocean Drive, South Beach
Price: $35 for day pass, includes pool and beach, available at the front desk
 
The Savoy welcomes visitors waiting to catch a cruise ship or hoping to lounge by a pool for the day. Travelers can even check their baggage for a fee. Anyone with a pass can indulge in their pool area, have beach access, and get to their poolside restaurant. The pass also allows entry to the fitness center and showers. It's a good way to unwind after a day (or night) of activity on Ocean Drive.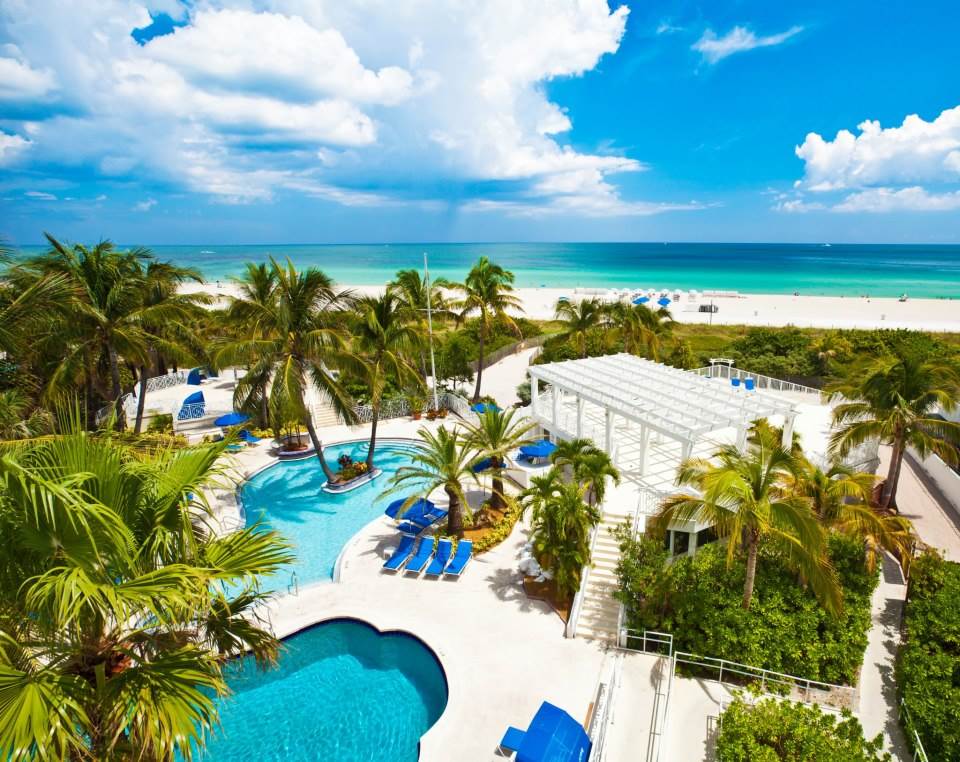 Photograph: Courtesy of The Savoy Hotel
 
 
We'd love to hear about your favorite hotel pool in Miami that doesn't require an overnight stay. Comment below to let us know!
Share your thoughts with us
Sign up now
Get news and updates delivered to your inbox