A walk-through of the 2014 Miami Book Fair International
Oct 08, 2014 October 08, 2014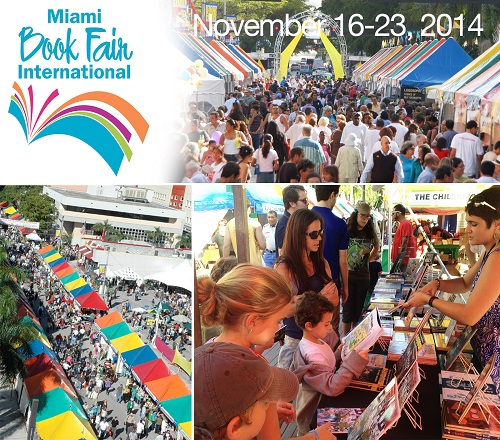 Come winter-time and Miami folk cover up to take a well-deserved break from showing off that brawn power and switch over to brain power. The Miami Book Fair International festival is reason enough for thousands of book lovers to flock to Downtown in celebration of the bookworm within.
In its 30th year, the eight-day literary extravaganza begins on a Sunday in November and wraps up with a three-day street fair over the following weekend. This November, the international book fair will begin on the 16th and conclude with the street fair lasting from the 21st to the 23rd.
Now an integral part of the very cultural fabric of South Florida, the book fair is a fantastic opportunity for families to come together and share their love for written materials of all sorts. The Fair is not just for novelists and welcomes writers from every country and walk of life. With free admission for children and students in order to promote the advancement and appreciation of literature, the Fair takes place at the Wolfson Campus of Miami Dade College.
The Miami Book Fair International kick starts with an "Evenings With…" series that includes 6 nights of readings and discussions by noteworthy authors from the across the globe. The "Festival of Authors" is considered the highlight of the street fair, which entails over 350 authors reading and discussing their works. In addition, the "Ibero-American Authors Program" is a Spanish program that features the writings of Latin American and Spanish authors.
The "Children's Alley" with its fun and interactive activities for young readers, "Antiquarian Annex" with its showcase of rare books and original manuscripts as well as "Comix Galaxy" with its celebration of visual storytelling of graphic novels and comic books can be counted on to keep up the fun element at this eight-day book fair. A host of food vendors across the location make sure you don't go home with a rumble in your tummy.
To know what to expect in this year's Miami Book Fair International, check back with the official website on November 1st for a full listing of events.
Fact Sheet:
Founded by the Miami Dade College and community partners, the very first Miami Book Fair International took place in 1984.
Introduced as "Books by the Bay", the festival started as a two-day street fair.
Over time, the festival was renamed in the 1990s as the Miami Book Fair International.
The Center for Literature and Theatre at Miami Dade College took over the fair in 2001.
The Book Fair has proudly hosted noted authors from almost every country in Latin America and the Caribbean along with writers from France, England, South Africa, Hong Kong, Bosnia, Ireland, Spain, Russia, Taiwan, Finland, Canada and the Philippines.
Share your thoughts with us
Sign up now
Get news and updates delivered to your inbox