Al Capone's Mansion Renovated for Movie Production Venue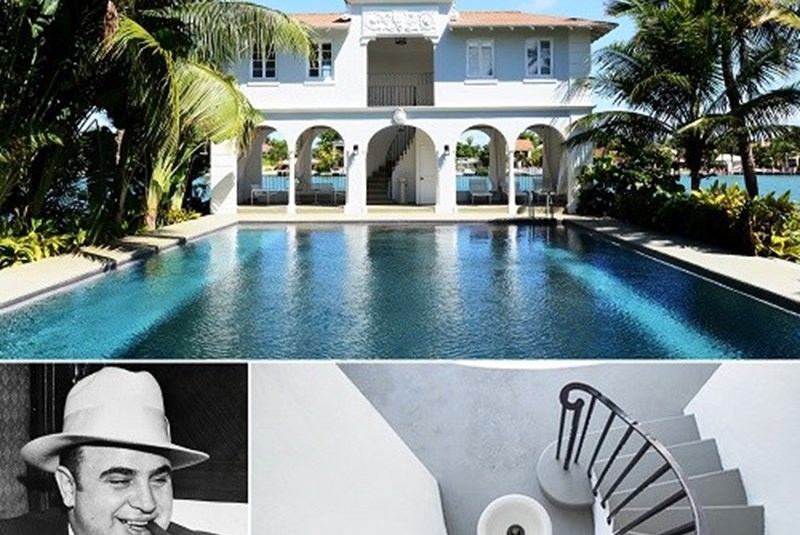 Mar 30, 2015 March 30, 2015 The mansion of Al Capone on Palm Island in Miami Beach is getting an overhaul in order to change it into the movie production venue that investors hope for it to be.
The Mediterranean Mansion, Capone's 6,100 square-foot mansion, was built back in 1922, and it includes a gate house, a pool cabana, and over 30,000 square-feet of waterfront property. As a part of this overhaul, the mansion is getting a much less fancy name: 93 Palm.
Back in April of 2013, a wealthy Italian family bought the property for $8 million. Since then, MB America, a property investment firm based out of Miami, has been renovating the property on behalf of the owner. During this renovation, they plan to preserve the history of 93 Palm, while also making it into the filming venue they envision.
Marco Bruzzi, Founder and CEO of MB American said in reference to the other international venues purchased for this same reason, "All the investments we bought because we are [offering] them for luxury events and for production, photo shoots and filming."
For Capone's former mansion, MB America has hired Italian architect, Monica Melotti, an architect who specializes in historic renovation.
Thus far, the group has spent $1.4 million renovating the property, which is about 75% complete, according to Bruzzi. The property should be up for lease in May if the deadlines are all met.
"Al Capone bought it in 1928 and he built the gate house and the pool cabana to make the property like a fortress so it could be safe from the street as well as from the sea," Bruzzi said.
Deidre Marie Capone, Al Capone's great niece, who authored a book "Uncle Al Capone," remembers learning how to swim in the saltwater pool on the mansion's property. "We were a very close family," Deidre Capone said, "We ate our meals together, we sang together, we cooked together."
She hopes to have a movie released in a few years about Capone's life, some of which they would film at 93 Palm. She added, "I'm trying to do as much as I can to let people know about what made him laugh, what made him cry, what was he was afraid of, and what made him do the things he did."
Source: therealdeal.com
Photo credit: Mansion - curbed.com
Share your thoughts with us
Sign up now
Get news and updates delivered to your inbox