All Those Cranes You See in the Miami Skyline? Most are Apartment Buildings, Not Condos
Jun 25, 2019 June 25, 2019
While Miami is known for its extensive array of luxury condos, not all of those new construction projects popping up everywhere are condo towers. In fact, a huge majority of them are actually apartment buildings, geared toward young urban professionals who would rather rent than buy.
According to the Miami Downtown Development Authority, in December of 2018 their Market Insights reported 4,480 rental apartments under construction in the greater Downtown area, which consists of Edgewater, Overtown, Wynwood and Brickell. That number nearly doubles the 2,317 condos that were being built in the same area at that time.


Recently Completed Rental Apartment Projects

Below are some of the most recently completed projects in the downtown area. Some are offering move-in bonuses to lure tenants, such as a month of free rent, and perks such as 24-hour concierge service.


Modera Riverhouse
1170 Northwest 11th Street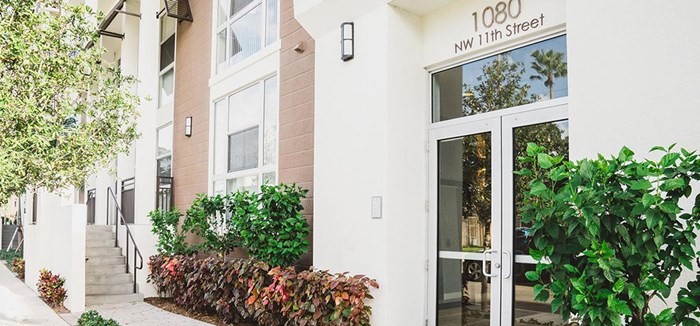 Modera Riverhouse, a brand-spanking-new building that opened in February of 2019, is located in the Spring Garden Historic District, overlooking the Miami River, and only minutes from the hustle and bustle of Brickell.
Floor plans feature studios, and one, two, and three-bedroom layouts, with rents starting at $1745 monthly. Units feature quartz countertops, tile backsplashes, stainless steel appliances, and chef's islands in the kitchen, as well as panoramic views and walk-in closets.
Building amenities include a rooftop pool, deck, and sky lounge, as well as the historic Casa Jardin garden house, reinvented as a community lounge space with internet access and fresh coffee service.


Caoba
698 NE First Ave.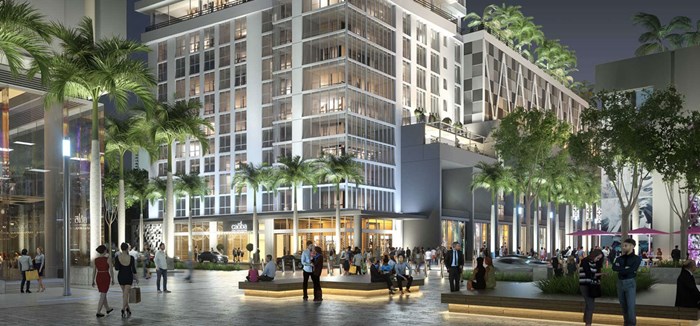 Caoba - Photo credit: 

Caoba

Opened in February of 2019, Caoba is a 43-story apartment tower located at Miami Worldcenter, and is the first component to be completed at the 27-acre multi-use facility currently under construction in Downtown Miami.
According to managing principal at Miami Worldcenter Nitin Motwani, tenants at Caoba come from all walks of life. "It's everything from corporate workers to fresh-out-of-college young people to families to empty nesters," Motwani explained. "We're not just targeting one demographic. We're running the gamut."
Caoba features 444 rental apartments that range from 500 to 1,300 square feet in size, with over half of the units designed as studios and one-bedrooms. Rents range from $1,775 to $4,275.
Caoba is located in the midst of the multi-faceted Miami Worldcenter, which will be filled with apartments, hotel rooms, offices, conference centers, retail, and food and beverage outposts. It is also one block east of the new MiamiCentral train station, which intersects the Brightline, Metrorail, Metromover, and Tri-Rail services, making this one of the best spots in the city for those who want to get around easily on public transportation.


Muze at Met
340 SE 3rd Street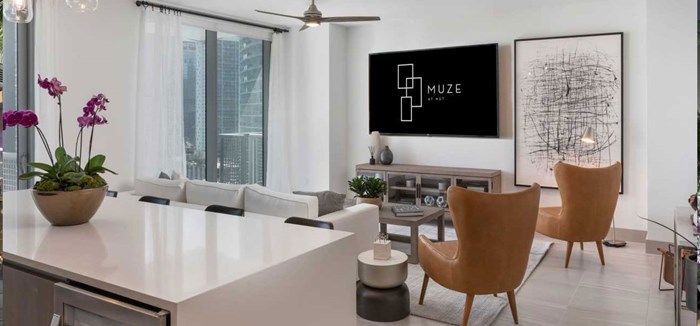 Muze at Met - Photo credit: 

Muze

Also completed and opened in February of 2019, Muze is home to studios as well as one, two, and three-bedroom apartment units with stunning views, and rents starting at $1756.
The building features a lushly landscaped sun deck with a heated salt-water swimming pool, a 24-hour Zen wellness room, yoga and cycling studios, massage rooms, onsite retailers, a museum-inspired lobby with great art, a covered outdoor pavilion with summer kitchen, an entertainment lounge, services such as 24-hour concierge, and an onsite pet salon.
Next door to Whole Foods and near Bayfront Park, Museum Park, the Arts and Entertainment District, and Miami Worldcenter, Muze has earned a walkability score of 98, a bike score of 80, and a transit score of 100, thanks to its \ proximity to the Brightline, Metrorail, Metromover, and Tri-Rail train services.


Apartment Buildings Currently Under construction

Below we've listed some of the buildings nearing completion in the coming months, and we can expect them to also offer move-in incentives for prospective tenants.


The Bradley
51 Northwest 26th Street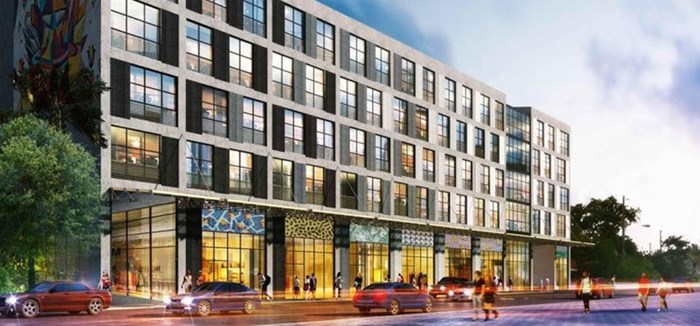 The Bradley is located in the heart of Wynwood and slated for completion in late 2019. This 175-unit tower will be among the most affordable of the new rental developments, with studios, one, and two-bedroom units ranging from 480 to 1,000 square feet, and rents starting in the low $1,400s, with most units renting for under $2,000.
Residences feature Italian designer kitchens, stainless steel appliances, walk-in closets, in-unit washer and dryer, and a safe and convenient keyless entry system. The building will also feature over 32,000 square feet of retail, restaurant, and office space.
Designed by Arquitectonica under the creative direction of Kravitz Design, the Bradley is a project of renowned artist Lenny Kravitz.
Amenities include a gated entrance, 24-hour concierge service, a rooftop deck and pool, outdoor kitchen with barbeques, a formal dining area, bicycle storage, and a fully equipped fitness center and health club that serves residents as well as their guests.
All common areas are equipped with high-speed Internet, as well as a curated collection of art and murals by an assortment of local and international artists.


Wynwood 25
252 NW 25th Street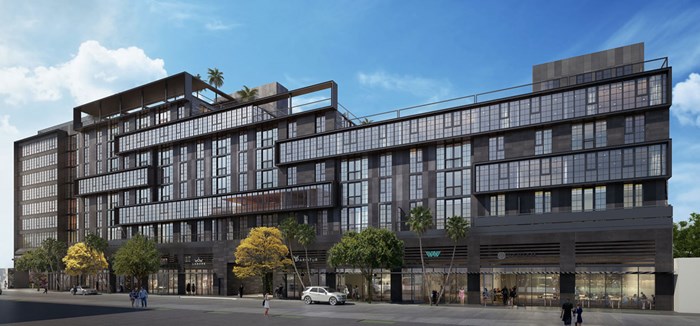 Wynwood 25 - Photo credit: Wynwood 25

Scheduled for completion in Summer 2019, Wynwood 25 is located on NW 25th Street just west of NW 2nd Avenue, smack dab in between the famous Wynwood Walls and Panther Coffee. The project includes an eight-story, 425,000 square foot building, housing 289 rental apartments, along with 31,000 square feet of ground level retail, and a parking lot accommodating 340 vehicles.
The goal of the new developments in Wynwood is to create vibrant, walkable communities inhabited by professional millenials. Layouts at Wynwood 25 range from studios to 3-bedrooms and rents will begin at around $1610.
Amenities at Wynwood 25 include a world-class fitness center with a yoga studio, collaborative spaces designed for working from home, a coffee lounge surrounded by a 12,000 square foot courtyard, and such extras as bike storage, package storage, and dog bathing facilities.
The building also features a garden roof terrace with a pool, spa, barbeque, as well as work areas, and green spaces with beautiful city views.


Modera Bay
411 Northeast 21st Street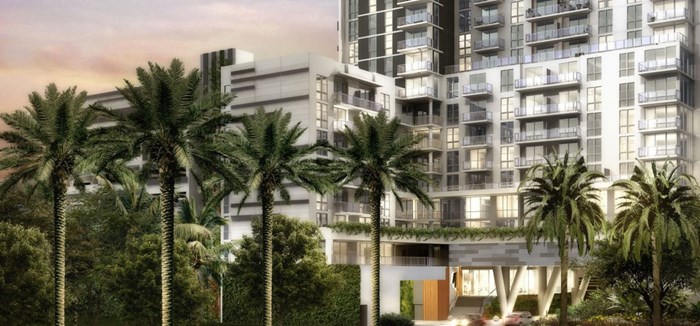 Modera Bay - Photo credit: 

Modera Bay

Slated for completion in 2021, Modera Bay will house luxury rental units, with rents starting at around $1905.
Sitting on the shoreline overlooking Biscayne Bay, this 8-story building will encompass 297 studio, one-, two- and three-bedroom apartments with features like natural quartz countertops and custom cabinetry.
The building includes amenities such as a rooftop pool deck with dazzling views, and is located near all of the local hot spots in Downtown, Midtown, Wynwood, and the Design District, including Margaret Pace Park, Museum Park, the Arsht Center and Ziff Opera House, and a bevy of eateries and boutiques.


The Cranes Ain't Condos

So now you know that most of the cranes you see everywhere aren't condo buildings, but rather apartment rental buildings. :)
---
Share your thoughts with us
Sign up now
Get news and updates delivered to your inbox