Another Luxury Condo Coming to Edgewater? Biscayne 21 Condo Site to be Sold
Mar 23, 2020 March 23, 2020
The waterfront, Biscayne 21 condo building in 
Edgewater
is being sold. 

No, this is not some pre-construction condo building gladly announcing sales, but an already built one, being sold as a prime redevelopment opportunity in Edgewater. The 1964, mid-rise condo building at 2121 Bayshore Drive sits on a prime, 3.4-acre waterfront lot, one of the last in the neighborhood, and features 850 feet of water frontage along with unobstructed bay views. It's one block from the construction site of the latest Edgewater luxury condo Elysee, two blocks from the neighborhood favorite, dog-friendly Margaret Pace Park and has the Venetian Causeway connecting to South Beach close by. All of which make it an enviable parcel of land for any kind of housing development.
Could Edgewater get another Luxury Condo?

All of this begs the question of what will eventually be built on this sought-after site? Will it be the next luxury condo building in what's becoming a very hot market in Edgewater? Besides Elysee, Edgewater is indeed quickly becoming one of Miami's most desirable neighborhoods, and is also home to the recently added ultra-luxury Paraiso district, stunningly bold Icon Bay, the waterfront Aria on the Bay, and Italian fashion house-backed Missoni Baia in pre-construction.
Part of what makes Edgewater so popular is its proximity to basically everything in Miami - this bayside, waterfront pocket of a community sits on the edge of the Venetian Causeway to South Beach, ten minutes to all of Miami's best cultural venues including the Perez Art Museum Miami (PAMM), the Adrienne Arsht Center, the Metromover to Downtown Miami and Brickell, and so much more. And recent announcements of new grocery stores and waterfront restaurants in Edgewater are supporting its growth.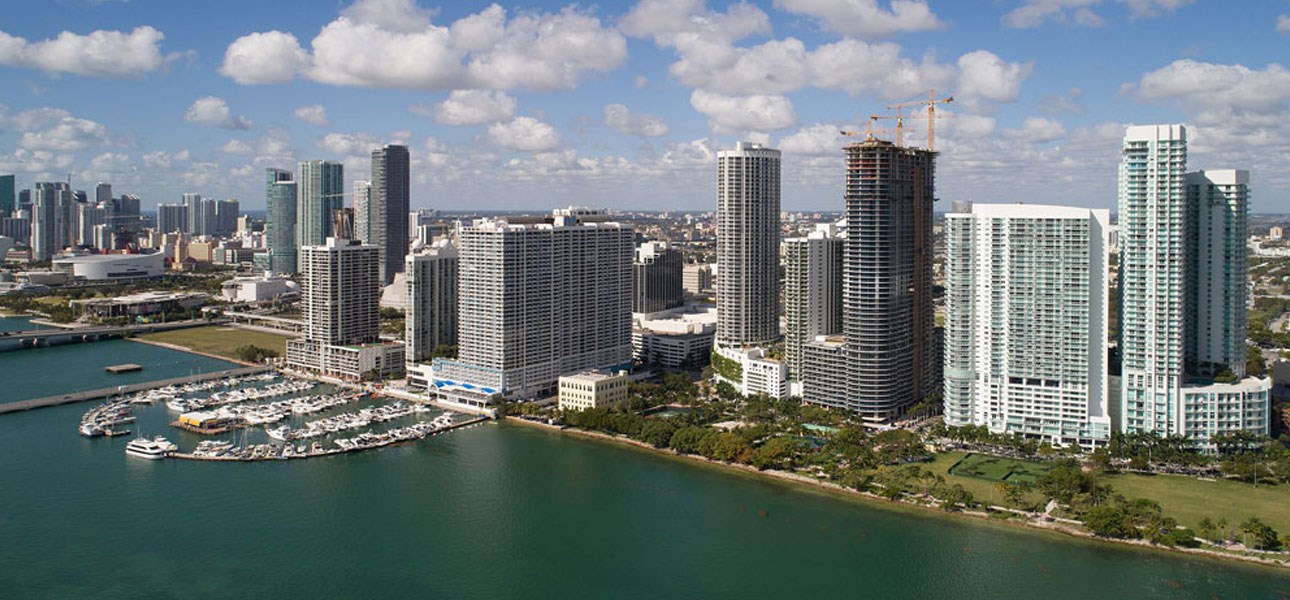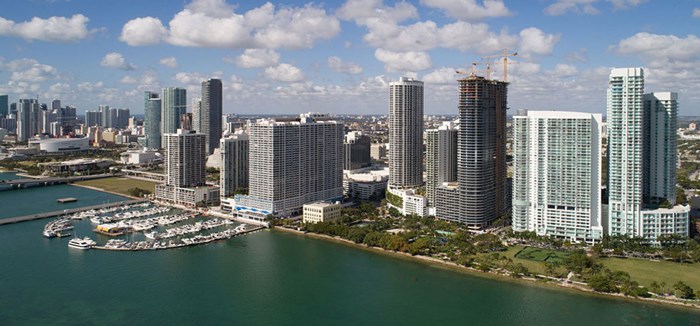 Aerial view of the Edgewater neighborhood

In addition to boasting of a great location, Biscayne 21's building site is zoned T6-36A, which potentially allows the next residential development to rise up to 60 stories if bonuses are considered and approved, with up to 517 residences. Whether the next developer will seek such heights remains to be seen. The existing condo building is only 12 stories tall with 192 units in comparison.
Uncommon Redevelopment Deal
Given there is so little bayfront land available in Edgewater, or Miami for that matter, this deal represents a unique redevelopment structure that we may start to see more of. Occupied by individual unit owners, Biscayne 21 is being marketed as a bulk condo deal, or what's called a fractured condo deal. These deals represent great development opportunities but are not common because they can be challenging to execute. However, with waterfront parcels becoming scarce and that much costlier to pick up, such deals could gain popularity. Biscayne 21's fractured deal is expected to sell for between $130 million to $150 million, and a whopping 90% of its unit owners have already signed a listing.


---

Are you interested in learning more about the Edgewater neighborhood? Reach out to us and we'll gladly help. 
Share your thoughts with us
Sign up now
Get news and updates delivered to your inbox