Another Waterfront Edgewater Development Site Sold
Aug 03, 2021 August 03, 2021
In another recent development deal, a coveted waterfront parcel and two other lots were sold in Miami's popular Edgewater neighborhood. The purchase includes a total of about 26,880 square feet, including a waterfront strip along Biscayne Bay, located north of the Icon Bay Condo and south of the Biscayne Beach condo tower in Edgewater. 
The three-lot assemblage, which is zoned T6-36a-L, was purchased by Edgewater Owner LLC, a New York-based firm led by investor Joseph Stern, for a total of $12.2 million for future development. The zoning allows for the owner to build condos, hotel rooms, or multi-family up to 36 stories depending on lot size.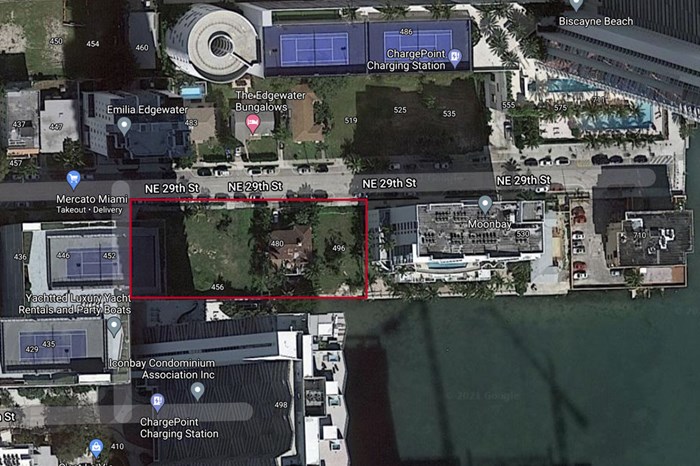 Photo courtesy of Google Maps

The largest of the three properties is a 14,280 square-foot lot located at 456 N.E. 29th Street and purchased for $4.9 million from Whitelight Group LLC,  a firm led by Augusto Franchino in Miami. This lot was traded previously for $1.35 million in 2012. The other two lots are each 6,300 square feet, and are located at 480 N.E. 29th Street, which has a structure built in 1940, and the vacant waterfront lot 496 N.E. 29th Street, respectively. The assembled property is between Moon Bay, built in 2007 and housing 62 waterfront units, and the parking garage entrance to the 40-story Icon Bay Condo, built in 2015.
Edgewater Owner LLC secured an $11.5 million mortgage from lender Ladder Capital Finance for the three combined properties.

Edgewater is Booming 
This deal is the latest in a development boom happening in Edgewater and Miami, which have been rapidly growing in recent years, particularly for waterfront properties along Biscayne Bay. Over a dozen new condo projects in Miami have emerged so far in 2021, with others on the horizon. With most of the area's empty lots and premium waterfront parcels sold out, many developers and investors are showing interest in older buildings with great potential.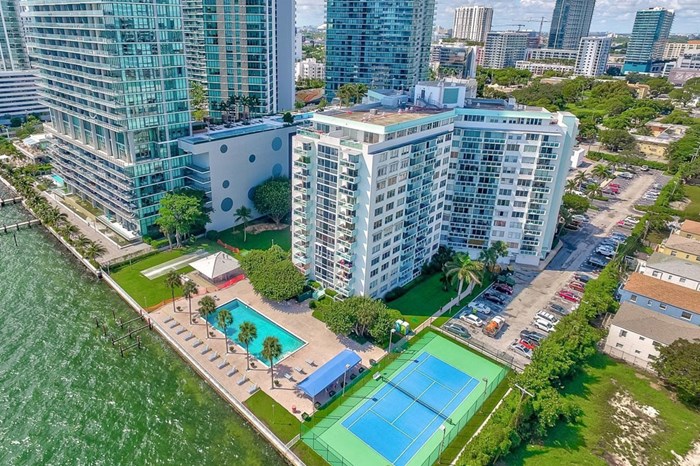 Bay Park Towers

Edgewater's Bay Park Towers was purchased by Beach Hill Capital Partners earlier this year as part of a $130 million bulk buyout deal. The assemblage included the 14-story, 254-unit waterfront condo complex located at 3301 NE 5th Avenue, which was built with plenty of Bay frontage back in 1961 and recently updated in 2019 to include a fitness center, bayfront pool, entertainment center, and tennis court.  The building also has one of the area's largest surface parking lots.



Another commercial assemblage, located at 3333 Biscayne Boulevard in Edgewater was also recently listed with a price tag of close to $50 million. This assemblage spans 2.8 acres and stretches from Biscayne Boulevard to Northeast Fifth Avenue, on the block between Northeast 33rd and 34 streets, and includes a commercial building and 54 apartment units. According to property records, the assemblage consists of 11 parcels on the eastern side of Biscayne Boulevard, including a commercial building that houses a Wendy's, and 54 multifamily residential units. The site has the potential to be developed into a 36-story tower, or a high-rise with as many as 60-stories, and also includes extra bonuses. The site is cleared for construction of some 417 residential units along with an additional 2 million square feet of new construction. It's also cleared for residential, office, retail, and hospitality use.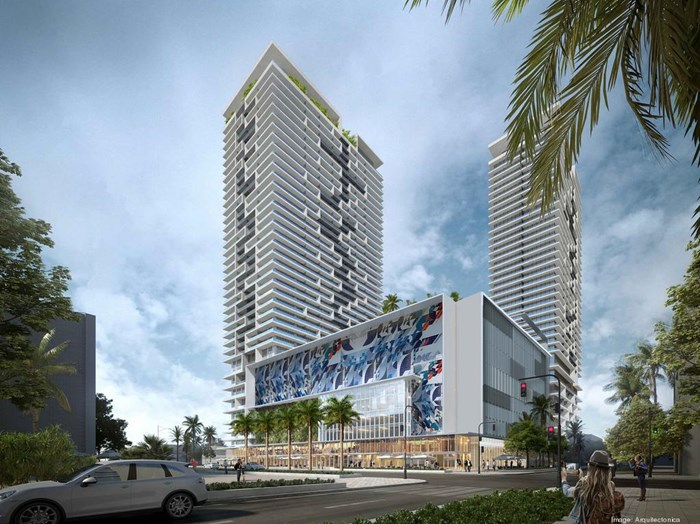 Nema - Artists Rendering

Other developments in Edgewater include the recently announced twin tower project Aria Reserve on 500 linear feet of bay frontage, and the Hamilton on the Bay tower located at 34th Street, which was purchased by multi-family developer Aimco Properties for almost $90 million in August of 2020. And Nema, a luxury apartment project from Crescent Heights, is planning to break ground in the coming months on its mixed-use, 38-story tower at 2900 Biscayne Boulevard, including a grocery store.


---

If you're interested in investing in a bulk buyout or assemblage property purchase, please call, text, or email us to have a local real estate expert advise and guide you. 
Share your thoughts with us
Sign up now
Get news and updates delivered to your inbox