Aria Reserve Miami: Condo Sales Launched for the Tallest Waterfront Twin Towers in the United States
Jun 28, 2021 June 28, 2021
As Miami's condo development cycle heats up, another great project just hit the market in the popular Edgewater neighborhood. Melo Group, which completed luxury condo building Aria on the Bay in 2018, launched sales for the tallest waterfront twin towers to be developed in the United States. The ambitious Aria Reserve project will feature two 60-story condo towers, approved for a height of 637 feet above the ground, rising on 5+ acres of waterfront reserve, in one of Miami's best residential neighborhoods - Edgewater.
Previously known as Island Bay, the developer launched sales on the first (south) tower that will be home to 391 stunning condo residences. Expected to break ground in early 2022, the tower will be aiming for a 2024 completion. Sales on the second (north) tower will be launched after gauging market demand.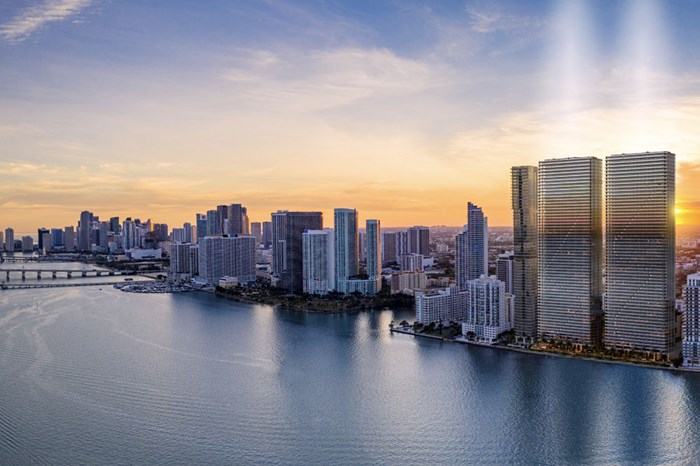 Aria Reserve's Distinctive Edgewater Enclave
Everything about the Aria Reserve carries an air of distinction – right from its zig-zag façade to East-West floor plans, direct bay views from every residence, 2-plus acres of open-air amenities, and the Edgewater location. Perched on the last waterfront reserve of its kind, it took developer Melo Group almost a decade to put together this unique waterfront assemblage.
Rising 60 stories against 547 linear feet of bay frontage, the stunning twin towers are designed by Miami's award-winning architecture firm, Arquitectonica. Offering a total of 782 luxury residences, each condo unit will feature interiors styled by the MORADA Haute Furniture Boutique. The project is conceptualized to offer the best of modern living by weaving in the beauty of nature plus architectural sophistication into one masterpiece address.
Situated in Edgewater, the same neighborhood as its luxurious sister tower Aria on the Bay, the twin-tower development finds itself in one of Miami's most well-located residential neighborhoods. The project is just minutes from the art and cultural hub of Downtown Miami, haute couture at Design District, world-famous murals at Wynwood, stellar sports entertainment at FTX (previously the AmericanAirlines Arena), and Brickell's financial district. The waterfront neighborhood is very pedestrian-friendly and also features a hearty collection of restaurants.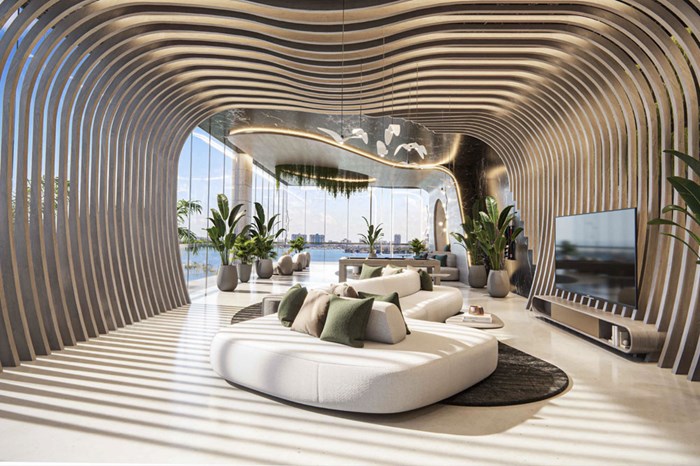 Aria Reserve's Masterpiece Condo Residences in Miami
With a choice of one- to four-bedroom residences, a lot of thought has been put into the 780+ luxury residences at Aria Reserve. Delivering more space per unit than many of its neighboring condos, the residences range in size between 1,100 and 2,600 square feet.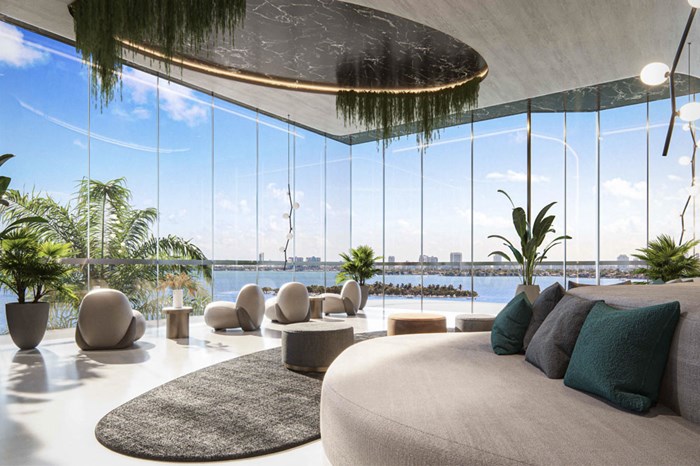 Each unit is designed to tick all the boxes for every desirable feature one could ask of a luxury condo in Miami. Each Aria Reserve residence will feature:
Direct bay/ocean views

East to West, sunrise-sunset flow-through floorplans

Dedicated office/media/bonus room

10-foot-high ceilings and 11-foot-deep terraces

2 flooring options

2 high-speed elevators

3-month seasonal rentals allowed up to 4 times per year
In addition to the luxury condos, buyers will also have a choice of 15 penthouses, ranging from 3,500 to over 9,000 square feet, and 3 tri-level penthouse mansions featuring private rooftop pool decks with summer kitchens.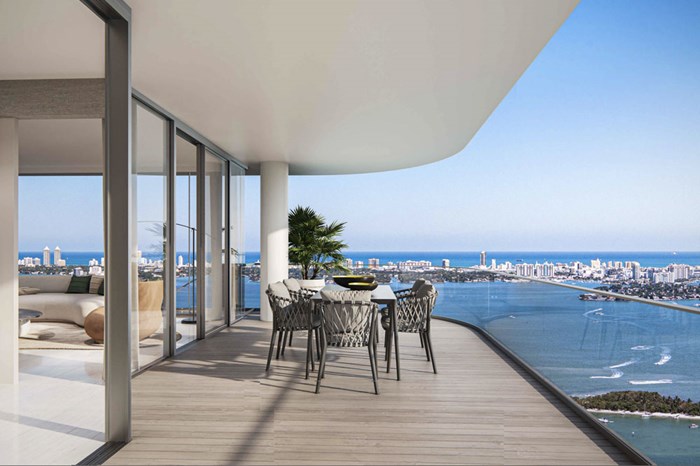 Amenities at Aria Reserve in Miami's Edgewater Neighborhood
Complementing the thoughtfully curated residences is an equally impressive list of luxury amenities at this twin-tower reserve. Residents have access to a full-fledged 2-acre recreation deck, complete with a semi-Olympic sized lap pool, a whirlpool spa, children's splash pad, teen lounge and gaming center, and playground. For sports-minded residents, Aria Reserve will offer tennis courts, basketball courts, paddle courts, miniature golf, an indoor-outdoor wellness center, gym, meditation garden, and more. All landscaping in and around the amenity deck will be designed by ArquitectonicaGEO.
There will also be a double-level 25-foot lobby, signature waterfront restaurant and café, theater room, fire pit, dog park, telescope observatory area, and custom-designed water sports dock with an equipment rental center at Aria Reserve. The developer also plans to build a public park along 23rd Street, which will connect to the planned Miami Baywalk.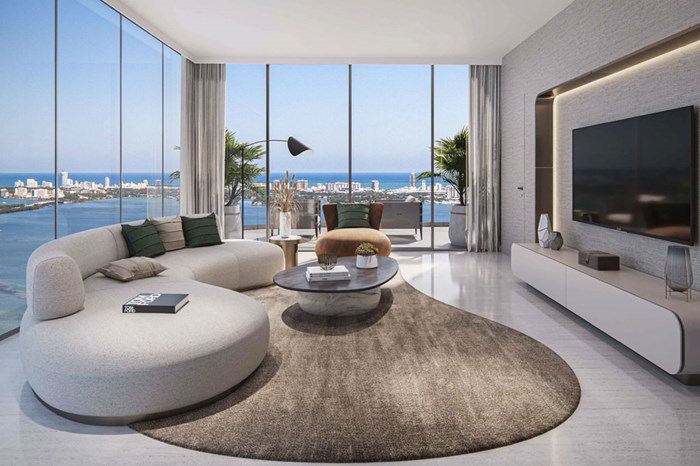 Aria Reserve – The Best Waterfront Value in Miami
Developer Melo Group says the development is positioned to offer the best waterfront value in Miami. "This type of waterfront, luxury condominium opportunity simply no longer exists in Miami at this price point," said Martin Melo, Co-Principal of the Melo Group in his interview with thenextmiami.com.
Prices for the one- to four-bedroom condo residences at Aria Reserve range from $750,000 to over $2 million, while those of the penthouses start at $12 million. This means, starting prices for the condo units average at about $750 per square foot. In comparison, prices at the recently completed Elysee Edgewater, another luxury condo building with East-West flow-through floor plans, average at about $1,139 per square foot (as of this publication).



Melo Group has further kept Aria Reserve's deposit structure buyer-friendly with a 30% deposit for domestic buyers and a 40% deposit for foreign buyers. For more details on early bird pricing, deposit structure and floor plans, call, chat, or email us and so we can be your expert guide in this competitive market.

Miami's Edgewater Neighborhood
Sitting a short walk away from the Perez Art Museum Miami (PAMM), the Frost Science Museum, the Adrienne Arsht Center for the Performing Arts, and Downtown Miami's Bayfront Park, this waterfront community is one of Miami's favorites, and for good reason. Set on the bayfront, it's a quick 10-minute drive or scenic bike ride to South Beach. It's also just a mile from Wynwood's eclectic art-scape, the Shops at Midtown and the Design District's high-end shopping. But what makes Edgewater so unique is that it's anchored by the 8-acre, dog-friendly Margaret Pace Park. This park also sits bayfront, and with tennis and basketball courts, it offers great relaxation and green space at your back door. 
To learn more about Edgewater, check out our videos on YouTube.


Share your thoughts with us
Sign up now
Get news and updates delivered to your inbox