Art Basel opens this week in an increasingly cultured city
Dec 06, 2013 December 06, 2013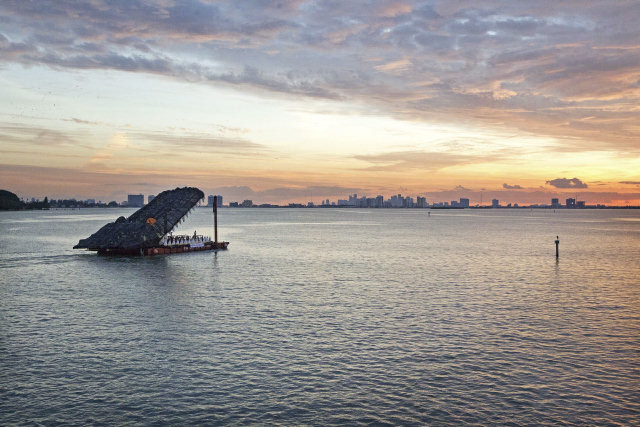 On a recent night in the Design District, lately littered with heavy equipment and engulfed in construction dust even as it grows more and more posh, a crowd celebrated the opening of Maman Fine Art, the first outpost of Buenos Aires' largest modern/contemporary gallery.
It's one more sign of a Miami art scene gaining muscle — and as chatter at the gallery proved, there is little that Miami's urbanites love more than counting the ways their city is on the rise. By far the biggest sign is the bayfront Pérez Art Museum Miami. The city's first grown-up art museum debuts this week (on schedule and within budget) during the 12th Art Basel in Miami Beach with a show as intrinsically Miami as it is internationally first-rate.
Several forces have lifted the city, but there is no denying the impact of Basel, the largest contemporary art fair in the hemisphere, opening Wednesday at the Miami Beach Convention Center and pulling in its wake about 20 ancillary art fairs. With it all come enough glam happenings to send locals scrambling to score impossible invitations and pull together extra eveningwear.
"Basel has been like steroids to our community. I don't think anyone would dispute that the PAMM happened at a more accelerated rate than it might have without Basel's presence," says Michael Spring, director of the Miami-Dade County Department of Cultural Affairs. "When something like Basel lands in your city, you either come off as country bumpkins or you bring your best game."
Over the past dozen years, the city has pressed to step up, to create serious cultural infrastructure, to build more significant architecture, to shake off some of its reputation for being laid back in favor of a more-polished hospitality scene. It has even shown more affinity for such grown-up city conceits as minding the clock.
"Miami is taking itself more seriously," says Jessica Goldman Srebnick, who along with her father, the late Tony Goldman, helped to transform Wynwood into an increasingly hip (though still gritty) neighborhood filled with street art, galleries, work spaces, cafés, shops.
"During Basel, the city is inundated with the most sophisticated tourists and the top international press," she says. "It gives us a time certain for getting the next project completed. In the past, projects often dragged. Now, everybody knows to push, push, push. It's in everybody's best interest to be ready by Basel."
[…] read more at.
Source: miamiherald.com
Share your thoughts with us
Sign up now
Get news and updates delivered to your inbox