Art Deco Weekend 2015: Your Guide to Timeless Celebration
Jan 06, 2015 January 06, 2015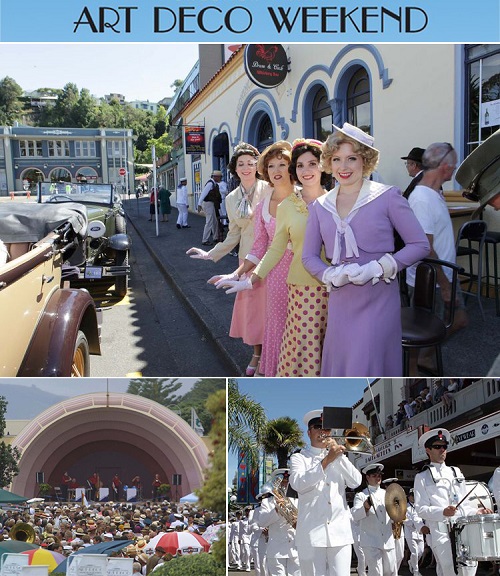 Relive the passion of the past with three whole days dedicated to the Annual Art Deco Weekend festivities and get acquainted with vintage Miami. With more than 80 events scheduled from the 16th -18th of January 2015, you can look forward to guided tours, musical performances, art exhibits, films, street theater, lectures, artists, parades, antique auto displays, merchandise vendors and a host of culinary offerings to give you a taste of the 20s, 30s and 40s.
What began as a movement by the Miami Design Preservation League to save a plethora of neglected Art Deco buildings and hotels in South Beach, has now turned into a must-see for locals and tourists alike. Bound to be grander than ever; the Art Deco Weekend of 2015 comes celebrating 100 years of history, architecture and people, as it is a featured event of the Miami Beach Centennial Celebrations.
This year's weekend will feature the same gorgeous backdrop as the 1st Art Deco. Like every year, this January too Ocean Drive will be closed to traffic to accommodate over 140 vendors. Family-friendly with ample space to savor every aspect of the event, Lummus Park and Ocean Drive will come lined with vintage and handmade paintings, sculptures, posters, photography, jewelry and much more, with street entertainment and classic cars to keep that adrenaline going.
So, go ahead and pull out your top hats/extravagant wigs and join this Miami-style soiree, complete with drag queens, stilt walkers and a quintessentially happy vibe.
Annual Art Deco Weekend Fact Sheet:
The Miami Design Preservation League was founded in 1976 by activists Barbara Baer Capitman, John Capitman and Leonard Horowitz to recognize South Beach's Art Deco architecture.
Two years later, the first Art Deco Festival was celebrated with week-long festivities.
2015 happens to be the 38th edition of the Art Deco Weekend.
Thanks to the preservation movement, South Beach's Art Deco buildings have been out of danger since 1992.
The Art Deco Museum stands to acquaint visitors with the three major historic design styles in Miami Beach – Mediterranean Revival, Art Deco and Miami Modern. The exhibits here include Architectural Panel Exhibits, Miami Beach Historic Preservation Informational Panels and Archives, Children's Center, Visual Memoirs Documentary, Resource Center, Miami Beach History Informational Panels and Archives, Art Deco Home Designs and Fashion.
The Promenade makes up the cultural hub of the weekend with music from the 1920s, 30s & 40s; furniture and home accessories made in Art Deco decades; models showcasing clothing and accessories made or inspired by the Art Deco era; and the ADW Film Series will featuring films made in Miami Beach.
The Playground is a family and kid-friendly area in Lummus Park with live performances, vendors and activities scheduled for the entire family as well as your beloved pet dogs.
Since Lummus Park is as old as Miami city, with its creation dating back to 1915, the ADW outdoor film series "Miami Beach on the Big Screen" will be scheduled here.
The much adored fashion component of the festival was added in 201, with local designers presenting era-appropriate clothes on the runway.
Boasting of record crowds and exciting multiple events, we reckon you plan ahead and make a day of this fabulous weekend dedicated to vintage-Miami-style partying!
Photo credit: eventfinder.com
Share your thoughts with us
Sign up now
Get news and updates delivered to your inbox