Auberge Residences' Triple-Tower Multiproject Renderings and Plans Released
Sep 24, 2015 September 24, 2015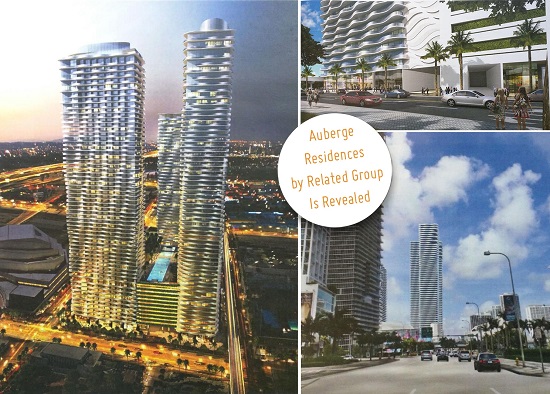 Auberge Miami, a three-towered multiproject development with over 1,400 units, is being created by the Related Group.
The plot where the towers will be located, 1400 Biscayne Boulevard, were purchased by Related and their partners in 2014 for $57.3 million. Related is already advertising Auberge Residences and is building a sales center at the location.
The three towers themselves will be split somewhat abnormally. The first tower will be 59 floors tall, with 310 units. The second tower will also be 59 stories tall, but will contain 498 units. The last tower will be only 49 stories tall, but will house a whopping 568 units.
In addition, an 11-story podium will include retail, restaurant, and amenities space. The project will also include over 1,600 parking spaces for guests. The project will be over 2.7 million square-feet in total, with over 1.6 million of that being sellable space.
Related will be reaching the 500 units per acre maximum, as stated in the zoning regulations, giving the property a combined total of 1,430 units.
Arquitectonica is the design architect for the project.
Source: thenextmiami.com
Photo credit: thenextmiami.com
Share your thoughts with us
Sign up now
Get news and updates delivered to your inbox