Bayside PAC Campaign Ignores SkyRise but Emphasizes Renovations
Oct 17, 2014 October 17, 2014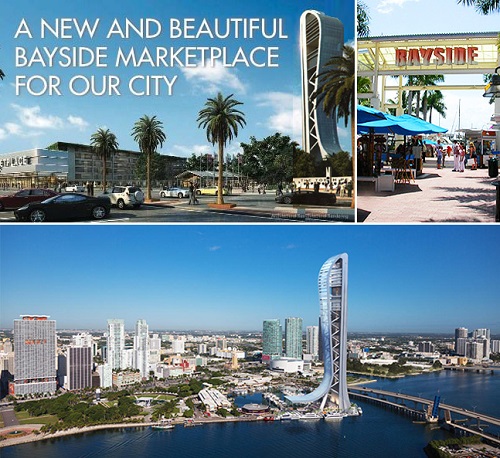 A political action committee (PAC) calling themselves Friends of Bayside Marketplace, have created advertisements emphasizing certain parts of the Bayside renovations, and a new retail wing, but overlook other important aspects.
The PAC is funded by Berkowitz Development, giving a $50,000 donation to the committee, which was spent mostly on Spanish media.
Friends of Bayside Marketplace has not brought attention to the debated SkyRise tower, but has mainly focused on Bayside.
Recently, the Bayside Marketplace has been under renovations to modernize and generally neaten up the area, but speculation arose when they also proposed the SkyRise tower. Ballots confused many voters, forcing them to vote for both or neither the Bayside renovations to continue and the SkyRise to be built.
The SkyRise tower, an observation tower giving a great view of the water, has been called a bobby-pin building that is in the way and out of place.
Source: exmiami.org
Photo credit: Bayside Market - exmiami.org, SkyRise - nbcmiami.com, Bayside Market - miamimidade.gov
Share your thoughts with us
Sign up now
Get news and updates delivered to your inbox