Beckham group considers soccer stadium site at PortMiami (1)
Dec 02, 2013 December 02, 2013

The group led by superstar David Beckham envisions a stadium on one end of PortMiami, with views from the stands of downtown and Brickell rising from Biscayne Bay. At least some fans would make a short walk from Biscayne Boulevard or perhaps even hop on a water taxi to watch a new Major League Soccer team play.
Neither Beckham nor MLS have announced an expansion franchise in Miami yet, though one has been in the works for months, with Beckham making frequent visits.
But his investors have identified the seaport as the top potential site for a permanent stadium and have asked Miami-Dade County if it would consider allowing the structure on the southwest corner of Dodge Island, Mayor Carlos Gimenez's office confirmed to the Miami Herald.
"They kind of elevated this site," Deputy Mayor Chip Iglesias said. "We said yes, we'd take a look at it."
Zeroing in on a site lends weight to Beckham's push to bring a professional soccer team to Miami, which hangs in large part on building a new stadium designed for soccer.
Beckham's group, which includes billionaire Marcelo Claure of the Miami-based global wireless distributor Brightstar, is considering some 30 potential stadium sites, Iglesias said — not all of them on public land. Beckham has told county administrators he is interested in an urban setting.
"We are looking at a lot of locations and working closely with Dade County officials analyzing all of them," Claure told the Herald. "The port is only one of them."
Gimenez has said the county would not finance a stadium. But it could lease county-owned land at the port to team owners, who would then build a stadium themselves.
A 25-year PortMiami master plan contemplates better connecting the debt-laden port to the mainland by revamping its southwest corner with commercial development, including a hotel, an office complex and a harbor for mega-yachts facing downtown's Bayside Marketplace. Those facilities would generate revenue.
Some 25 acres could be available, Iglesias said — enough for a 25,000-seat stadium with expandable seating for various events, as well as the mega-yacht marina and perhaps a waterfront promenade.
Limited parking could be built underground, as in the Miami Heat's AmericanAirlines Arena, but it's unclear how much more parking space would be available. Iglesias said some fans could park in the same Biscayne Boulevard lots they use for Heat games and then walk over the bridge to the port.
Still, traffic could also be a concern. The island that is home to PortMiami can be accessed by road only from Port Boulevard on Northeast 6th Street and the new Port Tunnel, which is scheduled to open next year. Most MLS games take place on weekends — the busiest days for cruise passenger traffic. The soccer season runs from March to October.
Alyce Robertson, chief executive of Miami's Downtown Development Authority, said the arena, which seats 19,600, proved downtown can handle large crowds. But what if basketball and soccer games overlap?
"If we think in a traditional manner, then there's going to be some challenges on the transportation," she said, referring to Miami's car culture. But downtown has pushed for people to walk and take the Metromover to Heat games, she added.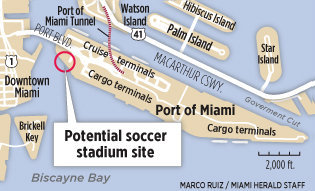 "For large events, people do resort to public transportation, because it can get you there faster," Robertson said. "There's a lot of different options available downtown that aren't available in other parts of Miami-Dade County."
A stadium could displace smaller businesses that have leased office space in a building located on the property, but not the neighboring Royal Caribbean Cruises headquarters, according to Iglesias. A spokeswoman for Port Director Bill Johnson declined to comment.
Cynthia Martinez, a Royal Caribbean spokeswoman, said the cruise company has not been involved in any talks about the matter yet.
"Since the plan is still in its infancy, they haven't reached out," she said in an email. "If they move forward with that location, there are a lot of factors they'll have to take into consideration."
After retiring from MLS last spring, Beckham said he would like to exercise an existing option in his contract to buy a franchise for a deeply discounted $25 million.
A separate, London-based investment group headed by Italian financier Alessandro Butini has also launched a campaign to bring a future MLS team to Miami, enlisting the help of University of Miami architecture students to design a soccer-specific stadium. The students are scheduled to present their project next month. Butini has been inquiring about other potential sites in downtown Miami.
MLS announced last week that it would open an Orlando franchise in 2015. League backers say a Miami team could set up an in-state rivalry. The passenger train company All Aboard Florida plans to begin service from Orlando to downtown Miami — blocks away from the port entrance — by the end of 2015.
A local MLS franchise would initially have to play in a temporary home — possibly the Miami Marlins' Little Havana ballpark — until a permanent stadium is built. Claure, Beckham and Beckham business manager Simon Fuller were in town touring locations two weeks ago, including Marlins Park. Florida International University's stadium in West Miami-Dade is also under consideration.
With investors predicting crowds smaller than 30,000, the Miami Dolphins' Sun Life Stadium in Miami Gardens could be too big, though it may not yet be out of contention. London's Daily Mirror reported Monday that Beckham's group had settled on Sun Life as its temporary location and already selected a permanent stadium site, fueling rumors in Miami as to where a stadium could go.
Gimenez and Iglesias met Monday with John H. Alschuler Jr. of HR&A Advisors, a New York-based development firm hired by the Beckham Brand Limited group to scout would-be stadium locations in Miami. It was their second meeting with Alschuler in 10 days.
HR&A principal Cary Hirschstein has also been retained by the group. Locally, Beckham Brand has hired T. Spencer Crowley, Javier Fernandez and Neisen Kasdin of the Akerman law firm. Informed sources said the group has hired Miami-based Arquitectonica to plan and design the stadium.
A couple of the county's 13 commissioners said Tuesday they were surprised to learn of the talks. One of them, Commissioner Juan C. Zapata, wrote Gimenez a memo last month urging the county to put together a proposal to lure an MLS team.
"It's a typical pattern where the administration likes to negotiate in secret," Zapata said. "This is obviously an issue that several commissioners have voiced interest in, and I think that people should be informed."
Zapata, who represents Southwest Miami-Dade, said the franchise should play temporarily at FIU, and the county should propose turning 160 acres of county-owned land in West Kendall into an international soccer training facility.
Talks with the county over the seaport site are still in early stages, Iglesias emphasized. More serious discussions would involve reaching out to cruise and cargo lines for input, he said. Any deal would require commission approval.
And any benefit for a private stadium developer would require threading the political needle for Gimenez, who has already drawn criticism for orchestrating a short-lived deal earlier this year to help the Dolphins add a roof to Sun Life Stadium. His predecessor, Carlos Alvarez, was recalled in part due to the unpopular public financing for Marlins Park.
"We're not paying for a stadium," Iglesias said.
Source: miamiherald.com
Share your thoughts with us
Sign up now
Get news and updates delivered to your inbox