Best Miami Condos with Boat Slips - South Beach
Jan 25, 2021 January 25, 2021
Unlimited boating options in South Florida are some of the many reasons people come to live here. Boating opens up a whole new side of Miami and its surrounding water, whether you are sailing, fishing or cruising. So where do you live if you have a boat or are considering buying a boat?
There are many condos in Miami that allow you to feel connected to the sea while giving you the amenities and comforts that you know you would otherwise miss onboard! A great neighborhood to live in that caters to boaters with condo buildings that have boat slips is South Beach. And there are a number of world-class marinas in South Beach including Miami Beach Marina and Sunset Harbour Yacht Club. 
Let's take a look at some of the best condo buildings in South Beach with boat slips for boaters or marinas onsite.


---
South of Fifth Neighborhood
---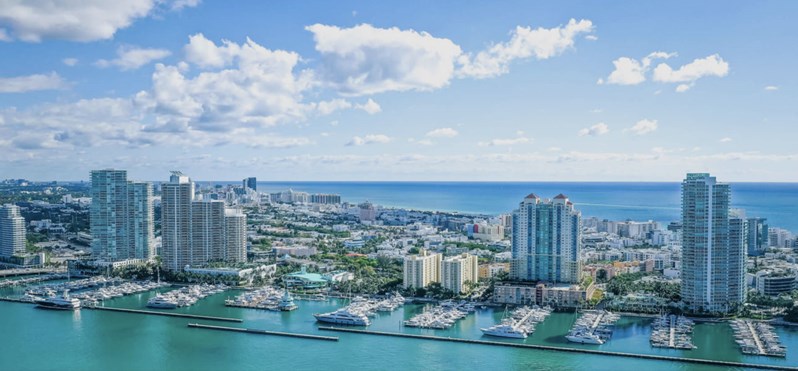 ICON South Beach
450 Alton Rd, South Beach 
Boat Slips or Marina: Miami Beach Marina 
---
ICON in South Beach is a great condo well known by locals thanks to its luxurious amenities and its enviable location. Built in 2005, this condo building quickly has established itself a modern classic. Located on Biscayne Bay in South Beach's coveted South of Fifth neighborhood, with views to Miami and Government Cut, the building is connected to Miami Beach Marina, making it an obvious choice for boaters in the area. 
With 1, 2 and 3-bedroom residences, ICON South Beach is a good option for professionals and families, alike. Also, gorgeous South Pointe Park and a pristine beach are well within walking distance of this special condo.
400 Alton Rd, Miami Beach 
Boat Slips or Marina: Miami Beach Marina Onsite
---
Murano Grande located on South of Fifth is a brilliant condo, perched on the waterfront, this irresistible building overlooks the sea meaning you can check out the waters for potential boating weather from the moment you wake up. Like all world-class condos, the Murano has plenty of amenities on offer to satisfy its residences from the spa to the pools, the Murano is no stranger to luxury. Not to mention the brilliant dining options on offer. And if you over do it, you can always burn off lunch in the fully equipped gym.
One thing that is particularly nice about Murano is its access not only to the sea, but also the other attractions that Miami Beach has to offer. One of those many attractions is the Miami beach marina, this brilliant marina benefits from 400 slips with space for boats as large as 250ft! Giving you the perfect mooring opportunity on your doorstep.
800 South Pointe Dr, Miami Beach
Boat Slips or Marina: Miami Beach Marina Onsite
---
You will find Apogee in one of the more exclusive South Beach postcodes, Apogee ticks all the boxes in terms of condo living. From ocean views to the prime location, everything about this condo works. What is especially great about Apogee is how spacious the apartments are. With only 4 homes per floor, you will benefit from generous square footage, giving you more room for activities and entertaining. Apogee spans 22 floors, and every condo is positioned to get a sea view as well as a city panorama.
No detail has gone amiss in the Apogee residences, everything is furnished to the highest standard and with the best materials. You will even have access to a valet team, as well as a private elevator, this coupled with the soundproofing allows you the utmost privacy. From a boating perspective Apogee is also ideal, it is literally a hop and a skip away from Miami beach marina, giving you access to the sea at all times. From a social point of view the entertainment on offer in south beach, from restaurants to bars, nightclubs to galleries. There is something for everyone here so you won't have to worry about boredom.


---
West Avenue Neighborhood
---


Bentley Bay Marina - Ph. Marinas.com
540 West Ave, Miami Beach 
Boat Slips or Marina: about 10
---
The Bentley Bay Condo stands 25 stories tall and offers spectacular 180 degree views of Miami's Skyline and the Atlantic Ocean. With it sunique sail-like profile designed by the prestigious architectural firm Arquitectonica, Bentley Bay houses 170 one, two and three- bedroom units and only 3 to 4 condominiums per floor and approximately ten boat slips.
1445 and 1470 16th St, Miami Beach
Boat Slips or Marina: about 7
---
Set on more than two acres of prime waterfront real estate, Capri South Beach comprises three modernist structures - Capri Marina Grande, Capri Marina Piccola and Capri Ana - housing a total seventy-two residences, each envisioned down to the smallest detail. Creating a waterfront community with a European coastal vibe, these condos epitomize private luxury. Capri Marina Grande includes 61 residences, including four penthouses with private rooftop terraces and oversized balconies. In Capri Ana, this inspiring six-story mid-rise features only five extraordinary residences, each home encompassing an entire floor, with three bedrooms and two-and-a-half baths set in nearly 2,000 square feet of interior space, with oversized balconies as large as 3,500 square feet. Keeping your boat here, with no fixed bridges to reach open water, is a nautical lover's dream.


---
Sunset Harbour & Venetian Islands Neighborhoods
---


1800 Sunset Harbour Dr, Miami Beach
Boat Slips or Marina: Sunset Harbour Yacht Club 
---
This 25 floor condo offers a number of one- to four-bedroom residences perched overlooking Biscayne Bay with forever views. This condo is ideal for boaters and even benefits from a marina and yacht club at its doorstep. With views overlooking the horizon and Maurice Gibb Park, Sunset Harbour lives up to its name. Thanks to its desirable location you can enjoy both the calm of the ocean as well as have your pick of the bunch when it comes to restaurants and markets. You will also benefit from the brilliant amenities that Sunset Harbour has to offer.
16 Island Ave, Miami Beach 
Boat Slips or Marina: About 8 
---
One Miami Beach's architecturally classic condos, Belle Plaza was built in 1962 and is known for its curvilinear MiMo design and boomerang details. With one of the most beautiful pools in all of South Beach, set on Biscayne Bay, residents of this 15-story building can enjoy expansive water views and go from boat to pool in a breeze.
11 Island Ave, Miami Beach
Boat Slips or Marina: About 26 
---
Costa Brava is another classic Miami Beach condo set on prestigious Belle Isle. Highly coveted for its community feel and unmatched water views, this condo was built in 1972 and retains much of its glamour. Recently completing a full renovation, this 22-story condo houses oversized 1, 2 and 3-bedroom units, and features a tennis court, rooftop terrace, large gym, pool overlooking the water, valet and for boaters, approximately 26 boat slips.
If you're looking for a Miami or Miami Beach condo with boat slips or near a marina, don't miss our list of Miami Waterfront Condos with Boat Slips, and be sure to reach out to us anytime so we can help you find the right condo or home for you.
Share your thoughts with us
Sign up now
Get news and updates delivered to your inbox