Best Miami Neighborhood: Coconut Grove vs Key Biscayne
Jun 01, 2021 June 01, 2021
Even while areas such as Edgewater, Downtown Miami, and Brickell are becoming more and more popular every day as Miami neighborhoods to live in, two of Miami's older and more established neighborhoods have tremendous appeal to those with families and who seek the ultimate tropical coastal living experience.  Coconut Grove and Key Biscayne are two of Miami's best-known seaside neighborhoods, each with excellent housing and lifestyle options. 

Which Miami Neighborhood is Better? 
If you're looking to move to Miami, or move within Miami, you may be asking yourself, "Which Miami neighborhood is the best?" To get to know Coconut Grove and Key Biscayne in more depth, check out our detailed comparison of these two neighborhoods below, so you can get to know Miami like an insider. 

Lifestyle: Coconut Grove vs. Key Biscayne
Coconut Grove is one of Miami's oldest neighborhoods. It has a distinctly laid-back, Caribbean feel, and its streets line miles of waterline along Biscayne Bay. Because of this location, the Grove appeals to those who love living on the water and having easy access to the Bay - it's a haven for sailing, water sports, and boating. Coconut Grove has also always been a haven for artists, bohemians, and plant lovers who want a life right on the Bay. Known for its canopies of tropical shade trees, Coconut Grove is home to various exotic bird species such as wild macaws, quaker and Amazon parrots, and even wild peacocks!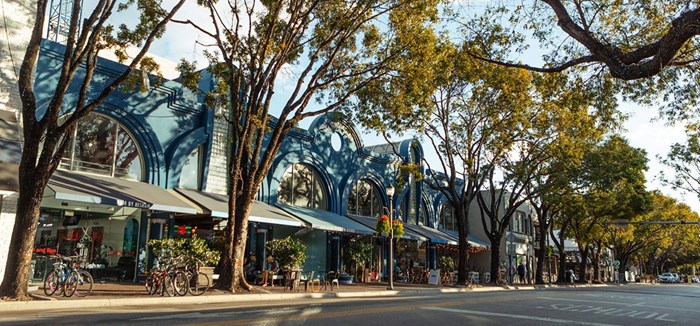 Key Biscayne is an island off of Brickell Avenue and is accessible by land only via the Rickenbacker Causeway extending well into Biscayne Bay. It's a very scenic drive to get to and from home, and because of this, it's even more laid back than Coconut Grove. With a luxurious beach vibe, it has a state park at its very tip, with a favorite lighthouse and open-air cafe to watch perfect sunsets. Known as a bicyclist's paradise, Key Biscayne provides the quiet isolation and coastal tranquility of a small island separated from the busy, bustling crowds of the city, and its beaches are reserved for residents only.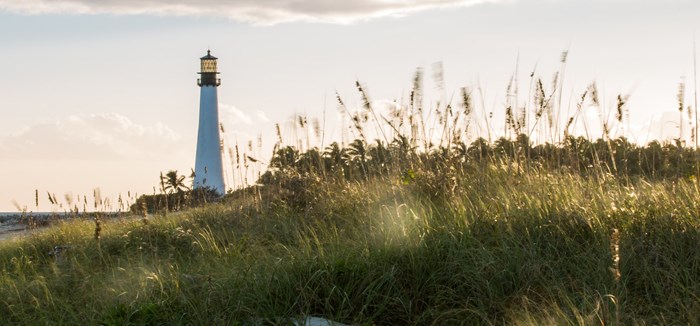 Key Biscayne litehouse. Photo courtesy of 

Maxx Evan

 (Flickr)

Business: Coconut Grove vs Key Biscayne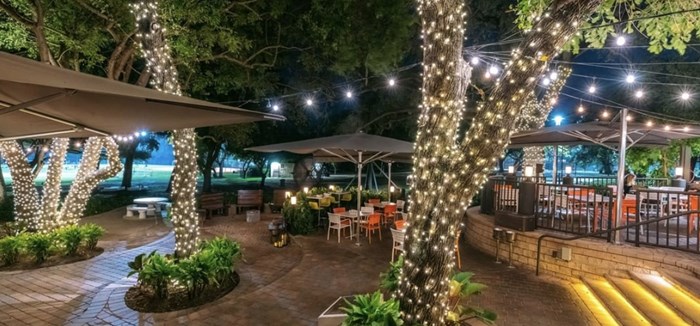 Glass and Vine in Coconut Grove. Photo courtesy of Glass and Vine

Both Coconut Grove and Key Biscayne are primarily residential neighborhoods. So the primary businesses you'll find are restaurants, hotels, and other service-oriented businesses that cater to residents. Both neighborhoods are home to many small professional businesses as well, such as doctors, attorneys, specialized design professionals, and real estate agents, as well as small boutiques, small art galleries, health food stores, yoga studios, and fitness centers. Neither of these neighborhoods is known as a corporate hub, and for many, that is what makes them so appealing.

Walkability and Transportation: Coconut Grove vs Key Biscayne 
If you love walking, riding your bike or generally getting about without using your car, Coconut Grove and Key Biscayne are excellent choices. Both neighborhoods have always encouraged walking and bicycling as a local lifestyle option, and both offer free trolley service for getting around in the neighborhood, as well as local bus service to areas outside the neighborhood.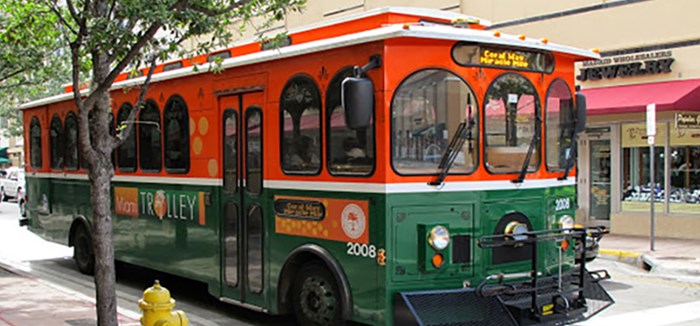 Miami Trolley in Coconut Grove

Coconut Grove is definitely more accessible by public transportation simply because it is part of mainland Miami, and is adjacent to Brickell. If you want to leave the immediate area, both Metrorail and free Metromover offer service, and the affordable Coconut Grove Airport Shuttle that provides service to Miami International Airport for under $5.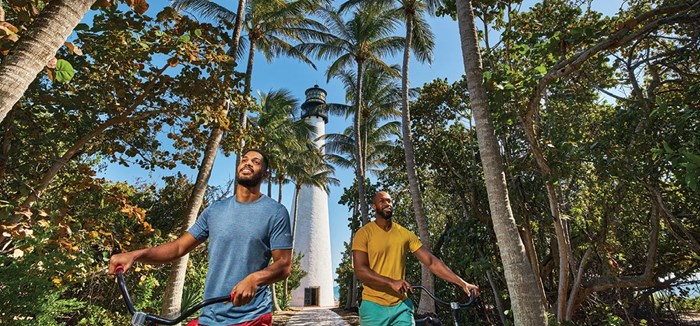 Bill Baggs State Park Lighthouse, Key Biscayne. Photo courtesy of 

GMCVB

Because it is an island some seven miles off of mainland Miami, Key Biscayne is much easier with a car, as the only route by land to Key Biscayne is the Rickenbacker Causeway, with very limited bus service. That said, once on the island, there is little need for a car. And the vehicle of choice is often a golf cart.



Parks and Greenspace: Coconut Grove vs Key Biscayne
If you love parks, greenspace, and open air, you'll feel right at home in either of these popular Miami neighborhoods. Both are winners! Coconut Grove has plenty of great outdoor greenspaces, including tree-lined streets where you can walk beneath shady canopies, and parks such as Kennedy Park and Peacock Park, with outdoor sports like volleyball and kickball, waterfront access, and lots of pet-friendly parks. Boating and sailing are beloved local pastimes in Coconut Grove, as well as kayaking, waterboarding, and snorkeling. The Grove also boasts great golf courses and off-leash dog parks, as well as historic sites such as Barnacle Historic State Park and the nearby historical Vizcaya Estate and Gardens, where you can enjoy history and nature in the same location. However, if you need easy beach access, Coconut Grove is only bayside and doesn't have any beaches.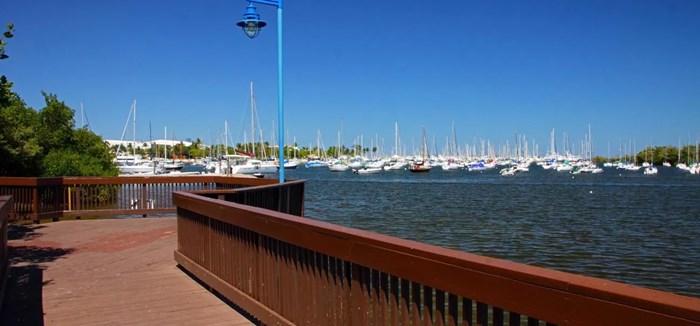 Peacock Park, Coconut Grove. Photo courtesy of 

Miami and Beaches

In contrast, Key Biscayne is a small key that contains a vast, unspoiled stretch of natural Floridian coastline encompassing Bill Baggs Cape Florida State Park and Crandon Park, where you can enjoy the natural wilderness with very little human development and public access to natural beaches perfect for fishing, swimming, snorkeling, kitesurfing or kayaking, as well as mangroves, walking and biking trails.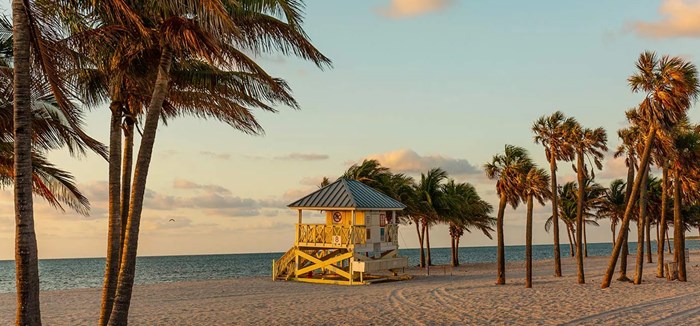 Crandon Park

, Key Biscayne. Photo courtesy of GMCVB

There's even the abandoned ruins of the former Metro Zoo, where peacocks, swans, and other bird species roam wild, and iguanas sun themselves undisturbed. For residents, much of the beaches are private and require key fob access, making living there very desirable. There are also great golf courses and tennis facilities, and smaller parks to enjoy on the Key, adding to the natural charm of this exclusive island community.

Arts and Culture: Coconut Grove vs Key Biscayne
What's a good life without arts and culture, you ask? Well, the neighborhoods of Coconut Grove and Key Biscayne provide arts and culture offerings such as street fairs, local artists' studios, antique stores, and art galleries.  But Coconut Grove, which encompasses a larger area, probably wins this category.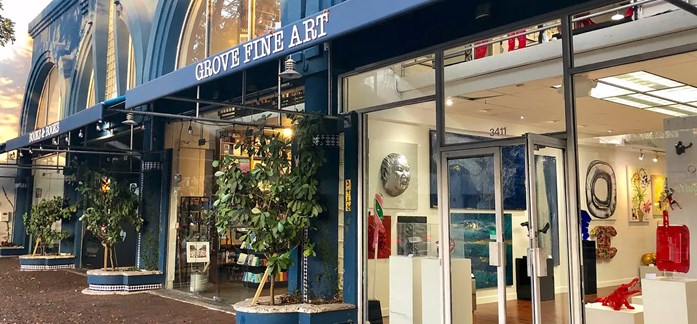 Coconut Grove is home to several historical sites, including the impressive Vizcaya Museum, with its unique collection of antique artifacts housed in an amazing early-20thcentury mansion and surrounded by elegant European-designed gardens and a natural mangrove forest. Although Vizcaya is also easily accessible to residents of Key Biscayne, it is much easier to get to from the Grove.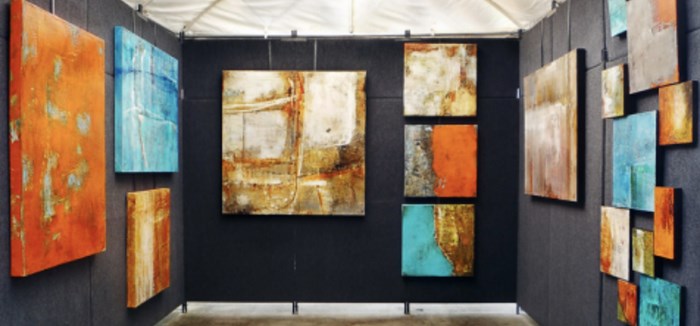 Artwork by Su Abbott. Key Biscayne Art Festival

Coconut Grove also hosts an array of popular street fairs including the long-running Coconut Grove Arts Festival, the King Mango Strut, Goombay Festival, as well as The Great Taste of the Grove Food & Wine Festival. Key Biscayne features local festivals such as the Key Biscayne Arts Festival and the Key Biscayne Wine and Food Fest, too.

Eating and Shopping Options: Coconut Grove vs Key Biscayne
Coconut Grove and Key Biscayne both have awesome and eclectic eating and shopping options, but if you're a Foodie, the Grove will have more to offer your palate than Key Biscayne in this department. Coconut Grove is home to a wide assortment of outdoor cafés, hotel and luxury condo restaurants, and sports bars. The newly renovated CocoWalk open-air shopping center also features an array of eateries, shops, and places to enjoy a great cocktail. Dining options in the Grove include such upscale restaurants as Lulu and Ariete, as well as authentic Indian cuisine at the popular Bombay Darbar, and exquisite Mediterranean fusion at the Peacock Garden Café.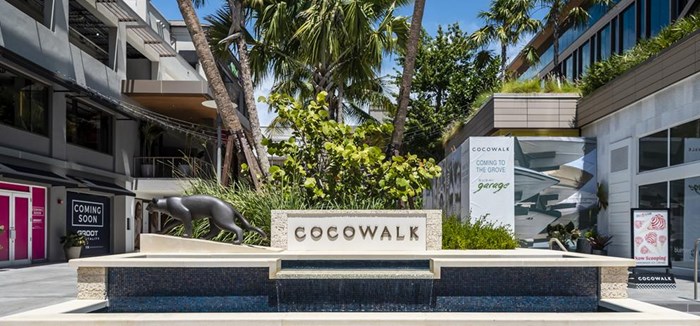 Cocowalk in Coconut Grove

Key Biscayne has somewhat fewer eateries and bars but is also home to some very unique restaurants and boutiques. Some favorite dining options in the Key include upscale eateries such as Novecento, La Boulangerie, Costa Med Bistro + Wine, Milanezza Kitchen, Bar and Market, and the Ritz Carlton selection of restaurants.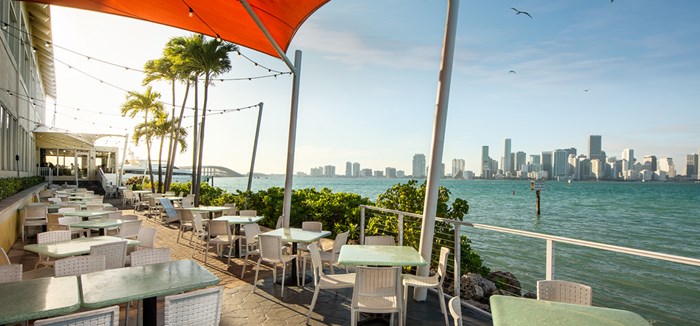 Rusty Pelican, Key Biscayne

Schools: Coconut Grove vs Key Biscayne
Both Coconut Grove and Key Biscayne are great for families with children, and the two areas are close enough to one another that students from one neighborhood can actually go to school in the other. And both neighborhoods boast some of Miami's, and even Florida's top schools.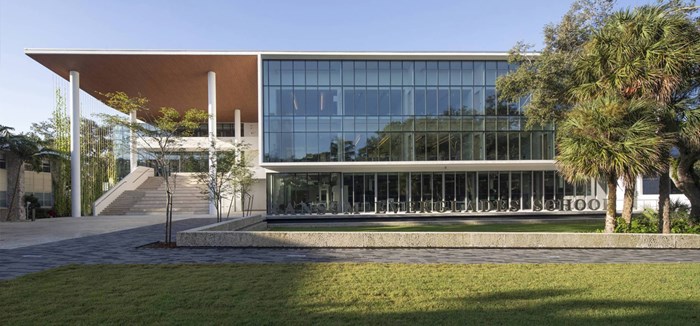 Ransom Everglades School

Coconut Grove encompasses a larger area than Key Biscayne, and is home to some of Miami's best public and private schools, including private schools such as the nationally ranked Ransom Everglades School, Carrollton School of the Sacred Heart, Saint Hugh, Saint Stephen's Episcopal School, Coconut Grove Montessori, the Vanguard School, and LaSalle High School.  Public schools include Coconut Grove Elementary, Frances S. Tucker Elementary, and George Washington Carver Elementary and Middle Schools.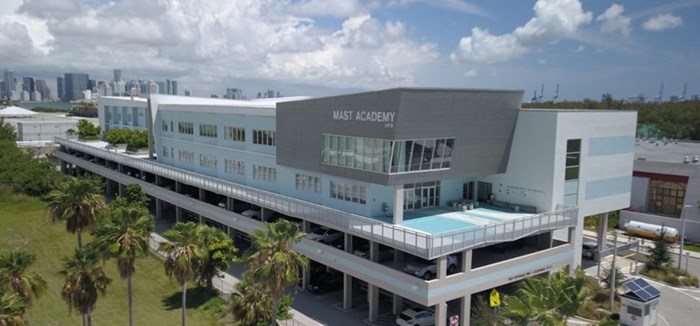 MAST Academy, Key Biscayne

Key Biscayne is home to such excellent public schools as the famed STEM MAST Academy, which has been ranked as the top public school in Miami thanks to its excellent magnet program in marine biology and natural sciences, as well as the Key Biscayne K-8 Center. Private schools in Key Biscayne include Key Biscayne Community Day School, St. Agnes Catholic School, and Key Biscayne Presbyterian School, which serves preschool students.  Students living in Key Biscayne also attend schools in neighboring Coral Gables and Coconut Grove, including some of the schools named above.



Architecture and Real Estate: Coconut Grove vs Key Biscayne 
Coconut Grove contains a great mix of old and new real estate, with newer high-rise and boutique condos alongside nostalgic beach bungalows, luxurious single-family homes, and waterfront mansions set within gated communities such as Cocoplum.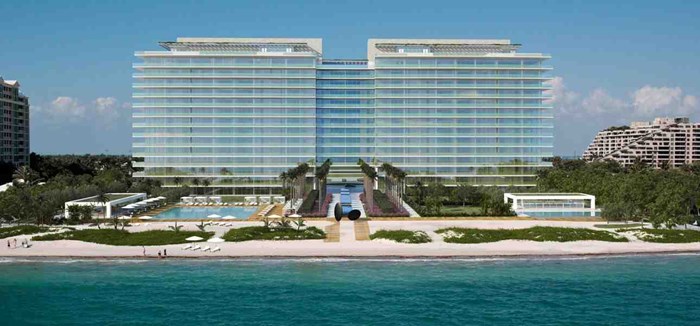 Oceana in Key Biscayne

Key Biscayne also is also a luxury enclave, mixing older condos housed mostly in luxurious mid-century buildings with dazzling coastal views and beach access, along with some newer ultra-luxury condo buildings, including Oceana Key Biscayne and the Grand Bay Ritz Carlton. On the bayside of Key Biscayne, you'll find friendly streets lined with spacious single-family residences, many with waterfront access. 

Cost of Living: Coconut Grove vs Key Biscayne
Both Coconut Grove and Key Biscayne are favored by elite homeowners and those seeking luxury waterfront properties in a tranquil, safe and elegant residential community.  Average listings in Key Biscayne hover around $1,242,179, or $671 per square foot, while higher-end listings can be as high as $18,000,000, or $2,762 per square foot. Average Grove listings range around $1,278,068, or about $569 per square foot, and have recently been offering some of the best entry points for luxury residences in all of Miami. The Grove's higher-end listings can run as high as $20,000,000 or $1,987 per square foot. 
Here's a link to all of the available condos for sale and rent in Coconut Grove and Key Biscayne. 

Which Neighborhood Should You Choose? Coconut Grove or Key Biscayne?
Coconut Grove and Key Biscayne are somewhat similar to one another, but each has its own unique vibe and lifestyle  If you want to be on the mainland, surrounded by gorgeous tree canopies, while still enjoying quick and easy access to areas such as Downtown Miami and a wide array of dining and shopping options, Coconut Grove may be more suitable for you. 
If you need the beach, and want to live away from most of the bustle of Miami, have a tight-knit community where kids are free to ride their bikes almost everywhere on an unspoiled island paradise, you may end up falling in love with Key Biscayne.
If you're interested in more of our neighborhood comparisons, check out these below: 
If you'd like more help to decide which Miami neighborhood is best for you, suits you best, we suggest you meet with Miami locals and experts like us. Let us show you our variety of listings in the neighborhoods you're most interested in and help you decide where to buy or rent your dream home in Miami.




Cover: Coconut Grove Florida. Photo courtesy of Piutus
Share your thoughts with us
Sign up now
Get news and updates delivered to your inbox