Best Time of Year to Rent a Miami Apartment or Condo (For Landlords and Renters)
Aug 26, 2019 August 26, 2019
It would seem that in Miami, with its busy winters populated by tourists and snowbirds in comparison to its quiet, lazy summers during which many activities slow way down, landlords would have more luck renting their condos out during the winter months, as opposed to during the summer season. Yet the opposite actually appears to be the case. Statistics show that the period from June to August is the period with peak rental activity in the greater Miami area.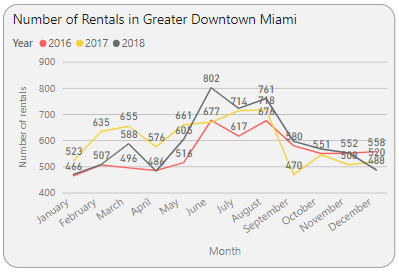 Data sourced from MLS. Data may be subject to revision.

For both renters and landlords, these months are the busiest months in the Miami apartment rental market. According to a recent article on Renthop.com about the best time of year to rent in the top 10 U.S. Cities, Miami is following a national trend. That article notes that peak-to-trough differences, which refer to the differences in rent between the most expensive month versus the least expensive month of each year, ranged from 2.0% to 4.7% for 1-bedroom units, and 1.6% to 7.1% for 2-bedroom units in all of the top 10 cities. This represented a cost variance of anywhere from $38 to $139 monthly for renters in 1-bedroom apartments, and from $47 to $176 in 2-bedroom apartments.


Best Month to Rent an Apartment (for Renters)
The renthop.com article found that the most favorable time of year for renters to sign a lease across the 10 metropolitan areas was during the period between December and March, with December being the month with the lowest median rent across the 10 cities, while September had the highest median rent.  Renters are advised to avoid non-standard lease-terms greater than 12 months that could push the lease to end during the summer instead of the winter season, at which time market rates rise. 
While December is also statistically a good month to rent an apartment In Miami specifically, in both 2017 and 2018, January was the best month for renters to enter into a leasing contract here, as in both years January had the lowest median rental costs of the year. It makes sense, as people tend to want to move less during the holiday season and are usually just getting back into the flow of things just after the new year.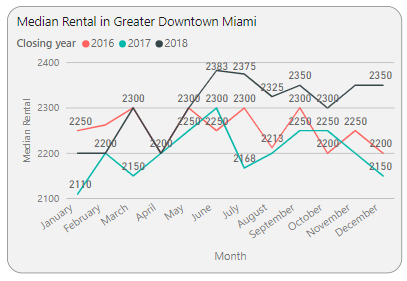 Data sourced from MLS. Data may be subject to revision.

Conversely, there are more apartments available during the summer months, so you may have more options to select from by renting during this period, even though rents may be a bit higher. Specifically, apartments in the affordable range with rental prices between $1,500 and $2,500 monthly appear to be either more available or more easily rented during the period from June to August in Miami.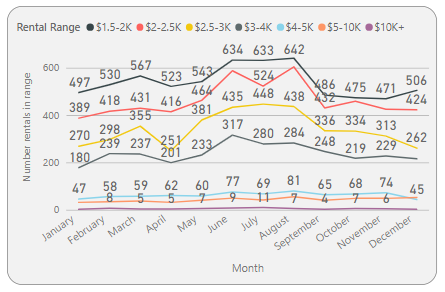 Data sourced from MLS. Data may be subject to revision.

How to Time your Apartment Rental Move
If your current rental lease has expired and you're planning to move, but you haven't yet found your next apartment or want to better time the market for your next move, your best bet is to request a month-to-month arrangement with your current landlord until you find the best deal.
 
What Time of Year is Rent the Least Expensive?
The seasonal fluctuations in the Miami rental market seem to be somewhat less dramatic than seasonal fluctuations in northern cities with significant climatic changes between winter and summer. Still, December and January remain the cheapest months for apartment rental costs in Miami as well as in the other 9 cities.


Can You Negotiate Rental Rates?
In some cases you may be able to negotiate the cost of rent with your landlord, particularly in cases of condo rentals. If you are renting from someone you know who trusts you to take good care of the property, you may get a discount on rent. Or you may offer to provide some service, such as making a repair or painting, in exchange for a reduction in the rent. Some landlords may agree to a rent discount for renters who sign a 24-month lease agreement instead of the standard 12 month agreement, or if you pay a portion or all of the rent up-front.


When is the Peak Rental Season in Miami?
With regards to both furnished and unfurnished condo units in Miami, the period from June to August continues to be the most active period for apartment rentals in the Miami area.  
On a quarterly basis, the 3rd quarter is consistently busiest in the great downtown Miami area.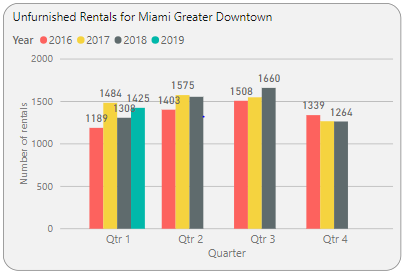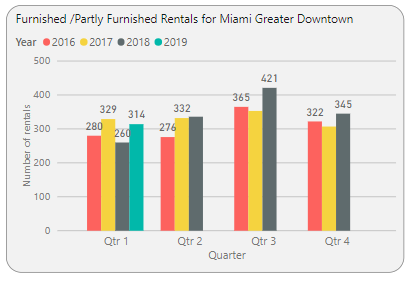 Data sourced from MLS. Data may be subject to revision.


Best Time of Year to List an Apartment for Rent (for Landlords)
In Miami, June has consistently proven to be the best month for renting out property, and June also had the highest median rental rates in both 2017 and 2018. In general, the period between March and October are the best months for rentals in the Miami metropolitan area, with the peak of the season falling between June and August, and June having the most rental activity.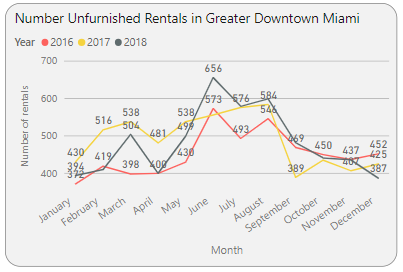 Data sourced from MLS. Data may be subject to revision.


Best Time of Year To Get the Best Rental Prices (for Landlords)
The period from June to August period appears to be the most active period for rentals with the highest number of rentals occurring in the month of June, although the high season may extend from May through September. Rents then drop slightly from October through February, and begin to rise again in March.
Best Months to Rent Apartment that is Unfurnished in Miami Beach (for Landlords)
Furnished rentals in the greater downtown area follow the same patterns as unfurnished apartments; however, this pattern differs a bit in the Miami Beaches (Surfside, Bal Harbor, Miami Beach, Sunny Isles), where we see rentals increase throughout the year, as snowbirds and out-of-towners come to rent seasonally in big numbers. The Miami Beaches follow the same pattern of the greater downtown miami area for the best months to rent, with June to August representing the most active period for apartment rentals.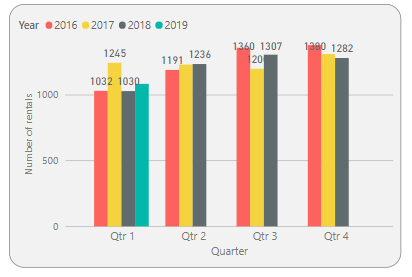 CITY Name = Surfside, Bal Harbour,  Miami Beach, Sunny Isles CONDO ONLY Unfurnished
Style is one of 'R62-Condo/Co-Op/Annual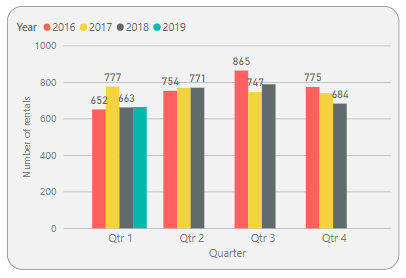 CITY Name = Surfside, Bal Harbour,  Miami Beach, Sunny Isles CONDO ONLY


Conclusion
While a difference of 2% to 4.7% in rental income or rental cost might not seem like a lot, a difference of $100 a month over the course of 12 months adds up to a whopping $1,200. So, whether you're the owner or the renter, you'd do well to tune into the seasons and follow the market trends to get the best possible condo rental deal by renting at the most favorable time of year.
Share your thoughts with us
Sign up now
Get news and updates delivered to your inbox