Big Money is Coming to Miami
Jul 11, 2018 July 11, 2018
Miami is a magnet for money. Big money is moving to South Florida for a lot of reasons, including benefiting from the favorable tax situation, and an active real estate market, to the beautiful lifestyle, and being the protective haven that city has become for the international super rich. From individuals to investors, big New York and international money guys are setting up business and/or residence here.
The money is bringing a higher calibre of intellectual and enterprise-minded people. It's a big change from a decade or two ago. We have different VC funds here, incubators, and more of a startup community, with places like The Hive, Miami Made, the CIC Miami and Venture Cafe, etc. The money is changing Miami.
Check out our latest market report for much more on the topic.
Real Estate
It probably all began with real estate. Land, and its inherent beauty, has been what drove Miami's growth since the beginning. But now, developers from around the world are coming to Miami to build projects of unprecedented scale. As mere examples, both Genting and the developers of the Mall of America are trying to build massive properties, each the largest or one of the largest, of a particular category, in Miami. Then, of course, there's the continuous stream of New York developers that always seem to be coming to Miami in increasing numbers, like the LeFrak family, who are partnering in SoLeMia, a sort of subtropical, luxury LeFrak City.

Genting's Resorts World Miami megaproject
Venture Capital and Private Equity
The old stereotype that development in Miami was funded by cocaine money is just that. Old and untrue. In addition to local investors and developers, in recent years lots of venture capital and private equity money has flooded in to Miami. People like Barry Sternlicht are coming, who is bringing with him the headquarters of his $55 billion real estate fund, Starwood Capital Group. There are also the two the founders of I Squared Capital, Sadek Wahba and Adil Rahmathulla, "the sunshine state's latest conquests" Bloomberg calls them.
Why are they coming? Well, for the tax breaks, but they're staying for everything else.
Tax Shelters and Safe Havens
Speaking of tax breaks, Miami is a haven to stash your cash for both Americans and the global rich. For Americans, Miami, and the rest of South Florida provides the desirable combination of favorable state taxes with a cosmopolitan atmosphere with close ties to New York City and other major urban centers, a desirable commodity for the New York wealthy choosing to relocate.
Miami is also a hub for the international super-affluent looking for a different kind of safe haven, that is a safe city with a reliable currency in which to park their cash. And a safe, secure place for their families to call home.
As the 2012 Knight Frank Wealth Report said "The problem in so many emerging world countries is governance. The newly enriched become aware of the potential impacts of corruption and arbitrary rule changes on their ability to plan for intergenerational wealth transfers. In extreme cases, as wealth steadily increases, so too do the perceived risks from falling out of political favour." Miami is in a small club of cities attractive to the global elite, and the situation has changed little since then.
According to the Robb Report:
"Miami Beach, North Bay Road, and Palm Beach ranked high among house hunters—but island destinations such as Fisher Island and Bay Point also proved popular because of the associated privacy and security. Gated or secure waterfront homes were the most sought after, and buyers generally purchased a home that was just over 13,000 square feet. "Miami is a leading hub for overseas buyers investing in U.S. luxury real estate," says Gary Hersham, managing director at Beauchamp Estates. "Miami is extremely popular with high-net-worth buyers from South America—Colombians, Brazilians and Argentinians—with other key overseas buyers being the British and investors from the Philippines."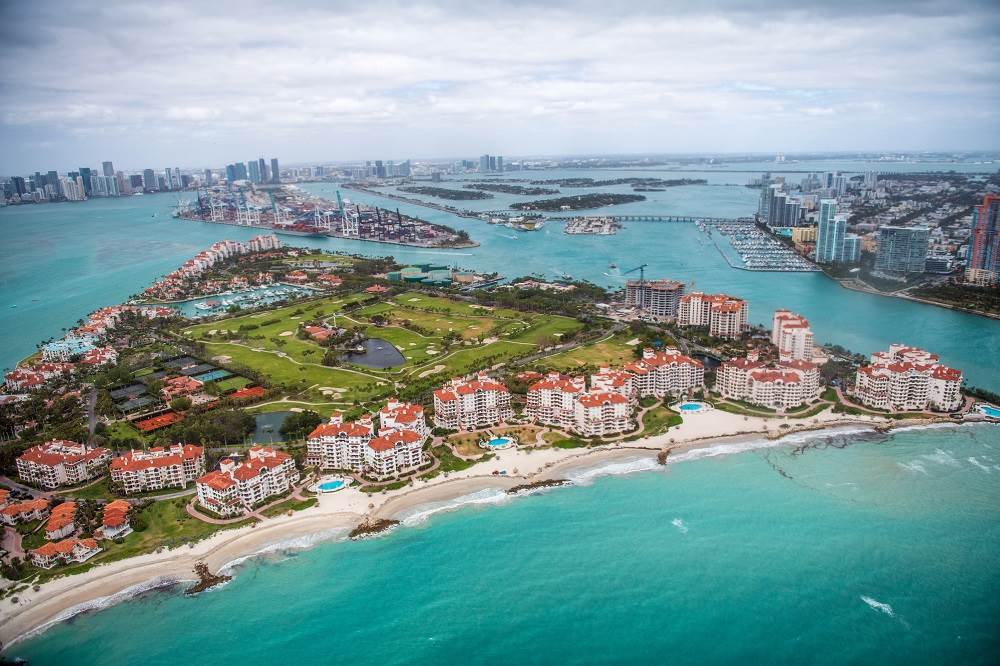 Fisher Island aerial view, Miami
Share your thoughts with us
Sign up now
Get news and updates delivered to your inbox