Biometric Scans In Miami's Safest Condo
Sep 01, 2015 September 01, 2015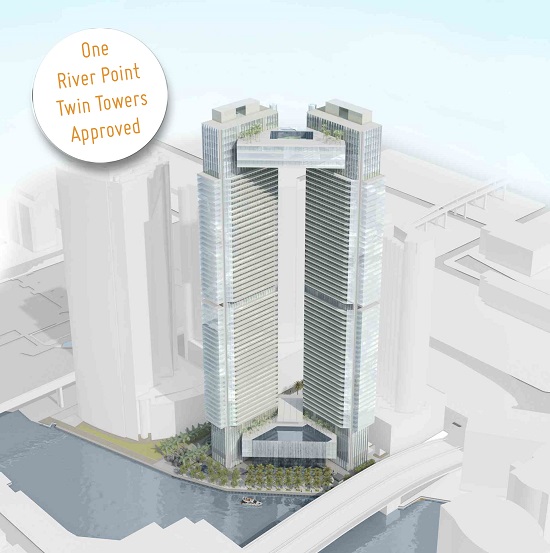 The Planning and Zoning Department of Miami has given approval for the upcoming One River Point towers in downtown Miami.
Once the Major Use Special Permits (MUSP) modifications were enacted, approval was very swift. A mere two months after the plans were submitted, the Planning and Zoning board approved them. KAR Properties is the developer of the project, and is using the previous MUSP that was given to the previous developers back in 2004. Rafael Viñoly is designing the property.
The project itself, One River Point, is boasting its new security features that they hope will appeal to foreign investors where robberies and kidnappings are somewhat common. The elevators will have biometric scanners that will take residents to their floor after they confirm their identity with a facial scan. Every employee of the building will be required to carry radio-equipped key cards at all times. In addition, the building will have a 24-hour security room, where residents can store art and other valuables for any reason.
The towers at One River Point are very unique, with twin towers connected by an archway near the top and bottom. One River Point will be 60 stories high, and 779-feet tall. These units will be some of the most expensive downtown Miami condo units. Prices start at $850 per square-foot, and there will be 350 units. The units will cost from $850,000 and reach as high as $12 million.
Source: thenextmiami.com
Photo credit: thenextmiami.com
Share your thoughts with us
Sign up now
Get news and updates delivered to your inbox