Bonjour Miami: French Weeks Miami 2014, from Oct. 23rd to Nov. 13th
Sep 26, 2014 September 26, 2014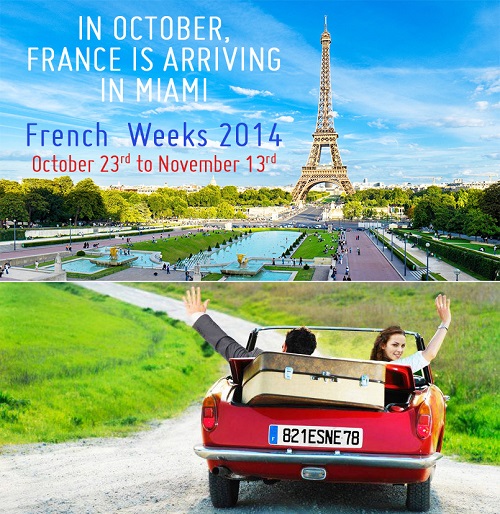 In its 7th year running, French Weeks Miami is all about welcoming the spirit of France into Florida. From October 23rd to November 13th, you can expect the cultural, economic and social worlds of France to come sailing into Miami for a month-long celebration.
Showcasing more than 20 events each year, the festival just keeps getting better with inclusions such as the French Spice festival in 2010. A citywide event, the Weeks bring along a host of cultural programs, social galas and economic networking events scattered across South Florida aimed at strengthening the ties between local and international partners such as schools, universities, associations, economic organizations, museums as well as art galleries. In short, giving you the opportunity to experience everything French right at home.
This year you can look forward to the usual screening of great French movies, artistic performances, educational activities, seminars, art exhibits and roundtable conferences with the temptations of Café Spice, a charitable golf event as well as a French Salon & Spa festival.
The French Weeks Golf Cup will be held at the Abacoa Golf Club on November 2, 2014. Featuring a day full of fun and interaction, the event aims to bring together golfers from the French and American business communities to help at-risk students pursue academic and personal excellence.
With prix-fixe menus and other interesting discounts, the 4th edition of French Spice will be working again to put French cuisine and the entire experience of French dining into the spotlight, while Café Spice will bring the best of French sweet treats to a bistro or bakery near you. The list of Café Spice participants in 2013 included impressive names such as Chocolate Fashion, Atelier Monnier, La Provence as well as Astrid & Stephanie, while last year's French Spice showcased the best of Villa Azur, La Gloutonnerie, Atrio, Wine Depot and Le Boudoir.
To know what to expect in your neighborhood during the festival, do keep an eye on the official French Weeks Miami website.
French Weeks Miami Fact Sheet:
French Weeks Miami 2014 entails the 7th edition of the annual event.
Designed to promote and highlight French presence in South Florida, the French Weeks are held under the patronage of the Ambassador of France.
The festival was first launched by the French-American Chamber of Commerce in 2008.
The event is now organized in partnership with the Consulate General of France in Miami.
Share your thoughts with us
Sign up now
Get news and updates delivered to your inbox