Brazilian Investors Buy More Investment Property in Miami than Any Other Country
Mar 31, 2015 March 31, 2015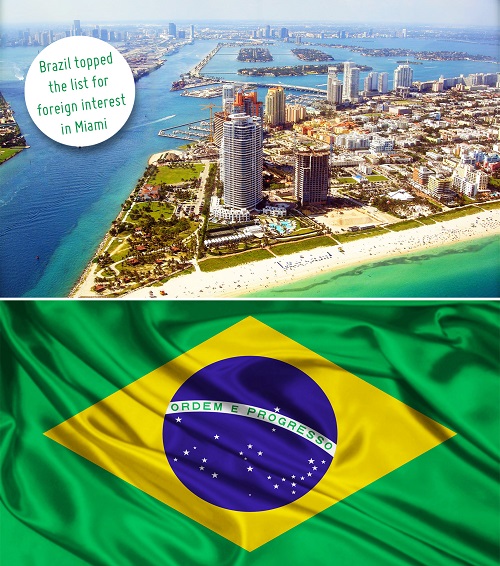 Topping the list of countries outside the United States that want to invest in real estate in Miami is none other than Brazil, according to a top ten study by the Miami Association of Realtors.
The study compared its number of website visits in January 2014 to the number of visits in 2015, which revealed that Brazilians visited it more than Venezuelans. Incidentally, Venezuela fell three places since last year, taking them out of the top spot this year.
After the top spot of Brazil, comes Columbia, which rose three spots from 2014, then Russia, who did not place in 2014, and in fourth, Venezuela.
The association said that there are many new visitors from other countries searching for real estate in Miami. In fact, the number of visitors has jumped by about 40% from last year, and a new mix of South America and Europe buyers have expressed interest.
"The Miami real estate market continues to attract buyers and investors from around the world," Christopher Zoller, the 2015 Miami residential president said, "Miami remains affordable compared to other world-class, global cities and offers many benefits and amenities, including strategic location, moderate year-round weather, multicultural environment, and an exciting lifestyle."
Even though there has been much Chinese interest in the area, China was not listed this year or last year due to its shortcomings in comparison to the other countries on the top ten list.
Source: therealdeal.com
Photo credit: Flag - wikia.com
Share your thoughts with us
Sign up now
Get news and updates delivered to your inbox