Brickell City Centre Will Have Luxury Dine-In Theatre Onsite
Oct 08, 2014 October 08, 2014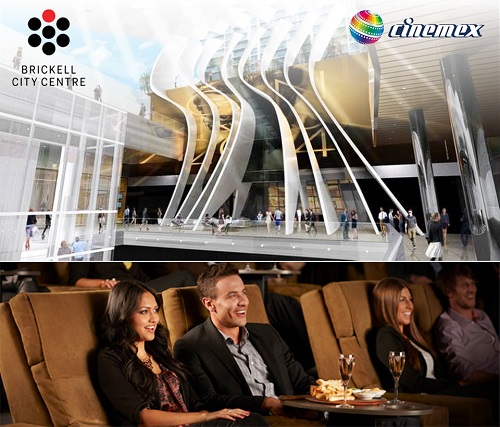 Swire Properties made an arrangement with Mexico-based Cinemex, one of the world's biggest theatre companies, to open a theatre at the Brickell City Centre.
Apparently, there are only 11 viewing rooms and 622 seats, but the focus is on fine dining.
Cinemex is partnering with the admired chef Mikel Alonso to bring high-end dining to the cinema experience at the upcoming theatre.
Both Cinemex and Swire plan to start their business with a series of outdoor film events on the property.
The dine-in theatre will be take up almost 36,000 square-feet, but will be a unique experience that has not been done in the area.
"Our main focus is to bring the success of Cinemex to downtown Miami." Said Javier Ezquerro, vice president of concession, "We believe Brickell City Centre will create the perfect setting for Cinemex. As our first U.S. theatre and part of our expansion plan, we could not have chosen a better location."
Cinemex is the sixth largest cinema chain across the entire world. They have over 270 sites, 2,300 screens, and 13,000 employees, and they continue to grow. Cinemex offers new concepts in the cinema experience, including Platino Cinemex and Cinemex Premium, state-of-the-art theatres equipped with luxury seating and first-class dining.
Source: exmiami.org
Photo credit: Brickell City Centre - exmiami.org, Cinema - villagecinemas.com,
Share your thoughts with us
Sign up now
Get news and updates delivered to your inbox