Brickell Tower on the Auction Block? Teacher's Union Close to Selling Property
Mar 18, 2013 March 18, 2013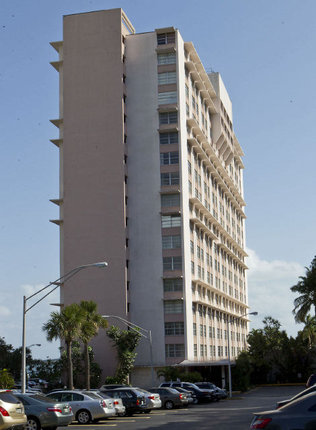 Stanley Axlrod UTD Towers
The United Teachers of Dade may soon sell off the Stanley Axlrod UTD Towers, potentially dislocating the current tenants of the low-income housing unit. The not-for-profit teacher's union is reported to be very close to a deal with an undisclosed buyer who may be on the verge of purchasing the property appraised about over $10.5 million. The tower was originally build in the mid-1960s as a residence for retired educators, but as income for retired teachers has risen over the decades, potential residents are no longer meeting compliance levels for low-income housing.
Karen Aronowitz, president of the United Teachers of Dade, said, "Since I have come into office, it's something we've been exploring. It's an old building, and we want to make sure we do what's in the best interest not only for the tenants of the building but for us as an organization, as well. The market's gone up and down. We're making our decisions based on the best offer and information we have at the time."
With the building struggling to find tenants, the union is bound to a building that it no longer wants, and a potential multi-million dollar deal that could help it in its mission to provide teachers with professional development. Even with a letter of intent in hand, the sale remains uncertain and the future of the current tenants is also up in the air. Tenants do not receive federal subsidies but are currently protected by a use agreement restricting residency to low-income elderly families, at least until 2019.
However, the potential for-profit buyer may pay the mortgage off upfront, with governmental approval, and begin redeveloping the neighborhood in the low-inventory area for tenants who typically pay at least $2,500 in rent per month. Is this a smart move for the teacher's union or an unethical burden placed on the shoulders of the retired, low-income residence of the Axlrod Towers? Share your thoughts in the comments below.
Image Credit: Google
Share your thoughts with us
Sign up now
Get news and updates delivered to your inbox