Brightline Miami Train Updates - Progress, Schedule & More
Oct 14, 2020 October 14, 2020
This page is your one-stop resource for all you need to know about the Miami Brightline Train Service (South Florida connection). We'll be tracking all the progress, changes and developments for you, keeping you in the know of all the important details on the high-speed rail network that will make travel between Miami, Fort Lauderdale, West Palm Beach, and ultimately Orlando, faster, easier, greener, and more comfortable than driving.


What is the Brightline Train?
With the vision to redefine the future of train travel in the country, the privately funded Brightline railway project was launched in 2018. Building off of well known train systems in other major U.S. cities like Boston, New York and Chicago, as well as Europe, Brightline is a high-speed passenger rail system designed to allow fast and comfortable travel between some of the most visited city pairs in Florida without having to drive, taking millions of cars off the road and offer a more eco-friendly way of travel in the process.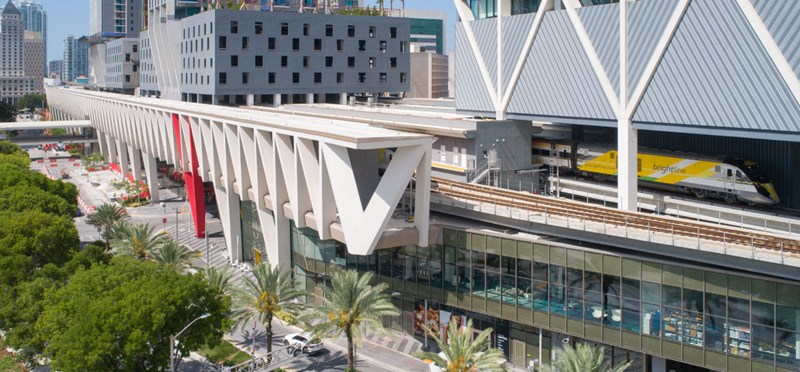 Latest Brightline Train Updates
Last updated Oct. 5, 2020
October 2020: Brightline stations may reduced to 3, excluding Wynwood and FIU

While the Brightline train system is suspended due to the pandemic, Brightline and Miami-Dade County Mayor Carlos Giménez are finalizing negotiations on Miami stations, and the two sides plan to propose a formal agreement for the commission to consider by Oct. 20. Read more here.

The current plan does not include Wynwood or a stop at Florida International University, which is leaving many neighborhood residents and groups, including the Wynwood Business Improvement District (BID), shaking their heads. Particularly, the neighborhoods of Edgewater, Midtown and Wynwood feel a stop is necessary.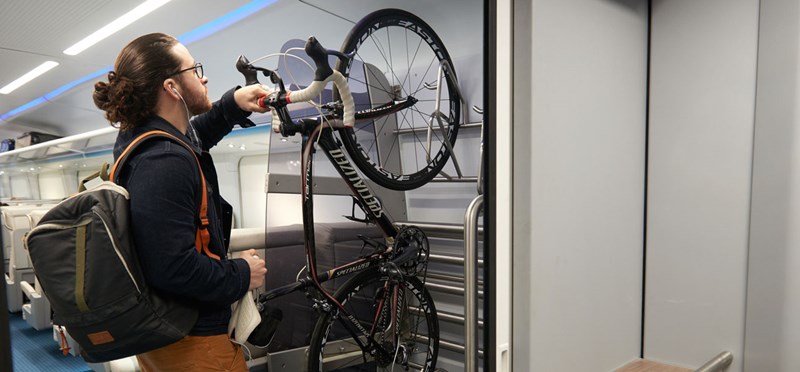 Brightline Train Details

Q: How Fast is the Brightline Train?
With an average speed of 79-125 MPH, it transports people boarding in Miami to Fort Lauderdale in 30 minutes, West Palm Beach in about 60 minutes, and Orlando in 3 hours. 

Q: How Green is the Brightline Train?
Using only clean biodiesel fuel, the Brightline trains produce lower emissions, staying 100% carbon neutral. Their EV-friendly stations are all powered by FPL SolarNow Solar Trees that further generate emission-free energy.

Q: What are the Comforts of Riding the Brightline Train?
Designed by the Rockwell Group, the Brightline coaches are designed for comfort with open and flexible seating. Each seat features its own multiple power and USB outlets, large multi-task trays to accommodate laptops and eats, plus free Wi-Fi onboard.
You have two ways to ride - SMART (business-class) or SELECT (first-class) - and can find a comparison of classes here. Pets are welcome on the Brightline, too!

Q: What kind of Touchless facilities are available at the Brightline Train Stations?
All Brightline stations come equipped with hand sanitizer stations, temperature check facilities, contactless payments and ticketing, making them a hygienic and pandemic-appropriate way to travel.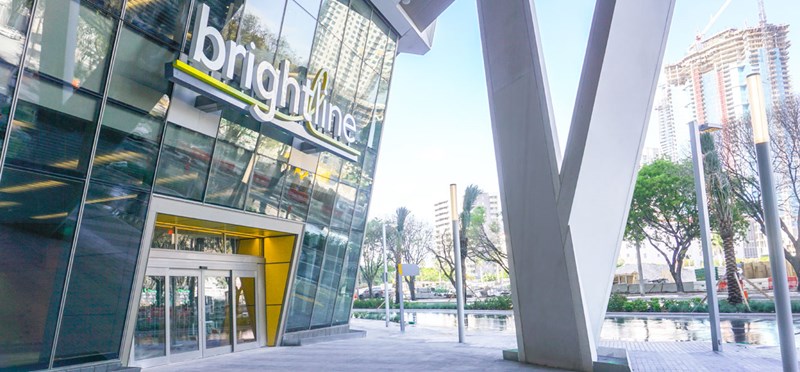 Where are the Current Brightline Miami Stations?
As of now, the Brightline connects Miami to Fort Lauderdale and West Palm Beach. Unlike most other train systems that leave you in far-flung pockets of a city, the Brightline has been designed to deliver you right in the city core, no matter which city you're traveling to, with easy access to plenty of local public transit options. 
Station: 600 NW 1st Ave., Miami, FL 33136
Parking Garage: 161 NW 6th Street, Miami, FL 33136 (entrance is on NW 1st Ct.)
The MiamiCentral station spans 6 city blocks in the heart of Downtown. The 11-acre complex offers plenty of shopping and dining options along with the city's first food hall. It is just minutes from Museum Park, AmericanAirlines Arena, PortMiami, and the central business district of Brickell. For more information on the public transit, taxi/rideshare, bike and car rental options available that can take you around the city and its beaches from the station, go here.
Fort Lauderdale
Station: 101 NW 2nd Avenue, Fort Lauderdale, FL 33311
Parking Garage: 300 NW 2nd Street, Fort Lauderdale, FL 33311


For more details,

go here

.


West Palm Beach
Station: 501 Evernia Street, West Palm Beach, FL 33401
Parking Garage: 511 Evernia Street, West Palm Beach, FL 33401


For more details,

go here

.

Future Brightline Routes and Extensions
Brightline's Orlando station is expected to open in 2022, connecting South Florida to Central Florida. Besides South Florida, the Brightline West service is expected to operate on the West Coast between Las Vegas and Victor Valley in Southern California.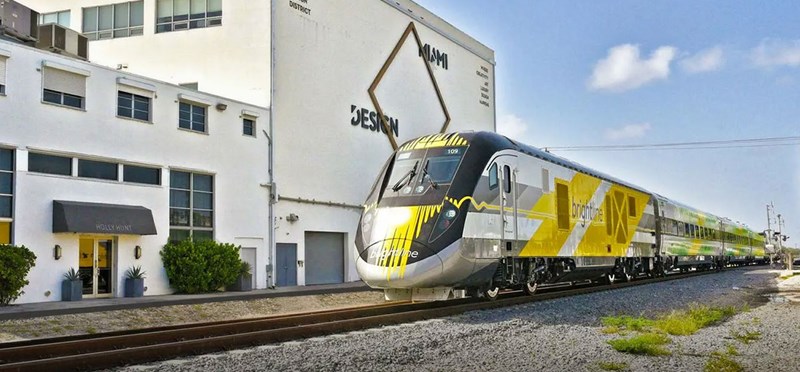 Other Brightline Miami Train and Public Transportation News
March 2020: Miami Transportation Projects Updates

Read about the latest Miami public transit news, including new buses, other means of getting around town, projects at the Miami International Airport, and more.


---

Looking to live close to the MiamiCentral Brightline Station or any other well-connected part of Miami? Call or email us and we can provide you with the latest information on Miami condos and rentals that are close to public transportation.
Share your thoughts with us
Sign up now
Get news and updates delivered to your inbox