Brightline's Aventura & Boca Raton Stations Under Construction
May 12, 2021 May 12, 2021
With a green light to build new stations in Aventura and Boca Raton, the South Florida's Brightline rail system is moving ahead. Just this January, the high-speed rail company announced that its Miami to Orlando line is 50% complete and on track for a December 2022 completion.
Brightline further announced it's expecting to finalize this month up to five new station locations in Miami Dade County for a separately branded commuter rail service. Read more about that development here.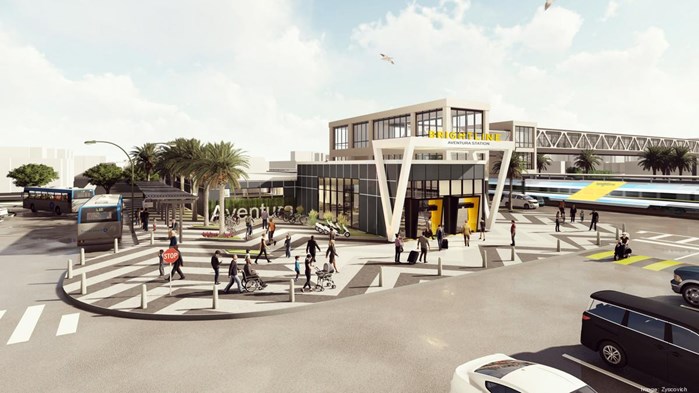 Rendering of Brightline Aventura Station. 

Here's how construction is coming along on the newly announced stations:
Aventura – Groundbreaking took place last September and crews are currently on the ground

Boca Raton – This April, contractors started building a temporary parking lot and community garden, which will act as a starting point for the permanent station and parking garage to come up.

PortMiami – Talks are underway as negotiations are on hold due to the pandemic
A time-effective, environmentally-friendly solution to Miami's well-known traffic woes, the Brightline is one of the most highly anticipated public transit networks planned for Miami and the State of Florida. It boasts of a 100% carbon neutral footprint and already connects Miami to Fort Lauderdale and West Palm Beach. With an average speed of 79-125 miles per hour, it takes about 30 minutes to get to Fort Lauderdale, 60 minutes to West Palm Beach, and (an expected) 3 hours to Orlando from Brightline's MiamiCentral station in Downtown Miami.

When will Brightline resume services?
Although operations are temporarily suspended, here's when you can expect these Brightline stations to begin or resume services:
Miami to West Palm Beach – 3rd quarter 2021

Aventura – 3rd quarter 2021

PortMiami – 1st quarter 2022

Boca Raton – 1st quarter 2022

Extension to Orlando – 4th quarter 2022

Disney Springs – 4th quarter 2023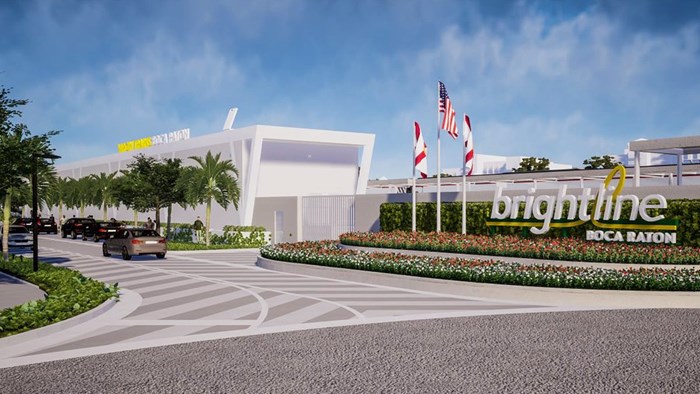 Rendering of Brightline Boca Raton Station.

Timeline of Brightline Events
Also, since we've been following the high-speed rail network's developments since it was first announced, we thought it would be interesting to bring you this timeline of some of the most important Brightline news, events, and highlights:
April 2021 - Brightline and Miami-Dade County agree to commuter rail system

Sep. 2020 – Brightline becomes the first in the nation to use innovative box-jacking techniques to get its underground tunnels prepped in record time

Aug. 2020 – Virgin Trains goes back to being Brightline after ending affiliation with the Virgin Group over financial issues

Jun. 2019 – Construction work starts on the Orlando station

Late 2018 – Brightline becomes Virgin Trains USA after the British conglomerate becomes an investor

May 2018 – The first service from Fort Lauderdale to Miami takes place

Jan. 2018 – The first service from Fort Lauderdale to West Palm Beach takes place

Nov. 2015 – All Aboard Florida becomes the Brightline

Nov. 2014 – Construction work starts on the West Palm Beach station

Oct. 2014 – Construction work starts on the Fort Lauderdale station

Mid-2014 – Construction work starts on the Downtown Miami station 

Mar. 2012 – FECI announced the development of a privately owned and operated rail system from Miami to Orlando called All Aboard Florida

For more details on progress, schedules, and regular Brightline updates, bookmark this page.


---

Subscribe and stay tuned for more interesting developments taking place in and around Miami.
Share your thoughts with us
Sign up now
Get news and updates delivered to your inbox