Chris Brown Finishes Mural on Overtown's House of Wings
Nov 18, 2014 November 18, 2014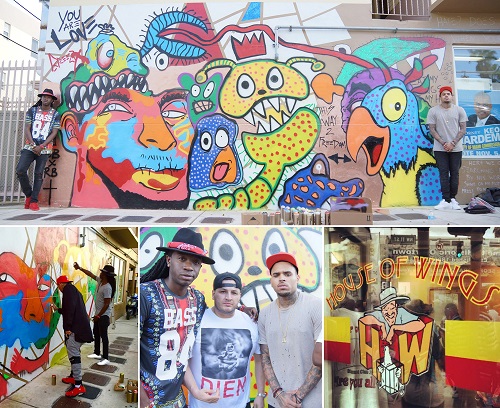 Local artists, Chris Brown and Ron Bass, have designed the mural for the House of Wings in Overtown.
After a night at LIV with Trey Songz, the duo woke up and completed their mural on the House of Wings.
Overtown is a neighborhood whose history is forgotten many times because of the great reputation of South Beach. However, Headliner Market Group teamed up with House of Wings to make history happen by bringing these local artists to their neighborhood.
The crew consisted mainly of Chris Brown and Ron Bass, but they had a crew of up to six helping them move the project along.
The mural received such commendation that even Miami City Commissioner Keon Hardemon visited the crew in support of their artistry.
Source: the305.com
Photo credit: Mural - the305.com
Share your thoughts with us
Sign up now
Get news and updates delivered to your inbox