City Officials Review Project To Basically Develop Another City Within A Skyscraper
May 14, 2015 May 14, 2015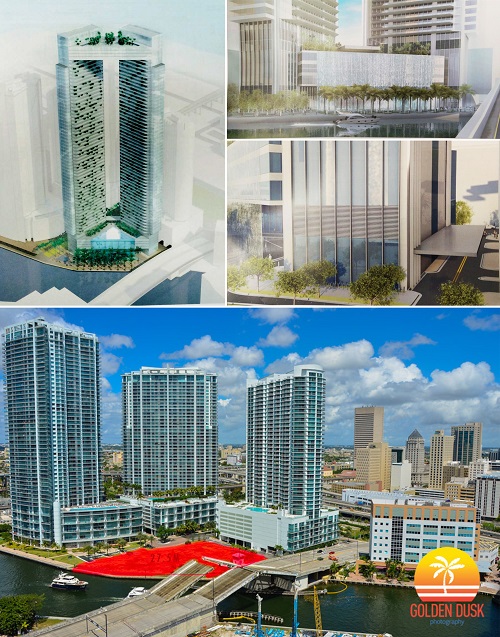 Developer KAR Properties has recently sent in their plans for their upcoming project, Miami River Twin Towers, to city officials for approval.
The project's twin towers will be connected at the top, making somewhat of an archway. It will stand at 779 feet stretched across 60 floors. The bottom section will be for condo use, where the upper sections will be for commercial, hotel, and residential use.
Levels seven through 46 of Miami River will each have only five condos, connected by a common hallway instead of a private elevator.
Levels 56 through 59 will be connected at the top, and can be reached with express elevators that run along the outside of the towers. Mixed-uses have been planned including commercial and residential space, about 20 hotel rooms, and possibly some restaurant space.
Rafael Viñoly is the design architect for the twin towers project, and Sasaki Associates, based out of Boston, is the landscape architect.
Altogether, the Miami River project will house over 400 residential units, over 58,000 square-feet of commercial space, and over 500 parking spaces.
Source: thenextmiami.com
Photo credit: Miami River - thenextmiami.com, goldenduskphotography.com
Share your thoughts with us
Sign up now
Get news and updates delivered to your inbox