CocoWalk Mall Sells for the Same Price as it Last Sold in 2006, Buyer Plans Renovations
Jun 17, 2015 June 17, 2015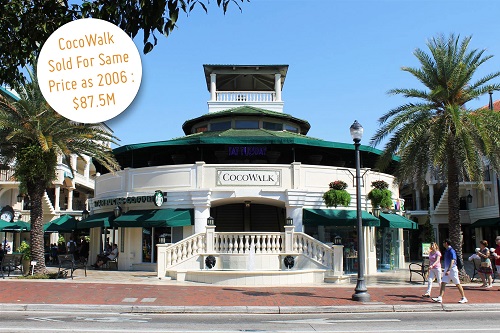 The CocoWalk mall and property has been sold in an $87.5 million deal, which turns out to be the same price it was sold for back in 2006.
The $87.5 million price tag is thought to be just as aggressive as it was back then, since the 198,000 square-foot property has struggled to fill its tenants. Only 20% of CocoWalk's spaces are filled, in contrast to the retail centers in downtown, which are mostly full.
The buyer of the property is the Federal Realty Investment Trust, who own 80% of the company along with local partners Grass River Property and the Comras Company. The new owners are planning on bringing in a better mix of tenants into the mall, which will bring about an all new renovation to the whole mall.
25 years ago marks the opening of Cocowalk, a nice 3-acre property with a decently-sized mall in Coconut Grove, and many hope that it will only improve in the future.
Source: thenextmiami.com
Photo credit: CocoWalk (photo:phillip pessar/flickr) - thenextmiami.com
Share your thoughts with us
Sign up now
Get news and updates delivered to your inbox