Comparing Miami & Miami Beach's Most Popular Neighborhoods: Edgewater vs South of Fifth
Dec 07, 2021 December 07, 2021
Two neighborhoods in Miami that have gained popularity in recent years are Edgewater, the area to the west of Biscayne Boulevard, and the southernmost tip of the island of Miami Beach known as South of Fifth. While both neighborhoods have enjoyed recent growth, and they share certain similarities, they are also vastly different from one another. To help you decide which of these two is more your style, check out this handy Miami neighborhood comparison.

Lifestyle: Edgewater vs South of Fifth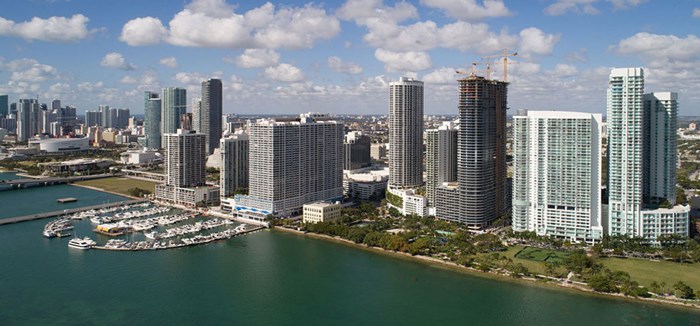 Edgewater is a centrally-located Miami neighborhood, which over the past several years, has enjoyed a total transformation and rebranding, shedding its former life as a forgotten and economically depressed area, and is now home to prime real estate on the water's edge with spectacular views of Biscayne Bay. Edgewater's convenient location makes it an ideal neighborhood for urban professionals who want a quick and easy commute to Downtown Miami or Brickell, access to arts and culture, and the opportunity to commune daily with the great outdoors.
With Biscayne Bay and the 8-acre Margaret Pace Park as its central focus, Edgewater combines serene waterfront living with lots of walkable greenspace, making it ideal for young families with kids and pets. Just blocks from Downtown Miami, Wynwood, and the Design District, Edgewood also provides easy access to Brickell, South Beach, and other areas.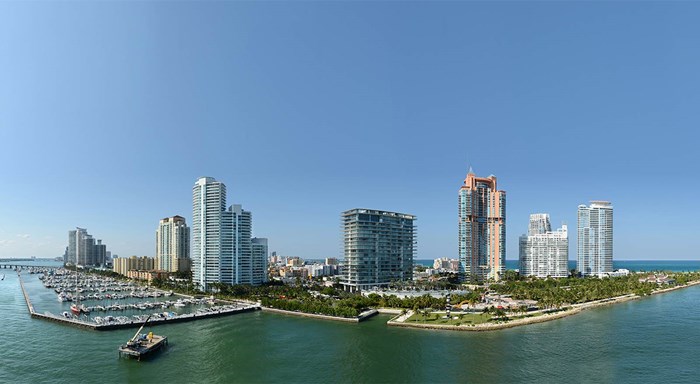 Continuum In South Beach - Photo courtesy of Continuum South Beach

South of Fifth (SoFi) is at the southernmost point of South Beach, and enjoys a small-town feel, along with a more upscale lifestyle and calmer vibe than the party-all-night energy that characterizes the rest of South Beach. The community is made up of young professionals, families, and active, high net worth individuals. In SoFi, the streets are quiet at night and locals ride their bikes at South Pointe Park and meet for group yoga on the beach at sunrise. Boasting all of the Art Deco charm that Miami Beach is known for, South of Fifth is the ultimate residential beach enclave, and still only a few short minutes either by car or bike from the bustling nightlife & ritzy glamour of South Beach.  

Business: Edgewater vs South of Fifth 
Neither Edgewater nor South of Fifth are known as corporate hubs or business centers, as both are primarily residential neighborhoods. In both cases, however, they are within walking distance to busy commercial centers.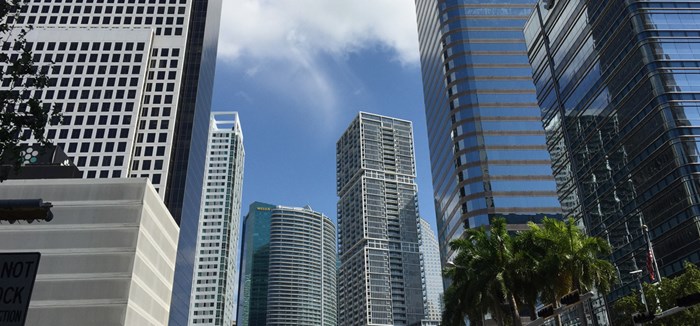 Brickell Financial District  

Edgewater has the advantage of being centrally located near Downtown Miami, making it an ideal location for those who work in the business districts of Downtown Miami or Brickell, but want to come home after a day's work to a serene, residential neighborhood with relaxing Bay views and shady walking trails.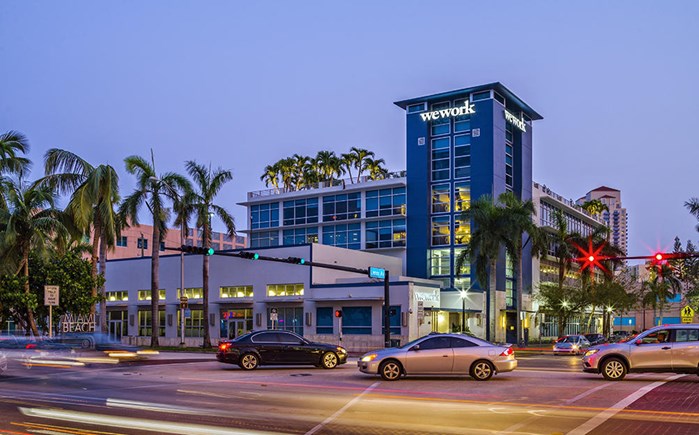 South of Fifth has a small commercial center reminiscent of a "Main Street" of decades past with a handful of boutique hotels, a few private professional offices, a WeWork center, and the occasional fitness center, beauty salon, or spa. There are also several high-brow boutiques, and a few very good restaurants in the area, but not much corporate activity to speak of.  SoFi is designed for rest and relaxation.

Walkability and Transportation: Edgewater vs South of Fifth 
Both Edgewater and SoFi are very walkable neighborhoods with good public transportation and easy access to other areas of Miami. In this respect, Edgewater probably beats SoFi, since its proximity to MiamiCentral in Downtown Miami provides easy access to the Metrorail and Brightline Trains, as well as the soon-coming Tri-Rail Station that will also be close by and provide access to areas beyond greater metropolitan Miami.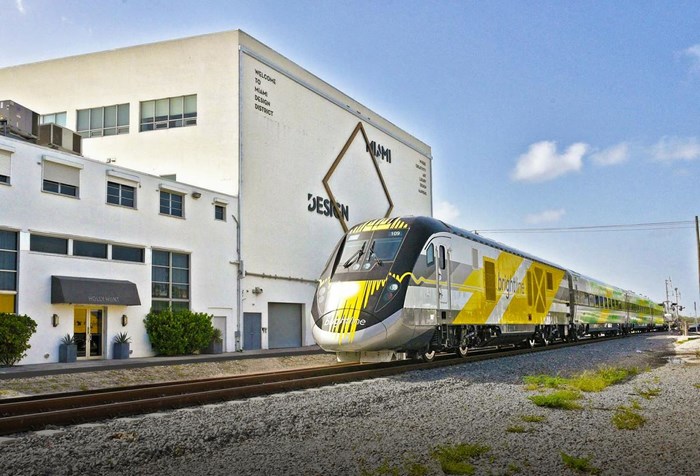 Miami's Briteline Train System

It is totally feasible to live in Edgewater without a car. From Edgewater, it's easy to walk or bike to Downtown Miami, the Arsht Center, the Perez Art Museum and Frost Museum of Science, Bayfront Park, and the American Airlines Arena, as well as Miami Dade College. It's also accessible to the Wynwood Arts District and the Design District either on foot or via the Metrorail. Several buses also serve the Biscayne Corridor with stops that serve residents of Edgewater.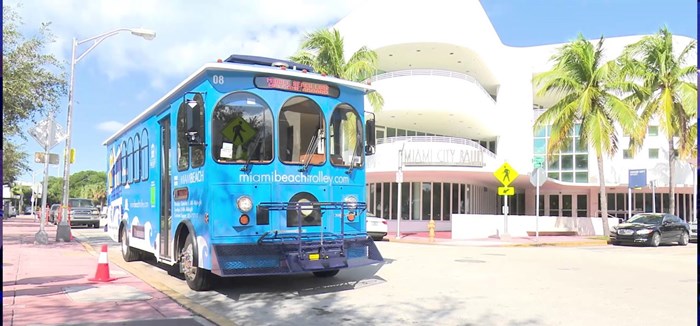 Miami Beach Trolley System

Not quite as centrally located as Edgewater, South of Fifth is also a highly walkable neighborhood, although it takes a bit more effort to connect to other parts of Miami from the Beach. As part of South Beach, SoFi enjoys a wide variety of transportation options available for getting around within the island of Miami Beach, such as the Free Miami Beach Trolley service, and several bus routes that connect the Beach to the mainland. Everything within the neighborhood is easily accessible on foot, and there's a convenient Miami Beach Airport Flyer that shuttles passengers to and from the airport every half hour between 6am and 11:40pm. South of Fifth will also benefit from the plans to extend Metro Rail service to South Beach in the near future.



Parks and Greenspace: Edgewater vs South of Fifth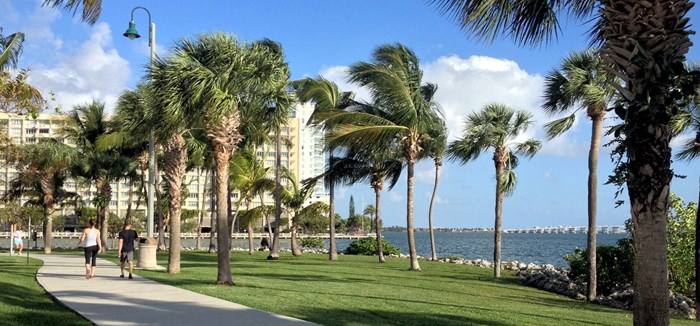 Margaret Pace Park

The Edgewater community centers around Margaret Pace Park, an expansive bayfront greenspace with great walking paths around the bay, where you can also enjoy water sports such as kayaking and/or paddle-boarding. The park also has tennis courts, volleyball courts, dog parks, and a basketball court.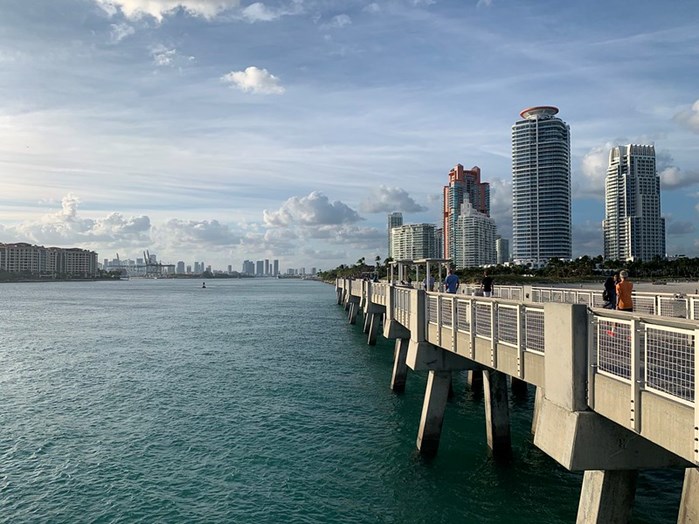 The SoFi community is similarly nurtured by South Pointe Park, right at the island's southernmost tip, where the Atlantic Ocean merges with Biscayne Bay. South Pointe Park has a kiddie playground and water park, a cafe, a garden path, and provides direct beach access so you can enjoy swimming, snorkeling, fishing, kayaking, paddle-boarding, and jet skiing, as well as shady areas for walking, hiking, and picnicking.  

Arts and Culture: Edgewater vs South of Fifth
While Edgewater is in itself a quiet, residential area, its nearest neighbors are the Downtown Arts District, which are home to some of Miami's most vibrant cultural venues, such as the Adrienne Arsht Center, the FTX Arena (formerly American Airlines Arena), Bayfront Park, the Ziff Opera House, and both the Perez Art Museum and Frost Museum of Science.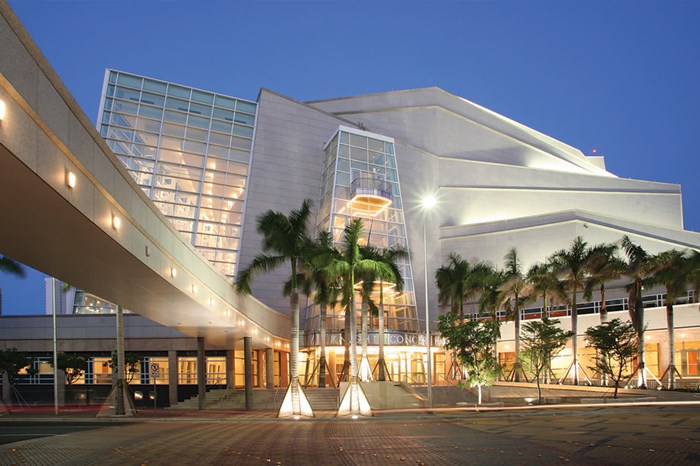 During Miami Art Week, the city's yearly art extravaganza and one of the most important art events in the world annually, Edgewater is the perfect place to be, walking distance from the visiting art fairs and the many galleries in the Wynwood Art District and the Design District. Its proximity to the Design District also provides easy access to such significant exhibition spaces as the Institute of Contemporary Art (ICA Miami), the Moore Building, and the de la Cruz Collection, all of which host important exhibits from around the world year-round.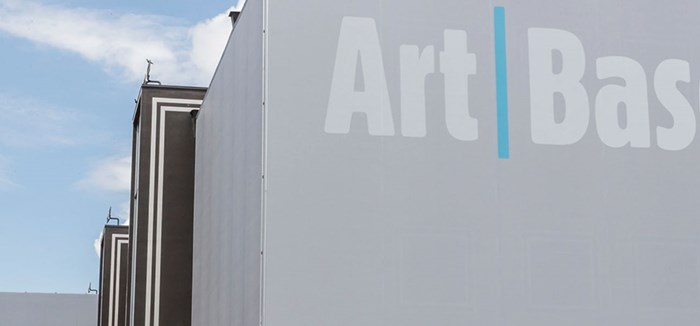 As part of Miami Beach, SoFi also enjoys easy access to the vast array of cultural offerings in South Beach. South of Fifth is about 20 blocks from the yearly Art Basel fair held during Miami Art Week at the Miami Beach Convention Center, as well as visiting fairs such as the Aqua Fair held at the Aqua Hotel, and pop-up art events at the nearby Bass Museum of Art and along the Beach. The Miami Jewish Museum is set in the South of Fifth neighborhood, and hosts a variety of events and exhibitions, including a yearly film festival.  South Beach is also home to an array of street fairs and festivals, such as the South Beach Wine and Food Festival, Fashion Week Miami, Caribbean Carnival, and an array of music festivals held throughout the year, all within walking distance of SoFi. 

Eating and Shopping: Edgewater vs South of Fifth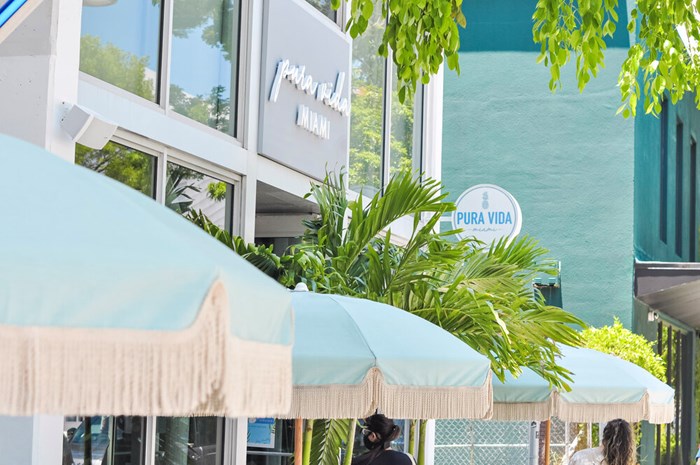 Although Edgewater is primarily residential, you'd be amazed at how much variety is available as far as local eateries and great restaurants within walking distance. Pura Vida, located right next to Margaret Pace Park, is an ideal spot for a leisurely and healthy meal while people-watching. Many of the restaurants located in some of the new condo developments are also exquisite, such as Amara at Paraiso, where you can enjoy fine Latin-inspired waterfront dining. For great sushi, try Kraken Krudo, and for great Chinese, try Tony Chan's in the lobby of the Grand Doubletree Hotel. Mignonette serves up the best in seafood, and Amor di Pasta is a pasta paradise! As far as shopping, Edgewater's proximity to the Shops at Midtown, as well as Wynwood and Downtown Miami with their varied array of retail offerings, will keep you busy discovering great finds.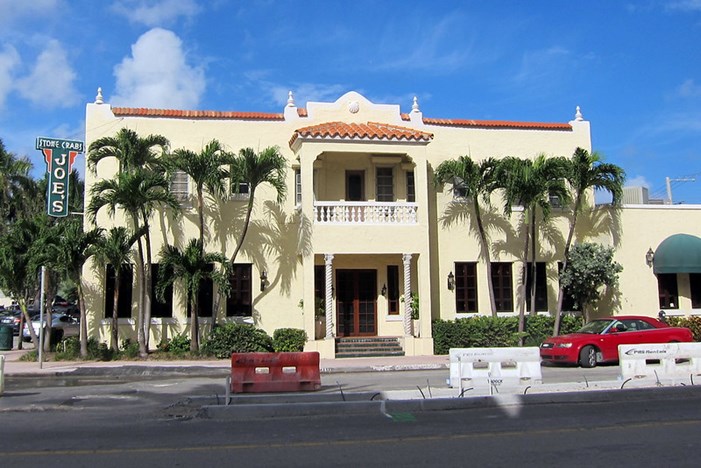 Photo courtesy of Wally Gobetz on Flickr

Known as one of the most upscale areas of South Beach, SoFi may have a slighting diner's advantage, as it's home to some of the Beach's best restaurants. The famed Joe's Stone Crab Restaurant, a Miami Beach icon, developed its amazing reputation for a reason, and spots such as the South Pointe Tavern are favorites among the many celebrities that enjoy vacationing in South Beach. Check out the eclectic offerings at Stubborn Seed, where culinary creativity reigns, or try the upscale Japanese cuisine at Azabu Miami in the lobby of the Stanton Hotel. Looking for vegans and vegetarian offerings? Don't miss Lilikoi Organic Living, where healthy eating feels like lavish decadence. Shopping in SoFi is also sufficient with a slew of unique shops and boutiques offering unusual and high-end goods, and a large, bustling shopping center located conveniently at 5th Street and Alton Road, featuring a Target, Publix and other big box names.

Schools: Edgewater vs South of Fifth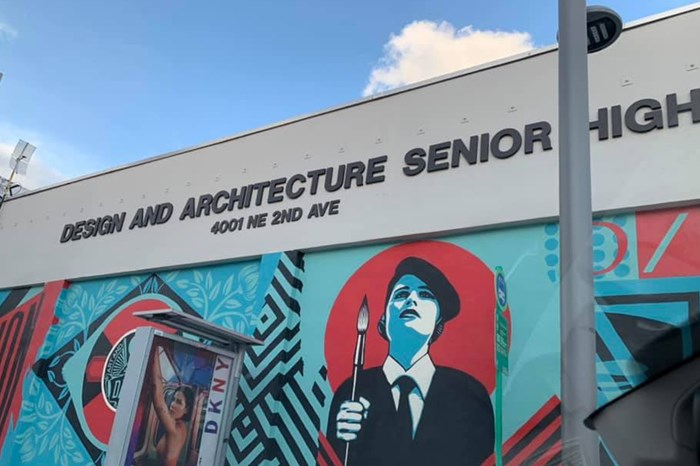 Both Edgewater and South of Fifth are ideal neighborhoods for families with children. Edgewater's central location provides access to many of Miami's finest private schools, including the alternative Cushman School, ILEARN Preparatory, St. Francis Xavier, Center of Life Academy, Metropolitan International, Jacobs Athletic Science, and the Interamerican Learning Center. Edgewater students are also served by public schools Eneida M. Hartner Elementary School and Jose De Diego Middle School, as well as Young Men's Preparatory. Area high schools include Design and Architecture Senior High (DASH) and New World School of the Arts (NWSA), both of which are ranked among the top art schools in the country. Nearby charter schools include Aspira and Bridge Prep Academy.
SoFi residents are served by public schools on Miami Beach, including South Pointe Elementary School, Nautilus Middle School, and Miami Beach Sr. High, all of which rank among Miami's top public schools. Local private schools in the area include St. Patrick's and the Hebrew Academy, both located nearby in Miami Beach. SoFi students may also attend private schools on the mainland, including many of those accessible to students in Edgewater, though the distance may be a bit longer.

Architecture and Housing Options: Edgewater vs South of Fifth 
Before its recent makeover, Edgewater was a run-down, abandoned area dotted with small bungalows and mid-size apartment dwellings, many in disrepair. Over the last 15 years, luxury condo developments have emerged, replacing older and smaller buildings. These newer condo communities include spectacular amenities such as gyms and spas, multiple pools, fitness centers, impeccable service, along with dazzling bay views.
 
Want to see what it's like to live in Edgewater?

South Beach, and the South of Fifth area in particular, is characterized by its lovely assortment of renovated Art Deco buildings, many dating back to the 1920's and 30's.  Among these, new luxurious condo developments have emerged, retaining the Deco look but incorporating modern luxuries and amenities such as infinity pools, fitness centers, spas, and other media screening rooms. Many of the residences available in SoFi include gorgeous ocean views and direct beach access.

Cost of Living: Edgewater vs South of Fifth
Edgewater is one of the best-valued neighborhoods in Miami, with condo prices averaging some $447 per square foot and residential units listing for an average of $615,000. Higher-end listings range around $10,800,000, or $2,578 per square foot.
South Beach residence listings average about $1,242,930, or some $726 per square foot; however, the South of Fifth area specifically tends to toward the high end of that range, with some of the area's most expensive properties listing for about $93,500,000, or $22,959 per square foot.

Should I Move to Edgewater or South of Fifth?
Your lifestyle preferences will determine which of these two neighborhoods is most suitable for you. If you're more of an urbanite who wants to be in the center of things with access to business, commerce, arts and culture, and a short distance to all parts of the city, while enjoying a quiet and serene home environment, Edgewood may be ideal for you. 
If you moved to Miami for the beaches, the Deco architecture, and the South Beach party scene, but you still want to go home to a quiet and private neighborhood at night, South of Fifth may be more to your liking.
If you're interested in more of our neighborhood comparisons, check out these below: 
As long-time Miami locals, we are thrilled to share our insights to help our clients get to know Miami from the inside out. Please take advantage of our local knowledge and let us help you find your ideal home in the Miami neighborhood that is right for you!
Share your thoughts with us
Sign up now
Get news and updates delivered to your inbox