Condo Spotlight: Oceanfront Bentley Residences in Sunny Isles Beach
Sep 20, 2021 September 20, 2021
By now, we know we can count on Gil Dezer (Miami-based developer and car collector) to bring the finest luxury car brands to Miami and turn them into breathtaking residences. The Bentley Residences are set to deliver Bentley Motors' foray into residential real estate, with its first-ever condo building in Sunny Isles Beach.
Rising 60 stories (or 749 feet), the cylindrical tower will become the tallest-ever built on a U.S. beachfront. With just 4 residences per floor and a host of first-of-their-kind amenities, future residents can expect to experience the same quality and opulence that the British manufacturer is known to deliver in the automotive industry.
---
Bentley Residences - Sunny Isles Beach, Florida
---

Completion: Early 2026
Architect: Sieger Suarez Architects
Interior Designer: In collaboration with Bentley Motors
Developer: Dezer Development
Floors: 60
Units: 200+, only 4 units per floor
Unit Sizes: 3,500 to 9,000 square feet
Notable Design Features: Sustainable materials, lighting, and signature scent curated by Bentley Motors. Cylindrical tower with highly reflective diamond-like facade. Direct ocean and bay views from each residence. 4-car sky garage serviced by a Dezervator (patented car elevator), outdoor kitchens and showers in the living-room-sized balconies, and indoor saunas in each unit. Facade capable of withstanding 175 mph winds.


---

Bentley Residences: Porsche Design Tower 2.0 and Then Some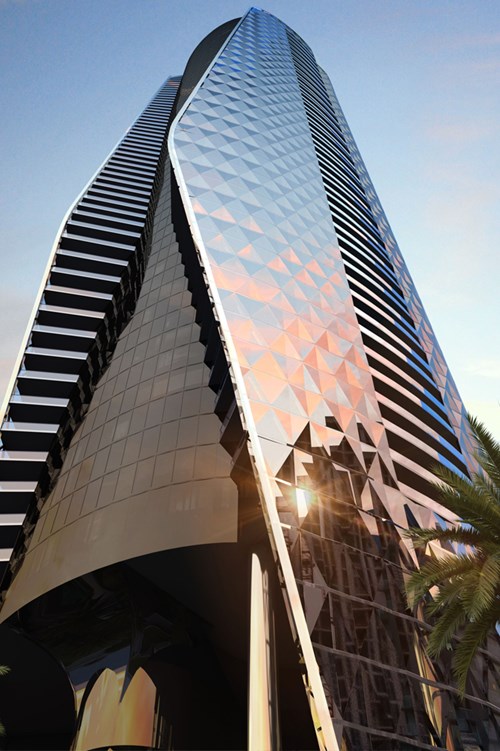 Representing a first-of-its-kind partnership between luxury carmaker Bentley Motors and Dezer Developments, Bentley Residences is soon to produce what is likely to be the most sought-after condo building in South Florida. Designed by the same team behind the runaway success of the Porsche Design Tower - Sieger Suarez Architects - the Bentley-branded residences will take progressive architectural standards up a notch, all with the aim to set a new benchmark in quality across the world, including glass capable of withstanding 175 mph winds.

Shine Bright like a Diamond
The Porsche Design Tower already set a higher standard in what luxury, car-inspired residences could look like on the Miami coastline. With the Bentley Residences, Gil Dezer is working on creating a tower that "can be seen all the way from Cuba."
Its designers have planned to install triangulated glass, which will give the cylindrical building the appearance and shine of a diamond. The team has spent over $300,000 just developing this innovative glass type, inclusive of reflective silver. With its noticeable diamond facade and imposing height setting the tower a class apart, living at the Bentley Residences is expected to be a statement for future residents as well.

Dezer x Patented Car Elevator
Dezer's patented car elevator - the Dezervator makes a comeback at the Bentley-branded homes in a new and improved avatar. Each luxury condo will feature a 4-car garage, compared to the Porsche Tower's 2-car sky garage.

Life at the Bentley Residences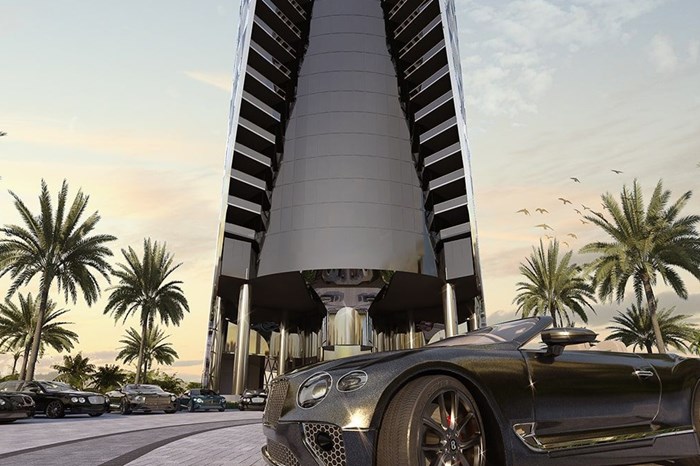 The Bentley Residences are designed to deliver the highest level of oceanfront luxury living. Residents will not only enjoy direct access to the beach, but also enviable sunrise views over the Atlantic Ocean, from behind the safety of impact-resistant, floor-to-ceiling glass doors and triangular windows.
All residences and common spaces will feature marque design details such as Bentley's diamond motif, scent, sumptuous leather, and other sustainable materials.
Each condo unit will be at least three bedrooms ranging from 3,500 to 9,000 square feet and feature a living room-sized balcony, ranging from 1100 feet to 1800 feet. The terrace will come complete with an outdoor summer kitchen, small pools, and shower. There will also be ample storage space inside, along with an indoor sauna.
For those who like to relish their time off, the Bentley Residences will offer the solace of a whiskey bar, cigar lounge, and spa. Other amenities will include a restaurant, cinema, fitness center, swimming pool with cabanas, and landscaped gardens.

Bentley Residences x Sustainability

As an automotive brand, Bentley has stayed true to its commitment to environmental sustainability for years. For instance, the luxury carmaker introduced vegan-leather in its cars, using the skin from old grapes.
Designers at the Bentley Residences have further taken upon themselves to find more innovative ways to make it as sustainable as possible. The building is designed to adhere to Florida's Green Building Council certifications, as well as use sustainable building materials. Not only is the outer glass impressive and beautiful, it's also designed to minimize impact on aquatic life, specifically, endangered sea turtles.
The building is also designed with Bentley's efficiency in mind, making sure the massive structure uses as little energy as possible to power its luxury lifestyle.

Sunny Isles Beach: Miami's Branded Luxury Condo Corridor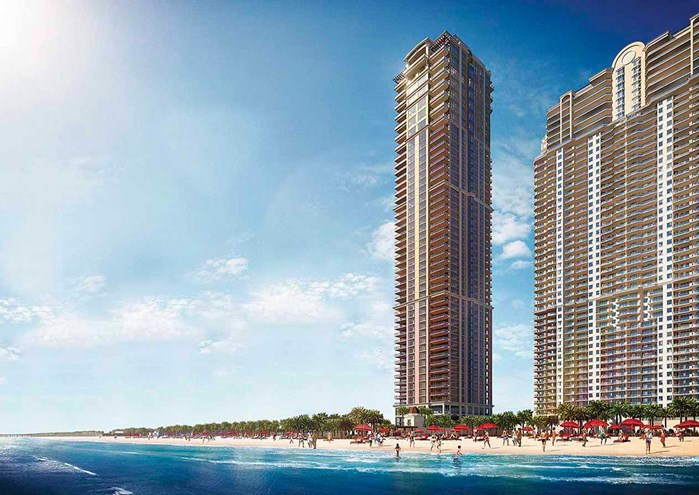 Acqualina Condo Towers

Sunny Isles Beach is one of Miami's most coveted beachfront addresses. It is home to a number of branded luxury condos, including the Residences by Armani Casa, Ritz-Carlton Residences, Related's Jade towers, and the Acqualina condo towers.
The neighborhood comes perfectly positioned between the Bal Harbour Shops and Aventura Mall. It is also home to some of the cleanest, uncrowded, white sand beaches in the Miami Beach and South Florida area. The historic Newport Fishing Pier and Haulover Beach next-door offer the best fishing and watersports opportunities.
---

Construction of the Bentley Residences is set to begin 2023, and is expected to be completed in 2026. Prices are expected to range between $4 million and $7 million. Call, chat, or e-mail us to be one of the first to get into this "gem" of a tower in Sunny Isles Beach.

Share your thoughts with us
Sign up now
Get news and updates delivered to your inbox