Devaluing of the Euro Creates Concerns for Miami's International Market
Jan 26, 2015 January 26, 2015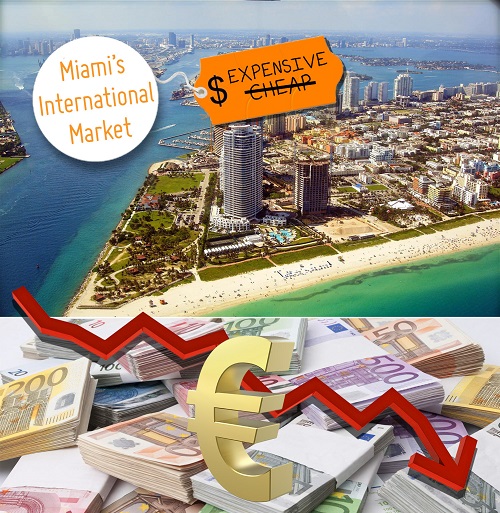 The recent drop of value for the Euro is a shocking one. Some are asking, will the drop of the Euro hurt sales for condos in Miami?
Peter Zalewski, a real estate consultant, licensed broker, and columnist, answers this question about the South Florida real estate market.
Miami is looking expensive for the international investors of the 19 countries of which the Euro is the primary currency. The current exchange rate from Euro to Dollar is €1 to $1.16, which is down significantly from €1 to $1.367 only a year ago. This is actually the weakest rate that the Euro has had being weighed against the dollar since 2003 when it was worth €1 to $1.055.
Because of this shocking drop in value, everything in Miami, from hotels to clubs, to condo purchases, cost about 14% more than it did a year ago. The weakening of the Euro might tarnish the reputation of Miami as a cheap, international destination for vacations and real estate investments.
Western European buyers account for 8% of the international sales in the Latin American area of Miami. They also account for 18% of Fort Lauderdale and 24% of Palm Beach sales.
Source: therealdeal.com
Photo credit: Aerial - miamibeachdreamliving.com
Share your thoughts with us
Sign up now
Get news and updates delivered to your inbox