Developers Release Designs for Open Space Plaza Being Created below the I-395's Signature Bridge
Feb 10, 2016 February 10, 2016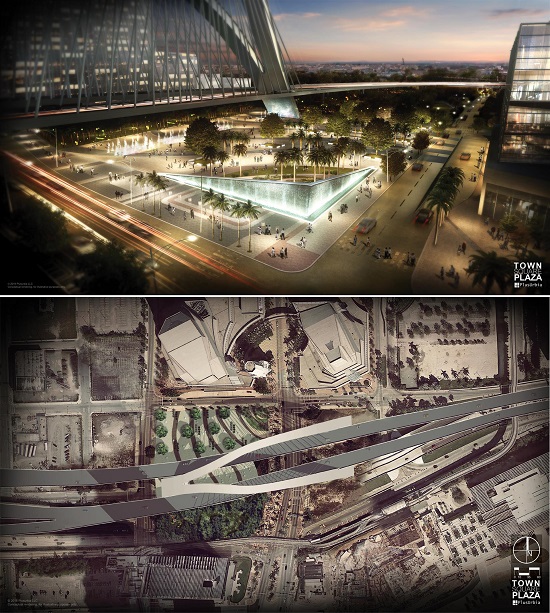 A nonprofit agency recently revealed their design for a walkable public space that would possibly sit underneath the upcoming "Signature Bridge" on the I-395 as a part of the highway's redevelopment.
PlusUrbia created the design, after being hired by the Town Square Neighborhood Redevelop Corp. nonprofit agency and the Miami Arsht Center for the Performing Arts. The design suggests creating an open, public plaza, with cascading waterfalls, interactive play areas, valet parking service, and more.
The I-395 is currently over Biscayne Boulevard without much wiggle room. The Florida Department of Transportation (FDOT) has been asking for bids to redesign that section of the road into a $600 million "Signature Bridge" project, high above Biscayne Boulevard.
As a part of the bidding for the bridge, the design must include an appealing public space below the bridge, which is, at the moment, a parking lot owned by the county.
"In advance of the I-395 Reconstruction RFP advertisement, we wanted to share our vision of what the street-level experience could be," Armando Codina, real estate tycoon and chairman of Town Square said, "This is a once in a lifetime opportunity to design the signature structural bridge and the area under the highway in a way that historically changes the downtown Miami landscape for the better."
Source: therealdeal.com
Photo credit: therealdeal.com
Share your thoughts with us
Sign up now
Get news and updates delivered to your inbox