Discover Miami's Most Beautiful Secret Gardens
Jan 20, 2020 January 20, 2020
Miami's warm coastal climate makes it a great location for beaches lined with swaying palm trees and sea oats. But did you know that exotic flowers, prehistoric plants and flowering fruit trees also flourish in these subtropics - from fragrant frangipani to delicate ground orchids.
If you're looking for something to do in Miami and want to lose yourself amidst the natural beauty of some of the city's most lush and beautiful green spaces, get out and discover our array of sumptuous public gardens, where you can always find a quiet, secret spot to be one with nature.
Ancient Spanish Monastery
16711 W. Dixie Hwy., North Miami
One of Miami's best kept secrets is the Ancient Spanish Monastery of St. Bernard de Clairvaux in North Miami. The Monastery has a picturesque nomadic history dating back 1,000 years. It was moved to its current location about 50 years ago, where it was rebuilt brick by brick. The Monastery is surrounded by lush, unspoiled subtropical forest, with gorgeous formal gardens at its entrance, and a quaint cloister courtyard within. Far from the maddening crowds, this is truly a spot where you can find total peace, surrounded by verdant stillness, while listening to birds chirping in the distance.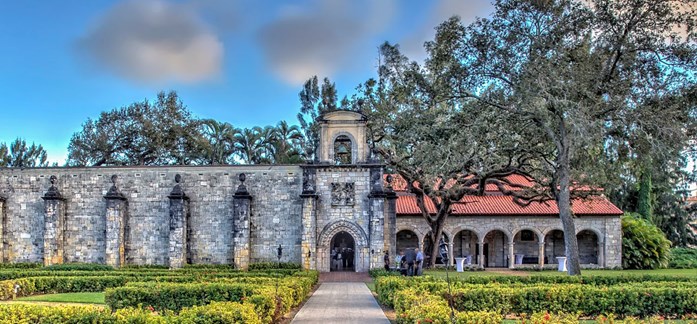 The Kampong, National Tropical Botanical Garden
4013 Douglas Rd., Coconut Grove
Another extremely well-kept local secret, the Kampong Garden is a verdant delight that's open to the public by appointment only, which means that you can indulge in lots of privacy and space at this privileged and largely undiscovered hideaway. Located in woodsy Coconut Grove, this 9-acre botanical garden and horticultural laboratory is the former home of botanist David Fairchild.
The breathtaking Kampong Garden is home to over 50 varieties of mango species, as well as an array of other tropical fruit trees, orchids, vines, and exotic flowers, many of which are native to South Florida. Which is part of why it's also notable -- it's the only mainland U.S. garden of the Hawai'i-based National Tropical Botanical Garden non-profit, which is dedicated to preserving tropical plant species, as Miami is the only major continental American city with a tropical climate.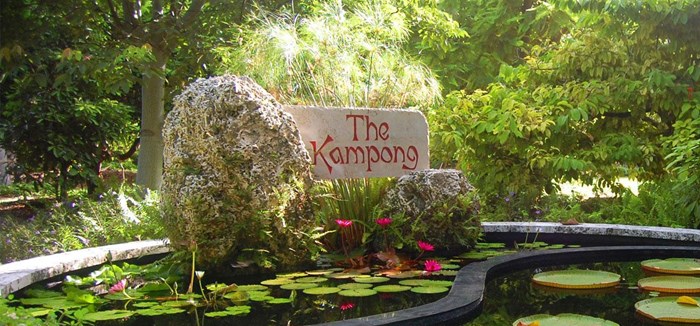 Vizcaya Museum and Gardens
3251 S. Miami Ave, Coconut Grove
The more well-known Vizcaya Museum and Gardens is one of Miami's most historic landmarks and is truly a must-see location for anyone who loves history and nature. Set in a natural mangrove forest overlooking Biscayne Bay, the Vizcaya estate was built by conservationist James Deering between 1918 and 1922, with the goal of conserving the natural vegetation of the area while providing a luxurious winter palace in which to host and entertain his distinctive guests from around the world.
The exuberant Gardens at Vizcaya were designed by Diego Suarez, a Colombian landscape architect that Deering commissioned to recreate those European gardens and grounds that Deering visited during his travels abroad. The gardens embody an almost surreal encounter between the sultry Floridian ecosystem and ornate Mediterranean design, complete with marble statues, stone grottos, labyrinths, elaborate fountains, and hundreds of species of native and exotic flora and fauna. These gardens are meticulously maintained to the present day, and attract thousands of visitors each year.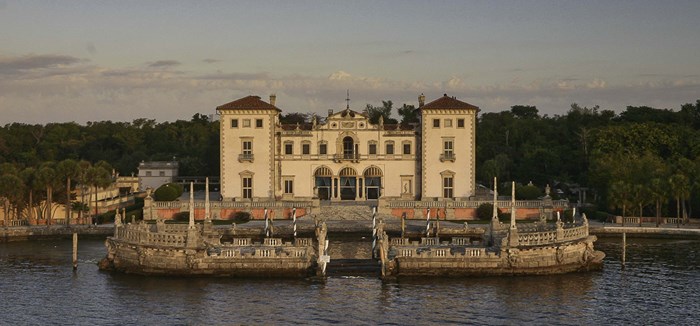 Miami Beach Botanical Garden
2000 Convention Center Drive, Miami Beach
Located in the heart of South Beach, the Miami Beach Botanical Garden is an urban gem of a green space. Founded in 1962, the Garden was fully remodeled in 2011 by local landscape architect Raymond Jungles. At its entrance, the garden welcomes you with the heady, sultry fragrance of ylang ylang, one of the many fragrant flowering trees in this serene tropical paradise that makes you feel as if you've traveled lightyears outside of the city.
The garden provides a magical, relaxing atmosphere, with an array of palms, orchids, and flowering trees and shrubs, as well as an impressive collection of contemporary outdoor sculptures, including several by local artists. There is also a Japanese garden with a lovely bridge and pond, along with plenty of butterflies, lizards, birds, and all of the elements that make a garden special. An oasis in the hustle and bustle of South Beach, the gardens also have weekly art classes, yoga and meditation, and a fun gift shop.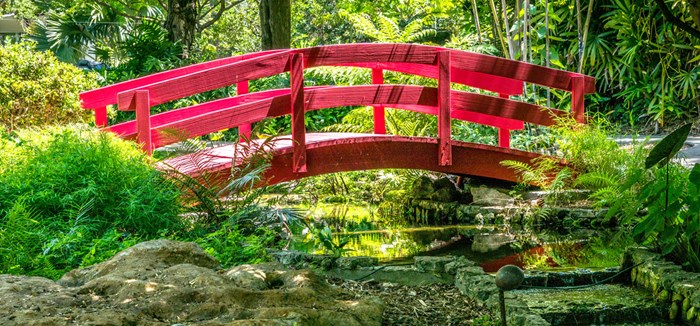 Fairchild Tropical Botanic Garden
10901 Old Cutler Rd, Coral Gables
A local treasure completed in 1938, the Fairchild Tropical Botanic Garden, brainchild of botanist David Fairchild, is the largest garden of its kind in the continental U.S. The Garden spans an impressive 83 acres, dotted with 11 water features, and is home to an array of tropical flora and fauna, including palm species, cycads, flowering trees, orchids, tropical fruit trees, exotic vines, along with birds, lizards, and butterflies, which visitors can view on a tram tour of the grounds. The garden also features a rare fruit pavilion where you can taste samples of exotic fruit, an arboretum, and ongoing art exhibits. This winter, catch Night Garden, a spectacular light exhibition that lights up the garden at night!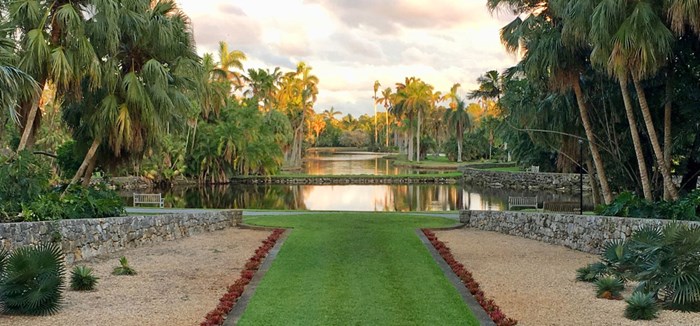 Pinecrest Gardens
11000 SW 57th Ave, Pinecrest
The former site of the Parrot Jungle, Pinecrest Gardens is an exuberant tropical paradise offering a lavish array of exotic and native tropical plants, serpentine rock formations, refreshing fountains and water features. While the picnic areas, walking trails, and shady hideaways are graced by flowering vines where you can watch swans swimming in the pond while enjoying a quiet picnic. The northeastern portion of the gardens features a one-acre cypress hammock that was once part of South Florida's largest cypress forest. 
Pinecrest Gardens is also great if you're looking for something to do in Miami for kids, as there's plenty to explore, including a petting zoo, and the paths are especially kid-friendly.



If you love nature and enjoy a quiet hideaway, or want something new to do in Miami, our gardens and tropical climate have so much to offer. Spend a day at any of these lovely botanical gardens, and renew your mind and spirit surrounded by the natural beauty of the subtropics!

---
Share your thoughts with us
Sign up now
Get news and updates delivered to your inbox