Downtown Miami Revitalization Begins with Flagler Street Makeover
May 11, 2021 May 11, 2021
After several years of planning, the City of Miami is finally moving forward with its long-awaited plan for revitalizing Downtown by revamping the Flagler Street corridor. 
The Downtown Flagler Street project's principal objective is to return the cultural and commercial viability of Flagler Street by improving and beautifying the corridor, transforming it into a popular destination that will serve local businesses and families, revitalizing the Downtown Miami area.
The first section of the project is expected to be completed in nine months, with the entire project taking about 30 months to complete, according to the City of Miami's Office of Capital Improvements (OCI). 
The revitalization plan includes the following, among other initiatives:
Create a curbless festival street from Biscayne Boulevard to Northwest First Avenue, with patterned pavers in vehicular travel lanes, by raising the road to the same level as the sidewalks.
Widen the sidewalks, enhance landscaping with shade trees, improved LED lighting, signage, and public art to accommodate outdoor dining and seating and facilitate a more pedestrian-friendly experience.
Install railroad crossing gates creating the ability to close individual blocks to vehicular traffic in order to facilitate community gatherings, such as festivals, outdoor concerts, and special events, encouraging family-friendly evening activities.
Install power, gas, and fiber optics utilities in preparation for planned vertical development. And upgrade and improve existing drainage to prevent flooding.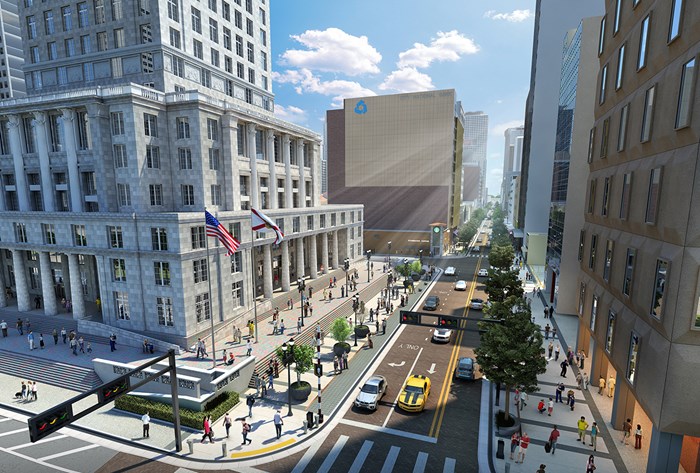 Image courtesy of Mana Miami

Access to businesses will be maintained during construction to protect and support local businesses. And Miami's Downtown Development Authority Executive Director Christina Crespi also described plans to provide grants to assist Flagler Street businesses, as well as several initiatives designed to maintain foot-traffic into the area, such as sidewalk seating options for restaurants and marketing efforts that will include music as a way to entice people into the neighborhood.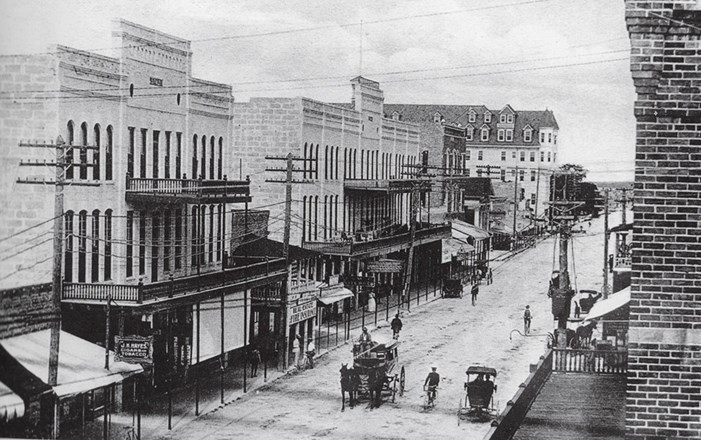 Flagler Street circa 1880's. Image courtesy of Miami-History.com

Other Downtown Miami Projects
Interest in the revitalization of Downtown Miami has been growing since plans were announced to develop the new Waldorf Astoria in the area, slated to become the tallest building in the Miami skyline and the tallest residential building in Florida.
Additional plans to revitalize the area include converting the historic Walgreens building at 200 E. Flagler Street into a Julia & Henry's food hall with some 29 food and beverage tenants. Built in 1937, the building will accommodate a three-story food hall featuring a rooftop restaurant and a nostalgic speakeasy in the basement. The city's Historic & Environmental Preservation Board has approved the project.
Additionally, New York-based developer Time Century Holdings secured a $23.6 million construction loan to renovate the Metro Mall into a luxury jewelry center. He is working with Kobi Karp on the design.

Cover image courtesy of Mana Miami
Share your thoughts with us
Sign up now
Get news and updates delivered to your inbox