Edgewater Development Guide - Edgewater is Becoming Miami's Premier Luxury Neighborhood & These are the New Condo Projects Planned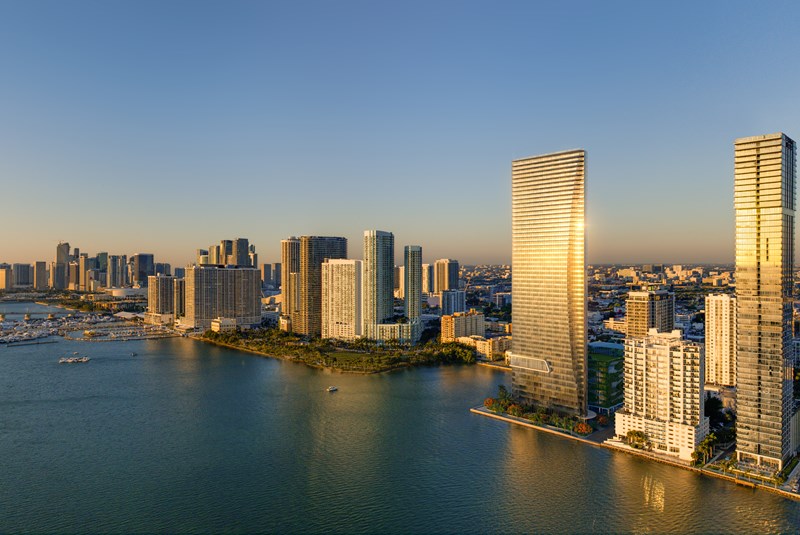 Sep 14, 2023 September 14, 2023
If you've taken a walk around Edgewater lately, or followed the news, you'll know that our favorite bayfront neighborhood in Miami has become a hotbed of construction activity. Driven by strong market demand for luxury condos, more developers are adding to the spectacular lineup of new construction in Edgewater, Miami.
And it's obvious why – its beautiful bayfront location, centered around an 8-acre park and marina, a family-friendly environment, centrality to every major neighborhood in the city like Wynwood, the Design District, and Downtown, plus a short scenic drive to South Beach – all make Edgewater highly desirable.
Once barely a neighborhood anyone would talk about fifteen years ago, Edgewater has cemented itself as a top choice for luxury high-rise living in Miami. 
So here's a look at all of the new condo projects in development for this lovely Bayside enclave.
This article was last updated on September 15, 2023.

— New Condo Developments in Edgewater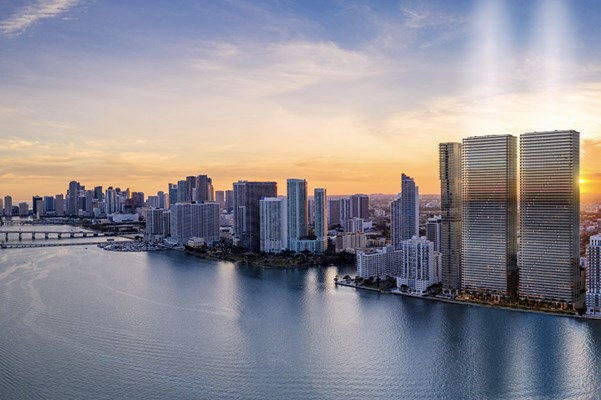 Status: South tower broke ground in May 2022; Completion of both towers is expected by Summer 2024.
What's special? Tallest twin towers on a U.S. coastline – developed by Melo Group. Owners are allowed to rent up to 4 times a year.
Rising on more than five acres of a one-of-a-kind waterfront reserve, Aria Reserve will feature two Arquitectonica-designed towers poised to become an iconic addition to the bayfront, thanks to a unique zigzag pattern adding distinction to their façade. Rising 62 stories, they will also be the tallest residential twin towers in the U.S. 
Offering a total of 782 oversized luxury residences, living at Aria Reserve, you will have an unbeatable combination of direct water views, 11-foot-deep terraces, East-to-West flow-through floorplans, and a dedicated office/bonus room in all residences. The 62-story towers will feature couture-inspired interiors by MORADA Haute Furniture Boutique, and all of this is available at some of the best price points for luxury condos in all of Miami. 
Stand-out Amenities: 2-acre recreation deck including a semi-Olympic-sized lap pool, a children's splash pad, a whirlpool spa, a gaming center, a teen lounge, and a playground. If you're a fitness enthusiast, this building will be for you. Other amenities span a signature bi-level waterfront restaurant & café, a solarium, a telescope observatory area, miniature golf, tennis courts, basketball courts, paddle courts, indoor-outdoor wellness center, meditation gardens, wine cellar, theater room, dog park, private watersports dock, and more.
Melo Group will also be building a public park on 23rd Street, along with 550 linear feet of a bicycle- and pedestrian-friendly waterfront promenade connecting the dots on Miami's Baywalk.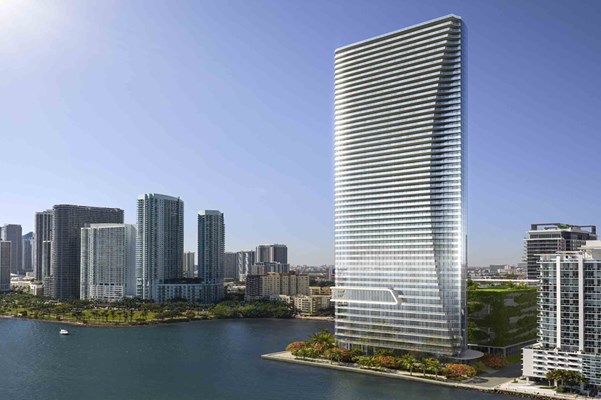 Status: Expected to break ground by Fall 2023. Completion is estimated 36 months after groundbreaking.
What's special? The world's first stand-alone EDITION Residences, without any hotel or transient use – developed by Two Roads. Six luxury guest suites available for use by owners.
All luxury residences at Edgewater's EDITION will feature sweeping bay and ocean views, 12-foot-deep residences, designer kitchens with branded appliances, an under-counter wine cooler, spa-inspired bathrooms, spacious walk-in closets, and a host of à la carte hospitality services powered by the EDITION Hotels luxury brand.
Replacing the bayfront Biscayne 21 condo building, the EDITION Residences will be part of a three-tower luxury condo complex. The 3.5-acre complex is positioned to afford two waterfront exposures. Rising 55 stories with only 185 bespoke residences, the waterfront high-rise will feature an all-glass, moon-like reflective exterior designed by Miami's prolific Arquitectonica. Canada-based Studio Munge will be designing all interiors.
Stand-out Amenities: 45,000 square feet of indoor-outdoor amenities managed and operated by EDITION Hotels. VIP status and preferred rates at hotels within Marriott International's luxury portfolio. Other amenities include two resort-style pools, a full-service world-class spa, private training studios, a club lounge, a cinema, a library, a kids' club, a teen room with VR gaming, a dog spa, a dog park, an array of secret gardens, and much more.
Status: Expected to break ground in 2023. Completion is scheduled for 2024.
What's special? Luxury, turnkey, waterfront, flexible rental condos with a private beach club in South Beach – developed by Urbana Holdings. Owners will be allowed to instantly double their income by splitting their units based on FlexShare floor plans, allowing owners to rent partial areas of their units.
Positioned to appeal to the digital nomad as much as the investor, Vida Residences will be delivered fully furnished and ready for short-term rental platforms like Airbnb, HomeAway, or Expedia. The 9-story building will be built with a sophisticated profile designed by Miami's acclaimed architect, Kobi Karp.
Interiors at this urban mid-rise will be designed by the Euro Design Group. All residences will feature high-end touches like furnished private terraces, a chef-ready kitchen with stainless steel appliances, Euro-style baths, a smart-home system, a contemporary lighting package, keyless entry, and more.
Stand-out Amenities: 22,000-square-foot oasis including an 11,000-square-foot pool, jacuzzi, Bali beds, a juice & coffee bar, The Edge rooftop restaurant with al fresco dining, a wellness center, fitness center, and grilling stations. Other amenities include a full-service private beach club in South Beach and a state-of-the-art, 3,800-square-foot coworking center.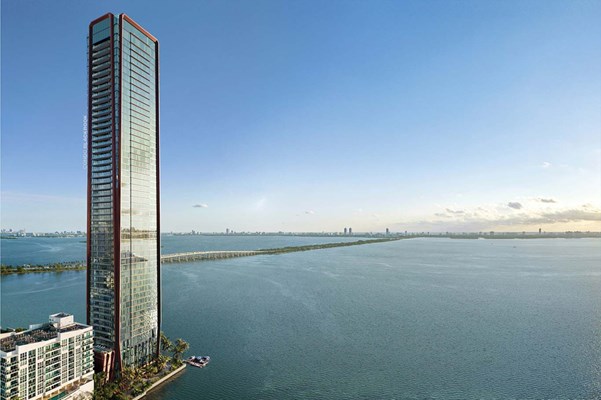 Status: Expected to break ground in Q4 2023. Completion is scheduled for Q4 2026.
What's Special? A lot. Villa Miami, first, is delivering ultra-luxury. It will be Edgewater's first and only residential building featuring only full or half-floor residences, plus a rooftop helipad. Developed by One Thousand Group in partnership with the Terra Group and Major Food Group. Shares some architects and developers with Zaha Hadid's famous One Thousand Museum in Downtown Miami, and will have an exoskeleton.
Rising 58 stories with only 65 luxury condos, this waterfront tower will house no more than two modern residences per floor. Designed by ODP Architects, The Villa will feature an exquisite exoskeleton that won't just make it a landmark on the bay, but also open up interior space and enhance view corridors inside the residences.
With interiors by New York's highly acclaimed Charles & Co and gourmet kitchens designed by Chef Mario Carbone, residents will be able to fully embrace the "villa" lifestyle in their bayfront sky homes. The tower will feature an ambiance of romanticism, enhanced by the use of rich materials, wooden floors, and fine stone throughout. It will also connect to a separate 9-story garage with 193 parking spaces, rooftop activity space, and commercial space.
Stand-out Amenities: Rooftop helipad, bayside floating swimming pool, private docks, direct access to the Baywalk, two food and beverage concepts by the Major Food Group, a spa and salon, outdoor pool, relaxation lounge, hot & cold plunges, sensory therapy shower, herbal steam/sauna, bayfront fitness center, boxing & yoga rooms, game room, screening room, family entertainment lounge, coffee bar, in-house car service, and more.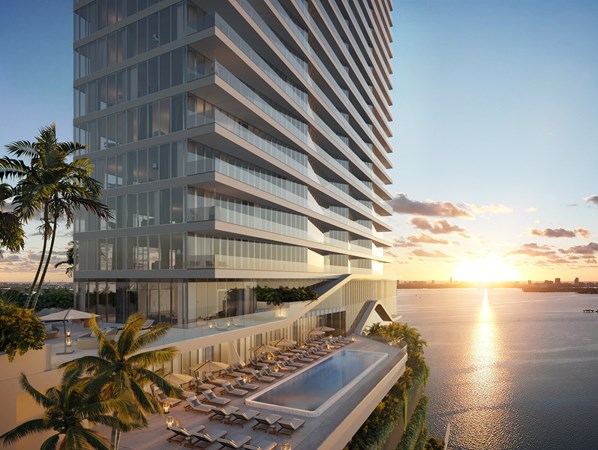 Status: Expected to break ground in Q2 2024. Completion is estimated in 2027.
What's special? New York-based SB Development's first residential venture in Miami offers elegant, boutique residences in a stunning, bayfront tower with water views at every turn.
Rising 40 stories adjacent to the Icon Bay condos, this Kobi Karp-designed tower will carry nature, natural elements, and other thoughtful touches to offer a unique Zen ambiance on the water. All 116 luxury residences will feature breathtaking Bay views, wrap-around terraces with glass railings, 10-foot-high ceilings, interiors by Buenos Aires-based Dieguez Fridman, large format ceramic tile flooring, appliances by Bosch and Thermador, Calacatta Gold countertops, and more high-end detailing. Short-term rentals will not be allowed to preserve resident privacy.
Stand-out Amenities: A waterside restaurant, direct boardwalk access, a launch dock for water sports, a resort-style infinity pool, bar with lounge seating, spa with cold plunge and hammam, fitness center with spin auditorium and yoga room, outdoor Zen garden, an owner's lounge with wine storage, game room, children's playroom, theater and performance room, co-working space and private office suites, a pet spa, rentable guest suites, electric vehicle charging stations, and more.

— Other New Residential Developments in Edgewater, Miami

1775 Biscayne, 1775 Biscayne Boulevard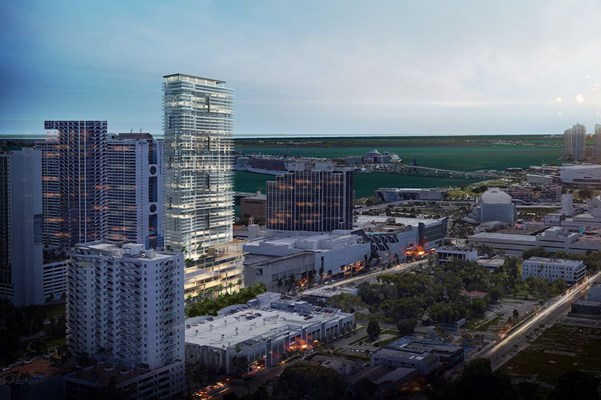 What we're watching: Sold in 2022, plans were just announced for a 42-story apartment building by new owner and developer LCOR. Plans have already been submitted to the UDRB for 544 apartment units, 50,000 square feet of amenity space, 10,000 square feet of retail, and 628 parking spaces. Planned for a groundbreaking in Q2, 2024, ODP is the architect, and KAS is handling interior design. 

Biscayne 21 Parcel (Addition to Edition Residences), 2121 North Bayshore Drive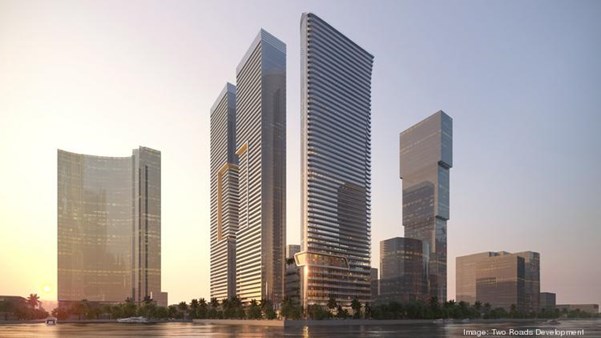 What we're watching: We'll be keeping an eye out for a UDRB and other approvals on the two residential towers proposed to complete the three-tower complex replacing Biscayne 21. Pre-sales are already underway for the first tower - the Edition Residences.
Developer Two Roads plans to add two 56-story towers, each rising 649 feet above sea level, to the south side of the parcel. With the addition of the two towers, the waterfront site will deliver a total of 705 new condos in Edgewater, Miami. Both towers will be designed by Arquitectonica (like the Edition Residences).

649-Foot Tower by Oko Group affiliate, 717 NE 27th St
What we're watching: Whether the FAA-approved tower planning to replace Missoni Baia's sales center will rise as a rental or condo new construction in Edgewater, Miami.
With the bayfront Missoni Baia condo tower completed in May 2023, an OKO Group affiliate, known as 720 NE Street PropCo, LLC, has submitted plans to build a 649-foot tower on the waterfront parcel. The site is currently co-owned by OKO Group and Cain International.

Related Group & Lndmrk Properties' $12M Assemblage, 519 to 535 N.E. 29th St
What we're watching: We'll be keeping an eye out for announcements and approvals on this three-parcel assemblage acquired by the Related Group and Lndmrk Properties in June 2023.
As per current zoning, the 18,000-square-foot assemblage can carry a 60-story residential tower with 62 units. What makes this site exceptionally valuable is that any future development will enjoy uninterrupted water views, as the only thing standing between the parcel and the bay is Biscayne Beach's four-story pool deck.

Vacant Development Site for Sale, 702 NE 26th St.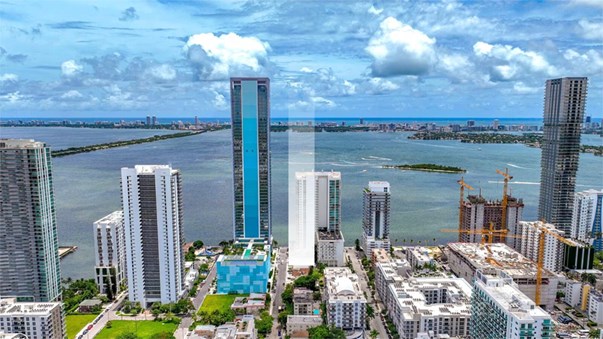 What we're watching: Favorably zoned to carry a high-density condo or hotel project, we're excited to see what comes up at this modest parcel right next door to the Onyx condos.
Asking $6.6 million, the prime .229-acre lot was brought to market in August 2023. Zoned T6-36a-L, the bayside parcel can hold a variety of high-density developments, including an ultra-luxury condo or hotel project.

Price Choice Supermarket Assemblage Sold, 1801 N.E. Second Avenue
What we're watching: Since zoning allows the development of mixed-use buildings with up to 710 residential units, we'll be keeping an eye on what comes up at this prime parcel – a short walk from the waterfront Margaret Pace Park. 
Rotem Rosen and Indian billionaire Anand Mahindra's MRR Development finally closed the deal on this 1.4-acre parcel after four whole years. Sitting in an Opportunity Zone, we are highly intrigued to see what will replace the one-story Price Choice Supermarket, the Montessori preschool Learning Nest, and the vacant lot are part of the assemblage.

Proposed Mixed-use Condo Tower, 234-264 N.E. 34th St
What we're watching: Karl-Ulrich Ansorg, Yakov Elbaz, Ofir Gabriel and Amit Kort's first South Florida project.
Acting via Tulip Developments Group, developers Karl-Ulrich Ansorg, Yakov Elbaz, Ofir Gabriel and Amit Kort partnered to purchase a six-lot assemblage worth $16.5 million for their proposed mixed-use condo tower in October 2022. The group of developers plans to build a 44-story mixed-use tower, inclusive of 172 condos, 100,000 square feet of offices, 10,000 square feet of retail, and a 420-spot garage. It is expected that one-quarter of the units will be 2-bedroom residences, while the remaining three-quarters will feature 3-bedroom floorplans.

40-Story Project, 2626 Biscayne Boulevard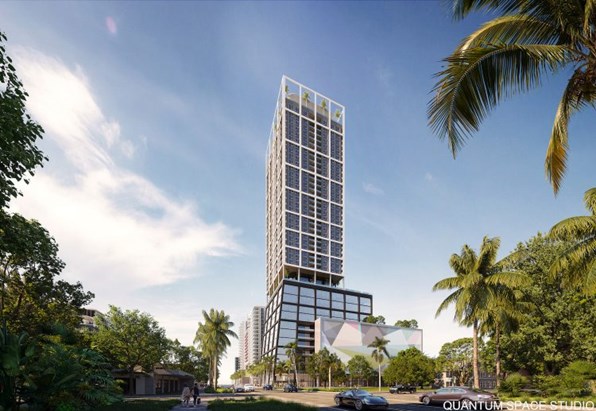 What we're watching: Miami's Urban Review and Design Board approved plans from developer 2600 Biscayne Property LLC for a 40-story tower at 2626 Biscayne Blvd in 2022. But there's been little news since then. The mixed-use residential tower designed by Arquitectonica's Bernardo Fort-Brescia has been planned with 399 residences, 109,643 square feet of offices, 6,122 square feet of commercial use, and multiple parking levels on a podium.
The property is currently slated for luxury rentals, however, we will watch the progress as several rental properties have recently converted to condos. This was previously to be the site of the Berkowitz Museum project. 

Cardinal Plaza, between NE 22nd Street & NE 23rd Street in Edgewater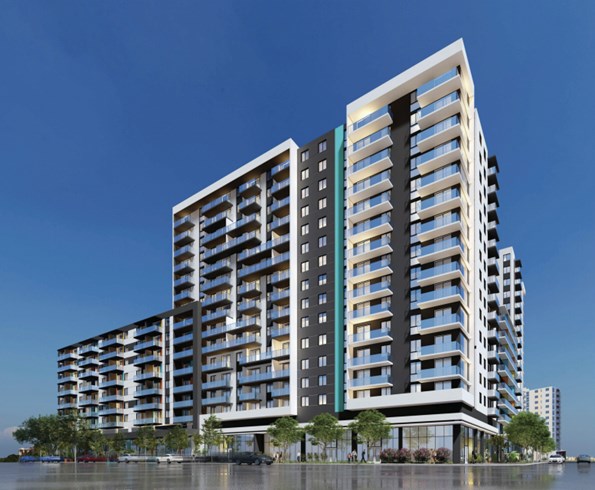 What we're watching: In 2021, developer Melo Group had submitted plat documents to the city's review committee in January 2021 for URBAN 22, possibly an apartment building on this 1.8-acre development planned between NE 22nd Street and NE 23rd Street in Edgewater. The proposed Cardinal Plaza is also expected to feature an unspecified amount of commercial and retail space. 


Grupo T&C + Kobi Karp's 36-story Tower, 1825 and 1837 N.E. Fourth Avenue
What we're watching: We're waiting to see whether this LEED-certified project will rise as a condo or rental tower. It was approved by the Urban Development Review Board in 2021. 
Designed by Miami's widely appreciated Kobi Karp Architecture, this 36-story tower was approved for 322 residential units, 6,183 square feet of ground-level retail, and 372 parking spaces in an 8-story podium. Developed by Peru's Grupo T&C under the affiliate Meridian TC Real Estate Group LLC, the LEED-certified project will sit right behind Quantum on the Bay and 1800 Club.

Bay Park Condo Bulk Buyout, 3301 NE 5th Avenue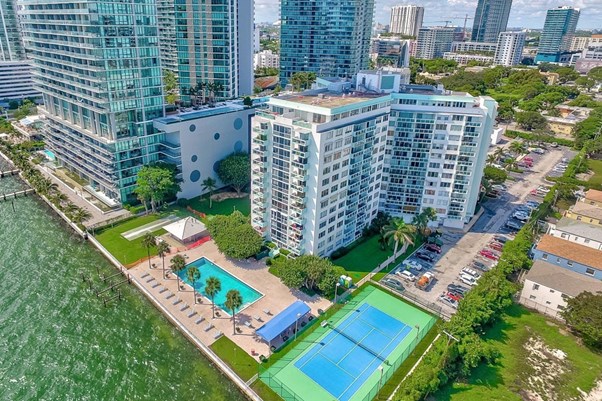 What we're watching: Last heard, multifamily AMLI firm had secured about half the units at this waterfront condo tower in September 2021. However, in January 2023, residents filed an appeal to the buyout. It is zoned to allow a 36-story residential development with 150 units per acre.
Built in the 1960s, the 14-story, 254-unit Bay Park Towers sit on a prime piece of waterfront in Edgewater, right next to the Julia Tuttle Causeway that leads to South Beach. The California-based firm had priced the deal at $150 million, hoping to get at least 95% of unit owners on board.

Denny's Restaurant Sale, 3600 Biscayne Boulevard
What we're watching: Since zoning allows the development of 500 residential units per acre, we'll be watching what comes up at this key parcel just off the I-95 on NE 36th Street.
Although we're sad to see Denny's go, we're equally excited to see what will be planned for this prime parcel. Developer Aria Mehrabi bought the restaurant and a nearby parking lot at 221 Northeast 36th Street for a total of $24 million in January this year. The 1.2-acre property is zoned to allow the development of a 24-story tower with scope for the addition of more units as a density bonus. 

New "Omni Innovation District," 1601 Biscayne Boulevard
What we're watching: Considering the property sits between Margaret Pace Park and Venetian Causeway, and this is a condo-dense area, we're expecting nothing short of a luxury development to make its way here.
The Omni Innovation District is set to replace the shuttered Omni International Mall at 1601 Biscayne Blvd. The site was once owned by Resorts Worlds' parent company, Genting. More details are expected soon. 

Paris-based Groupe City's Residential Tower, 423 Northeast 27th Street
What we're watching: We're waiting to see whether this Paris-based developer's first U.S. residential project "with a French touch" will come up as a condo or rental apartment.
Planning its first U.S. project in Edgewater, the newly established American arm of Paris-based Groupe City, the PR Group acquired an assemblage worth $14.8 million this May. The group paid $13.1 million for the deal inclusive of a low-rise apartment complex and three houses at 423 Northeast 27th Street. They also paid $1.7 million for an adjacent duplex at 434 Northeast 28th Street. The assemblage plus the duplex property total 31,929 square feet.

Belmar Condo Bulk Buyout, 419 Northeast 19th Street
What we're watching: Another great bayside parcel snagged by New York-based partners SB Development and Hazelton Capital Group; we're expecting the duo to announce an on-trend luxury residential project in this condo-dense area. 
Seated right behind the Cité on the Bay condo tower, the developer duo paid about $12 million for all 13 units at the Belmar condo this August. The 5-story condo building sits right opposite the waterfront Margaret Pace Park, which is one of the highlights of living in Edgewater. The bulk buyout deal breaks down to around $900,000 per condo. The partners have already terminated the condo association.

— FAQs About
New Construction in Edgewater, Miami

Is Edgewater Miami Up and Coming?
Yes, Edgewater is easily one of Miami's rapidly up-and-coming neighborhoods. From a low-key neighborhood that people barely noticed more than 15 years ago to a hotbed for new construction condos at every turn, this pocket-sized neighborhood has come a long way.
The biggest part of Edgewater's appeal is its prime location. Minutes from art in Wynwood, upscale shopping at the Design District, culture and entertainment in Downtown, and a Causeway-ride to South Beach - it doesn't get more central than this.
You'll also find one of the juiciest collections of top-rated restaurants in this largely residential neighborhood, making it a cozy yet top-notch place to call home. Read more for a deeper dive into the history, progress timeline, and more insider details on Edgewater: Miami's Best-kept Secret Neighborhood.

Why Invest in Edgewater Miami?
Given its prime location, family-friendly atmosphere, and flurry of new, more luxurious condo developments coming to this bayfront neighborhood over the next couple of years, Edgewater, Miami makes for a great investment opportunity. In terms of real estate, Edgewater is a rather young neighborhood, as it is currently being built up with luxurious new additions such as the recently completed Missoni Baia, the brand-powered Edition Residences, and limited-edition Villa Residences.
Add to that luxury condo prices that are at an all-time high and still reporting gains, as seen in the latest figures from our comprehensive study on Miami's real estate in Q2 2023, this largely residential neighborhood has huge investment potential for first-time buyers to second-home seekers.





For more details on pricing, remaining units, and rental income opportunities on any of the above mentioned pre- or new construction in Edgewater, Miami – call, chat, or email us directly!
Share your thoughts with us
Sign up now
Get news and updates delivered to your inbox