Edgewater: Miami's Best-Kept Secret Neighborhood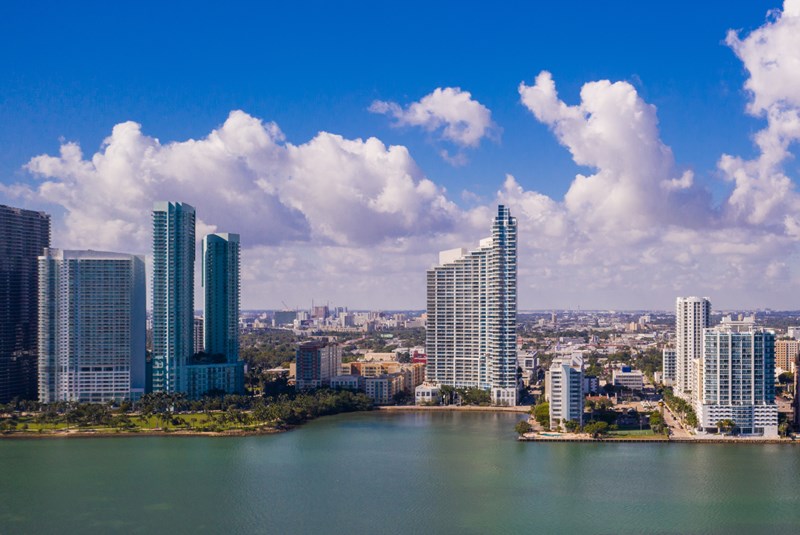 Feb 19, 2020 February 19, 2020
This article was last updated on March 29, 2023.
Tracing the Biscayne Bay shoreline just north of Miami's Arts and Entertainment District and the Venetian Causeway (NE 17th Terrace to I-95 and back along E. Coast Avenue) is the pocket-sized neighborhood of Edgewater. This water-facing community could be small in size but is definitely big on potential. Over the past decade, Edgewater has emerged as one of the most loved residential neighborhoods of Miami, with major developers like the Related Group to Melo Group and global brands like Missoni recognizing its value, proximity and community feel by building some of the finest specimens of luxury real estate in their Icon Bay, Aria on the Bay, and Missoni Baia offerings, respectively. 
So, what makes Edgewater so appealing? Was it always this bayside paradise, safe and perfect enough to rank second on niche.com's "Best Places for Young Professionals in Miami" and third on the "Best Neighborhoods to Raise a Family in Miami?" What's the history behind this shiny new neighborhood loved by residents of all ages? Read on for some astounding answers and facts on this chill side of Downtown.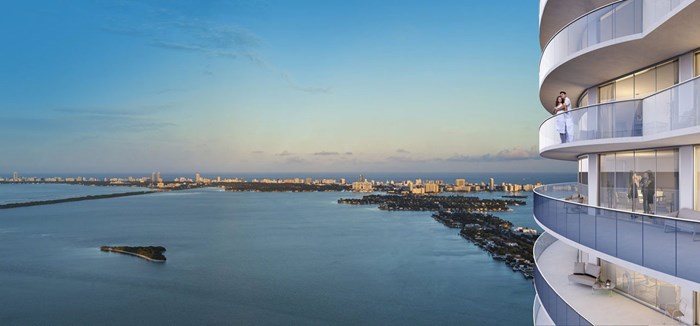 The Appeal of Edgewater, Miami
Sitting a short walk away from the Perez Art Museum Miami (PAMM), the Frost Science Museum, and Bayfront Park, this waterfront community is a quick drive or scenic bike ride from South Beach. It's also just a mile from Wynwood's eclectic art-scape, the Shops at Midtown and the Design District's high-end shopping. But what makes Edgewater so unique is that it's anchored by the 8-acre, dog-friendly Margaret Pace Park. This park also sits bayfront, and with tennis and basketball courts, makes for great relaxation and green space at your back door. 
Plus, Edgewater is serviced by the free Miami Trolley, and is home to one of the main Metrorail stations, boasting of an above-average walk score of 80 (93 if you live close to Margaret Pace Park). With its central location and a median price of $602/sq. ft. for luxury condos (one of the most affordable in Miami), it really is the gold standard of real estate today.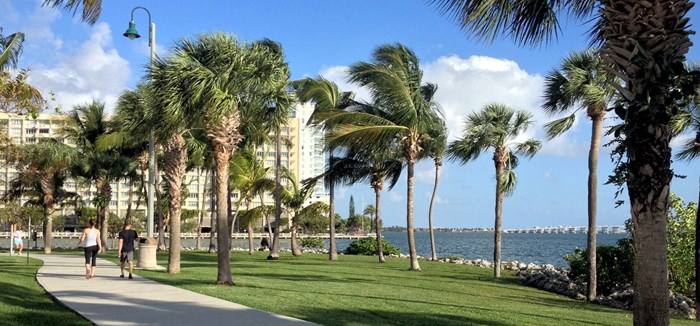 Margaret Pace Park

1920s to 1990s – Edgewater's Luxury Roots
This sweet little residential pocket by the bay started out great as a high-end shopping district from the 1920s to the 60s. National retailers such as Sears and Burdines called the southern part of Edgewater home for decades. The late 1970s got even better with the Omni International Mall anchoring down, and believe it or not, making it an ultra luxury shopping destination with brands the likes of Hermés and Givenchy, among many other high-end retailers.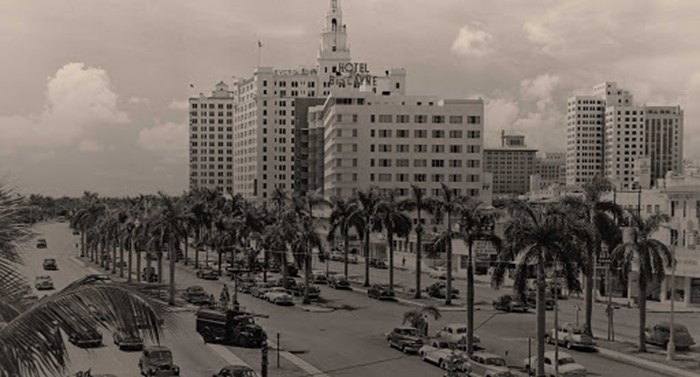 Omni International Mall

1990s - 2000s – Dark Waters
Fast forward to the 1990s, the neighborhood, like much of Miami during the commercial real estate crash of the time, came crumbling down. The Omni Mall lost out to Aventura and Sawgrass Mills, eventually shutting shop in 2000. With the buildings empty, the streets and park became prime real estate for drug deals and other unsavory activities, while sadly, Margaret Pace Park became a permanent base for the homeless. Edgewater was to be strictly avoided after dusk, and only a handful dared to buy into the neighborhood betting on its future.

2000s - Present: The Edgewater, Miami of 'Now'
At the turn of the 2010s came a wake-up call for the shady corridors of Edgewater. Multiple developers had picked up land between 2000 and 2010, seeing the potential for affordable waterfront developments that would be close to all the action, and strong community action and rezoning help from Miami's City Commissioners at the time. One of the first post-recession condo projects to be completed in Edgewater was the Melo Group's 23 Biscayne. After this, construction in the neighborhood hit a feverish pitch, changing the face of the neighborhood with tons of new condos being proposed and delivered every year. 
This influx of residences in the 2010s was naturally accompanied by a flurry of new commercial tenants and residents for Edgewater. From a brand-new Chase Bank to the Publix supermarket, Wells Fargo, Modani Furniture, a Starbucks, Walgreens, the National Young Arts Foundation building housed in the famous Barcardi Building, and much more made its way to this bayfront neighborhood over the last decade. The waterfront Margaret Pace Park, too, started thriving, being frequented by dog walkers, tennis players, joggers, bikers, and even tiny tots at the now-thriving children's playground.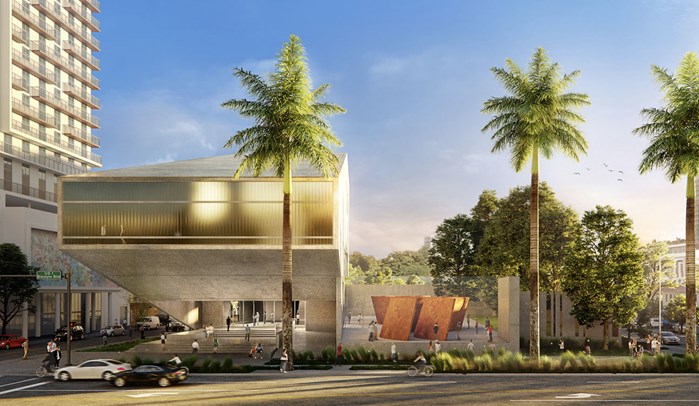 And with the adage "if you build it, they will come," the restaurant scene exploded with Mignonette, Sabor A Peru, and Amara at Paraiso anchoring themselves on the culinary map. 
Further signs that Edgewater is Miami's next gem, several ultra-luxury branded condo developments are going here, including Missoni Baia and Edition Residences, and several brand-new eateries are go-to restaurants at the historic Miami Woman's Club site, joining the ranks of cultural and gastronomic delights in the neighborhood and Miami.

What's Next for Edgewater, Miami?
Still offering some of the most amazing water views in Miami at relatively affordable prices (than South Beach or Mid-Beach), Edgewater has turned into one of the most sought-after and affordable Miami neighborhoods. With more residence, retail, and restaurants slated to make their debut in this family-friendly district, here's a quick tour of the outstanding condos of Edgewater: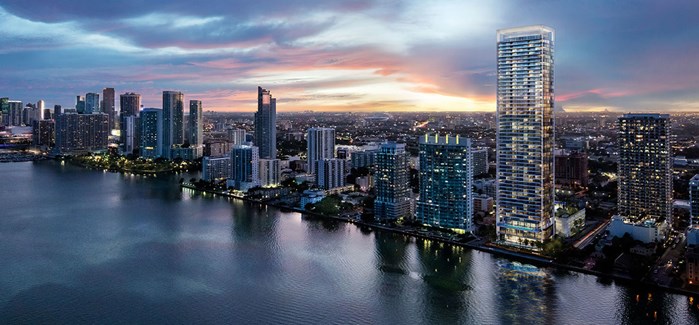 ---
Love Edgewater and see a condo building you like? Contact us today to move into your Miami dream home.
This article was last updated June 25, 2021.
Share your thoughts with us
Sign up now
Get news and updates delivered to your inbox