Edgewater's Bay Park Condo Towers in $130M Bulk Buyout Deal
Jun 30, 2021 June 30, 2021
What will replace Edgewater's Bay Park Towers waterfront condos? 
If Beach Hill Capital Partners has their way, Edgewater will be seeing another luxury, waterfront condo tower be built. The Miami-based investment firm has offered $130 million to buy out the 1960s waterfront condo complex at 3301 NE 5th Avenue. The 14-story, 254-unit building was built in 1961 and has one of the largest surface parking lots in the neighborhood, as well as prime bayfront frontage.
With 2021 seeing the South Florida real estate market explode in six months, Miami developers have gone into overdrive announcing new projects and even relaunching those dormant for years. In 2021 alone, we've seen over a dozen new condo projects hit the spotlight, with more in the pipeline. Investors and developers are turning their sights to aging buildings with huge potential, as most empty lots and premium waterfront parcels have already sold out in every desirable neighborhood.
Seated in Edgewater, Bay Park Towers is in one of the most sought-after residential pockets of Miami. Centrally located, the waterfront neighborhood is only minutes from destination neighborhoods like Wynwood, Design District, Arts and Entertainment District, and Downtown Miami. The Shops at Midtown Miami, mural art at Wynwood Walls, the Miami Design District, and dog-friendly Margaret Pace Park are all a bike ride away.
Completed in 1961, the Bay Park Towers rise 14 stories along Biscayne Bay. Sitting on more than 211,000 square feet of land, the complex includes a bayfront pool, tennis court, and a massive surface parking lot. Recently updated in 2019, the condo building also features a fitness center, club room with bar, entertainment center, and 24-hour security.
To complete the deal, 80% of condo owners at Bay Park have to agree to sell to Beach Hill. The deal equates to an average of about $511,800 per unit. Future plans for the site haven't been revealed, however, it is zoned T6-36A-L, which would easily allow for a 36-story building to be developed.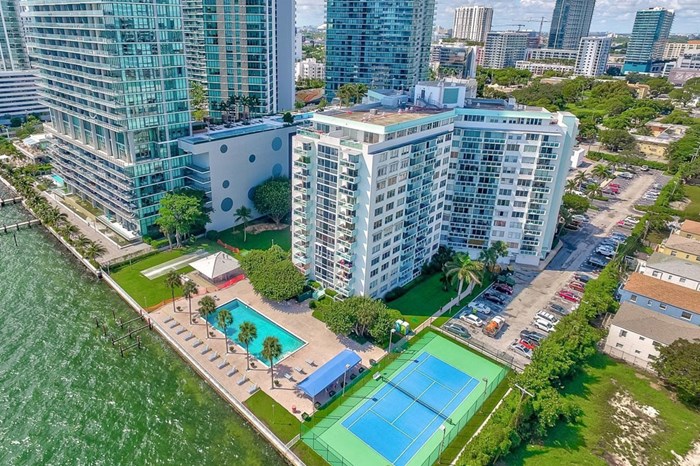 Bay Park Towers

Remnants of a Bygone Era
"Each time I passed by the Bay Park Towers, I wondered if anyone noticed the immense potential of this prime piece of real estate," comments Sep Niakan, Owner/Broker at BlackBook Properties. "Although it's a great reminder of a bygone era, I'm super excited that someone's set the ball rolling on getting it up to speed with other properties in the neighborhood."
"I hope something really tasteful, like the recently completed Elysee, goes on that bayfront lot," added Niakan. "Something that makes good use of that huge amount of waterfront space and adds to the beauty of Miami's skyline."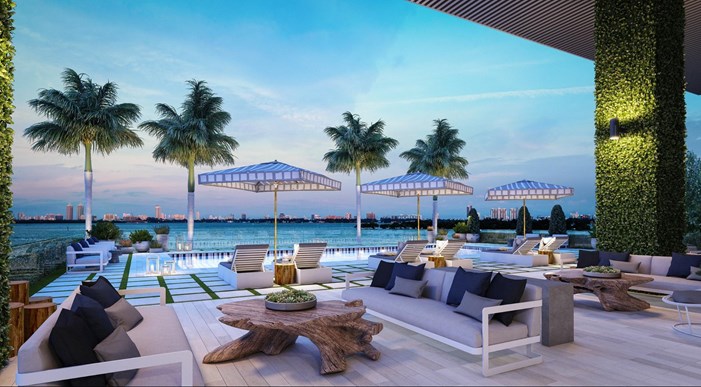 Poolside at Elysée (Rendering)

More Bulk Buyout Deals Coming? 
More developers share the thoughts expressed by Niakan. Just last year, Bruce Eichner and Two Roads Development were competing to buy out the 88-unit Carlton Terrace in Bal Harbour, with an offer exceeding $100 million. While that deal hasn't closed yet, Eichner moved on by closing on land at 9201 and 9461 East Bay Harbor Drive where he plans on developing two new condo projects. And South Beach's Monad Terrace, developed by JDS Development Group, was also part of a bulk buyout of several 1940s Miami Beach bungalows, a few small multifamily buildings, and a waterfront home that all were originally built on the street.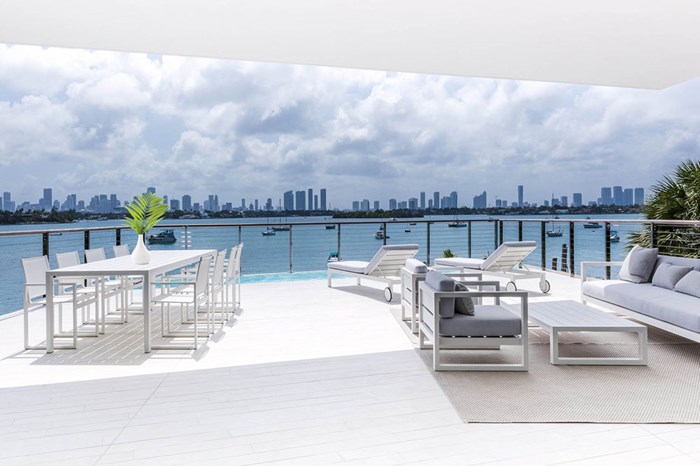 Breathtaking water views at Monad Terrace (Rendering)

As undeveloped land becomes a rare commodity in Miami, developers are looking for alternatives. Aging condo buildings on prime lots traditionally have been seen as having high potential in strong markets. While not every condo buyout is an easy transaction, it can turn into a win-win if the deal is priced right and most owners are already looking to move out.  

How Can Condo Owners in Aging Buildings Benefit from Bulk Buyouts?
Considering most condo buildings in Miami undergo renovations, and typically receive some kind of upgrades and internal renovations, it's understandable why many owners are not interested in selling. However, with owners' costs rising for special assessments for such renovations, property taxes, insurance, and other expenses, oftentimes it makes more economical sense to sell.
In South Florida, older buildings need to be recertified after 40 years and then are re-assessed every decade from then on. This usually translates to homeowners paying special assessment charges in addition to their HOA fees so that the buildings can be brought up to code. Insurance costs for aging buildings can also be costly.
Also, some homeowners may not have the funds for a complete gutting and renovation of their unit to make it appealing in today's market. Such owners could also find a bulk buyout much more time- and cost-effective than trying to sell their fixer-upper on their own. If your building is being considered in a bulk buyout deal, our advice is to consult a real estate attorney.
If you're an investor interested in buying several units in a bulk condo purchase, or if you are looking for a new home as part of a buy-out, please call, text, or email us to have a local real estate expert guide you.


Share your thoughts with us
Sign up now
Get news and updates delivered to your inbox