Empty Plot Next to Star Island Mansion Sold for $10.5 Million
Jun 13, 2014 June 13, 2014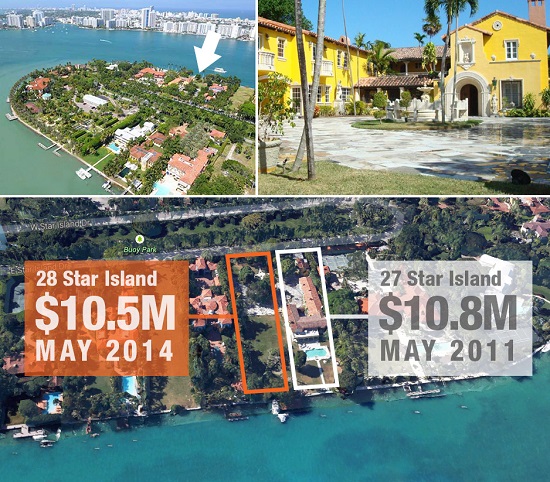 An empty residential property next to the Star Island mansion was recently sold for $10.5 million.
Villa Maria Helena Holdings sold the 40,000 square-foot parcel on May 23, according to county records. Jeannette Varela was identified as the manager in the deed of sale.
The property is next to 27 Star Island Drive, the Star Island mansion. The Star Island mansion is currently owned by John Jansheski, founder and CEO of DenTek.
MIP 28 Star Island is the buyer of the adjacent property. The company is registered in Delaware, which does not reveal names of principals in their state corporate records. MIP obtained no financing for the purchase.
The purchasing company listed 27 Star Island Drive as the mailing address on the deed.
The 10,444 square-foot Star Island mansion is owned by Starboard Florida, based out of Knoxville, Tennessee, of which Jansheski is the managing member.
Jansheski purchased Star Island mansion for $10.8 million back in May 2011. He attempted to sell it in March 2012 for $21 million, but was not able to find a buyer.
Source: therealdeal.com
Photo credit: GraphicMansion (27 star island) - alexshay.com, Aerial view - alexshay.com,  Map - google
Share your thoughts with us
Sign up now
Get news and updates delivered to your inbox