Fast Cars, Incredible Buildings: Miami Sets the Bar on Car-Inspired Living
Jul 20, 2020 July 20, 2020
Miami is a hub for fast cars and international living. With luxury condos at every turn, it's no wonder that developers from across the globe are unlocking a new weak spot for consumers in the form of car-themed living. For petrol heads everywhere, a home in any of the Magic City's sports car-inspired buildings make for a perfect combination.
Whichever is your driving penchant, Miami probably has a condo for you - from the Aston Martin building, which is upholstered with the same leather used in its iconic cars and has a reception desk that is made entirely from carbon fiber, to the Porsche Design Tower, which quite literally lets you bring your car into your apartment via a patented elevator.
Here are some of Miami's most high-design condos for car lovers...


---


The Millecento building is the brainchild of world-renowned, Italian car design  company Pininfarina S.p.A. The Pininfarina pedigree includes designs for almost all of Italian car industry masters, from Ferrari to Maserati, Fiat to Alfa Romeo since the 1930s. Together with Architect Carlos Ott, Pininfarina was able to bring a bit of Ferrari to 1100 Millecento. From the pictures of iconic cars that adorn the walls to the crimson leather accents strategically accenting the interiors, Pininfarina has taken all that is synonymous with luxury cars and introduced it to the build.
Living in Millecento you also benefit from 24-hour valet service to ensure that all your cars remain safely parked. You'll also have floor to ceiling windows offering views of the city as well as Biscayne Bay.


---


The Estates by Acqualina is an upmarket residence located in Sunny Isles Beach. It's widely known for the exotic cars that inhabit the property and for having its fair share of Rolls-Royces that seem to pop up around every corner. In fact, Acqualina was reported to have the highest amount of independently owned Rolls-Royces in the world according to Forbes. And the hotel also offers a suite that comes with its own Rolls-Royce Ghost to motor about town in.
The love of sports cars stems so deep in Acqualina that their luxurious penthouse was marketed as coming with its own tastefully selected sports cars. Aptly named Palazzo del Cielo, the penthouse's daunting $38 million price tag included a Rolls-Royce Cullinan SUV and a Lamborghini Aventador. So if you love fast cars and a luxurious Sunday drive, this condo is definitely one to consider.


---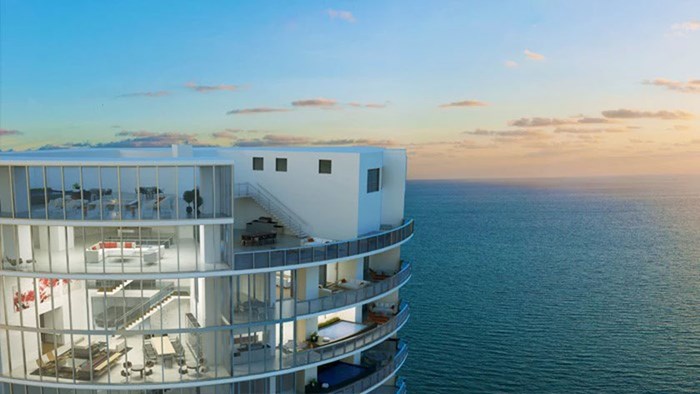 The Porsche Design tower is in many ways a tribute to the brilliant engineering that goes into the eponymous sports cars. In fact, the very building is distinctly similar in shape to the Porsche pistons. A collaboration between Porsche Design Group, Dezer Development and Sieger Suarez Architects, the team intentionally included similar materials found in the favorite sports cars such as fiberglass and leather when building the stunning 60-story, 132-unit beachfront tower.
While all these features are amazing, the main USP (unique selling proposition) of this brilliant development is the fire-rated glass elevator and that quite literally brings your car into your condo, displaying your favorite sports car in a glass garage.
Cunningly named the "Dezervator" after its inventor, the patented lift spans the entire tower and can take owners to any of the building's 130-odd floors. Each of the tower's units also has its own plunge pool and spot in the sky garage. The building also features a beachfront ballroom as well as a fully-equipped, luxurious fitness center, numerous bars and dining options and even a private club. Not to mention a theatre.


---


The new Aston Martin Building lets residents fulfill fantasies and live like Bond. Similar to a lot of aforementioned developments, this building is an ode to the English firm's luxury car by marrying cunning engineering, timeless architecture, and a tasteful interior. In doing so, Aston Martin is on track to deliver a jaw-dropping development that sets a new bar for luxury living in Miami. And that's no easy feat. 
The tower, which is located on Biscayne Bay, spans 66 floors and comprises 391 units and is expected to be completed in 2022. For the ultimate car collector looking for their next luxury home, the $50 million triplex penthouse is an opportunity unlike any. The exclusive penthouse comes with its own infinity pool as well as one of only 24 Aston Martin Vulcans, the automotive dream for many. In fact, the car is so fast that it's reported that only 1 of the 24 are actually road legal.
If you happen to have a personal helicopter, the roof-top helipad will make coming home just a touch easier. If you need one, earlier this year, Airbus and Aston Martin teamed up to launch the ACH 130 Aston Martin Edition helicopter. Other design features for the building from the architectural team of BMA - Bodas Miani Anger Arquitectos & Asociados, Revuelta Architecture International and Aston Martin interior design include a state-of-the-art fitness center and spa,virtual golf, large pool deck, movie theaters, lounges and a mega-yacht marina.


---


With the arrival of Paramount World Center, Miami is no longer just catering to the car lovers of today. The developers behind the bayfront complex are thinking long term. In fact, they have gone as far as to build a flying car parking spot. This incredible development will feature a swimming pool that will convert into a ramp for what is known as VTOL (vertical takeoff and landing) vehicles. This will allow residents to fly in and out from the Skydeck on the 58th floor, further proving the brilliant variety of automobile-inspired living in Miami. 
When you're not shooting down the highway, you can head up to the sky lounge on the 55th floor equipped with a bar and a yoga deck, or enjoy many of the other unique amenities of the building, including a roof-top soccer field, tennis courts, or a recording studio.


---

If you're interested in learning more about opportunities available in any of these condo buildings or similar Miami luxury condo buildings, please let us know! Call or email us today at (786) 930 4220.
Share your thoughts with us
Sign up now
Get news and updates delivered to your inbox