Five Condo Units Combined into One Mega Unit Sold for $16.1 Million at the Setai
May 20, 2015 May 20, 2015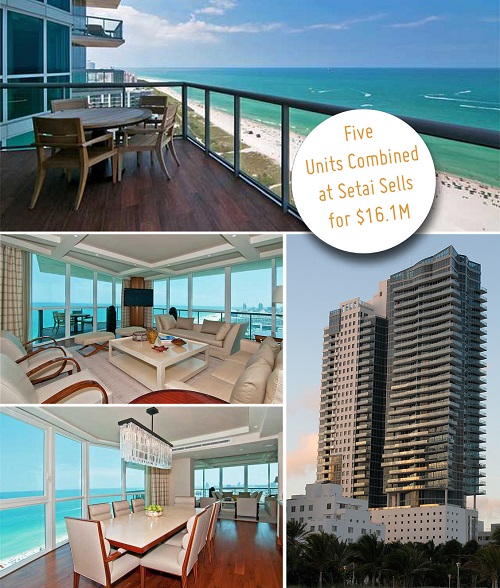 Five condos that were combined into one at the Setai in Miami Beach traded hands for $16.1 million.
This unusual condo was created by slowly combining five smaller condos into one over eight years. The unit is now 5,400 square-feet and encompasses the east side of Setai's 33rd floor, and most of the north and south sides as well. Each unit had one bedroom and one bathroom in their original form.
Becky Adkins, the listing agent for the unit, said that the seller is a Russian family that started their home-building project with only two condo units. As the family got bigger, they needed more space. The family asked about more units on the same floor, then began convincing the people next door to sell them their units.
Since the Setai did not allow for construction during winter, the project took longer than it normally would have. Each new unit needed to be built all over again in order to be connected to the others.
The last two additions, which were on the northern side of the Setai, became a recreation room, which included billiards, a wine cellar, a spa, a sauna, and a massage room.
Source: therealdeal.com
Photo credit: Setai - wikipedia.org
Share your thoughts with us
Sign up now
Get news and updates delivered to your inbox