Flagler Street Renovation Funding Approved
Jul 08, 2014 July 08, 2014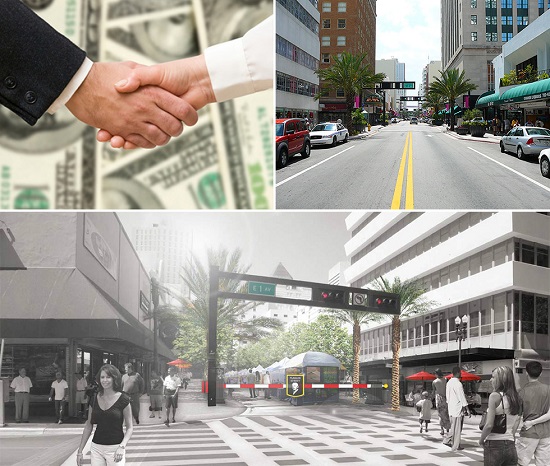 The Downtown Development Authority has decided to renovate the historic Flagler Street for the second time in eight years. They hope the refurbishment will encourage more developments in Miami's main downtown area.
During their meeting, the Miami-Dade County Commissioners approved to fund about half of a $13 million plan to revitalize the sidewalks from Biscayne Boulevard to North Miami Avenue.
In 2006, the city attempted to gain hype on Flagler Street and refurbished it then, but it was a bust when the design, implementation, and maintenance failed to work as planned, according to Javier Betancourt, deputy director of the Downtown Development Authority.
The newest proposal for Flagler includes straightening sidewalks, adding trees, adding benches, and placing bicycle racks for cyclists in the area. The sidewalks are also being stylized after railroad tracks, reminiscing on the days of Henry Flagler, Miami's founding father. The Flagler Street Task Force created the project plans to attract private investors to the historic downtown area.
Commissioners agreed upon their $6 million contribution from an infrastructure improvement bond program without any discussion. The City of Miami is offering an exact match of $6 million as well. Downtown Miami property and business owners are chipping in the remaining $1 million.
Source: therealdeal.com
Photo credit: Flagler Street (2010) - en.wikipedia.org, Flagler Street (2016) - curtisroger.com, Money - genegnews.com
Share your thoughts with us
Sign up now
Get news and updates delivered to your inbox